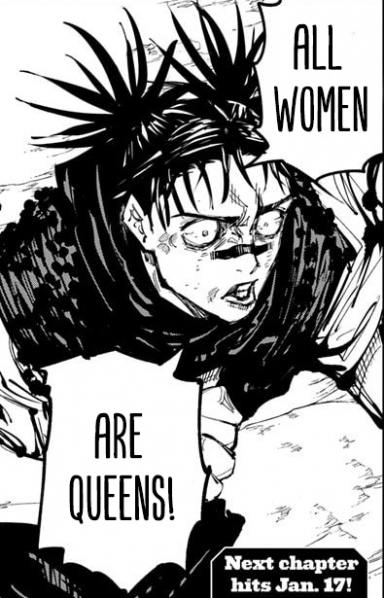 I Will Kill Yuji Itadori Myself
Original poster
Posting Speed

One post per day
1-3 posts per week
Online Availability

28:21 to 25:30
Writing Levels

Give-No-Fucks
Intermediate
Preferred Character Gender

No Preferences
Genres

Fantasy, modern fantasy, Magic.
What's the point of being a Superhero, Honestly. You stop crimes and save the day but at what cost. What do you do when you're too late and someone dies but the criminal is still there? You know they did it, There's blood on there hands...So what do you do? You kill them, It that simple. Superheroes never really make a difference, More then half of the animals they deal with either are crazy and escape the death penalty or escape the prison within the month of there incarceration. Superheroes have proven to be ineffective, The old ways are don't work anymore. Someone needs to show this kind of behavior is unacceptable...The Crusaders will, They shall exterminate the infestation on American society and abroad, No Villain is safe...Not Anymore.
The Crusaders are a team of Superheroes that were push to far and cross the line and killed someone. These Heroes decided to team up and become the renegades of the hero community. They will face not just Super Villains but terror groups, Other Heroes and any other injustices.
Important Info:
Crusader(Ship) - A ancient ship used by the Ri'Kan and now used as a home base for the Crusaders. This ship is hidden between dimensions and can only be reached by teleportation. All Crusaders have a ring which proves membership and allows them to teleport to the Crusader.
Recent Events: Crusaders went on a mission in the middle east where they eradicated a terrorist group only to fail in saving 24 American hostages. They are now looked at as a group of unreasonable vigilantes.
All Iwaku Rules Apply
No out of control Fighting in chat.
Swearing and all that good old Adult stuff allowed but cut to black at sex scenes.
No killing another players character without permission.
1 paragraph minimum
No one liners.
And of course no GMing.
Approved Characters
Behemoth -
@Merlin
Bloodletter - @Amai Kyuti
Lich Queen -
@UnseenShade
The Dragoness -
@WeepingLiberty
Apex - @KAZUKI
Reflection -
@CJ Liston