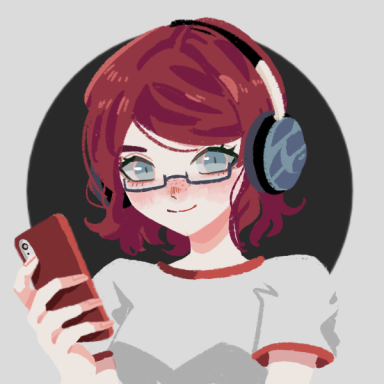 Aggressive Yodeling Expert
Original poster
Invitation Status

Look for groups
Looking for partners
Posting Speed

Speed of Light
Multiple posts per day
1-3 posts per day
One post per day
Multiple posts per week
1-3 posts per week
One post per week
Writing Levels

Elementary
Intermediate
Adept
Advanced
Adaptable
Preferred Character Gender

Male
Female
Nonbinary
Transgender
Agender
Nonbinary

Name:

John Delacourt II

Age:

I'm 21 years old, I'm ancient compared to the others, huh?

Gender:

You can look at this body and think I'm anything but a man?

Seuxality:

Baby, if you like me, I like you. We can figure out the bits and bobs later.

Likes:

Oooh, kinky...Well, my soft limits ar- Wait what? I'm being told this isn't that kind of trip. In that case...

✔ My hoodie; do you have any idea how hard it is to find a lightweight cotton hoodie with short sleeves and a hood big enough to cover my giant head?
✔ My music. If I'm not being forced to pay attention, I've got at least one headphone in listening to something, probably my favorite band, Poets of the Fall
✔ Junk Food. If it's sugary, fatty, salty, or terrible for me, it's got a spot in my mouth. Especially snack cakes and energy drinks. The fact I can keep the body I do baffles both me and the medical profession.
✔ Ramen. It's salty, meaty delicious noodle soup. what's not to like?
✔ Dancing. They say body language is the true language of love, and if that's true, I've got two silver tongues, baby....that sounded a lot better in my head.
✔ Drawing. I'll probably spend my free time on this trip doing a lot of drawing. Thankfully, I'm surrounded by beautiful muses.
✔ Alcohol, especially the hard stuff. I keep a flask of it with me to make the boring parts a little less boring.
✔ Snow. I love the feeling of it on my skin, and the look on a person's face when they get pelted by a snowball they didn't expect is priceless...
✔ Beetles. Especially Hercules Beetles; something about those giant horns is just awesome

Dislikes:

✖ Bad body Odor. Do I even need to explain why?
✖ Spicy food. I love it, but it feels like a ball of molten iron is sitting in my stomach.
✖ Country Music. There's just something terribly depressing about it all.
✖ Spiders. Something that sinister looking
✖ Idiots. If anyone's gonna be the fool, it'll be me!
✖ Horses. Their glassy eyes always seem to be hiding some nefarious plot.

Important-Life-History:

Ahh, now we're getting into the juicy stuff. I was always a decent kid, behaved well enough when the parents were around that I had plausible deniability for the shenanigans I pulled when they weren't. When I was 16, I was diagnosed with depression, and been on antidepressants ever since. It makes sense, I guess, because, while I was never really super sad, I was never really...happy. There was always something just kind of, well, off. You know what I mean? Anyway, I got held back a few years, for reasons I'd rather not talk about if that's okay. (

OC: Plan to explain later, and I'll edit it in when I've revealed it.

) Anyway, I learned pretty quick that people don't want to hang around the apathetic mope in the corner, so I started developing this persona you see now.

Something changed that last year, though. Suddenly I met Blair Davenport, and something in my brain finally clicked in place. We'd been neighbors for years, but neither one of us ever really gave much thought to one another till we were stuck in the same classes together. Soon, we became best friends, and through her, I met the rest of the group. For the first time, I actually felt like I belonged somewhere. I felt happy.

A few years back, I somehow wound up with a winning state lottery ticket. Not one of the Mega Millions Jackpots, just a few hundred grand. When this trip was proposed, I offered to cover it all. After all, these are my friends, right? If I don't spend it doing something with the people I care about, it'd just go to something stupid, like converting my hall closet into a giant liquor cabinet.

Important-Relationship-History:

Don't laugh, okay? I haven't really had a real relationship. I think the longest I've been with someone was 2 weeks, and that was over as soon as his spring break was over. I've always held a torch for Blair, though I'm not sure if she knows it or not. I'm hoping that I can tell her how I really feel while we're out there enjoying ourselves.

Family

Me and my parents...we don't talk. After I won the money, I moved out, and we haven't really spoke much since. They've got my little brother Kyle to focus on anyway. Let's change the subject, huh? Maybe I'll talk about it later, kay? (

This is related to the mystery revelation coming later on)

John Delacourt Sr.

, Age 44, Living

Abigail Delacourt

, Age 37, Living

Kyle Delacourt

, Age 12, Living (adopted)

Crush

In case you completely missed it two sections above, I've got a major flame for Blair. Keep up, man!

Other

Every idiot should have a theme song, so here's mine!


Don't tell anyone, but I'm planning on serenading little Blair with it when I finally work up the courage to tell her how I feel.

​
!!! I love him! Accepted for sure!