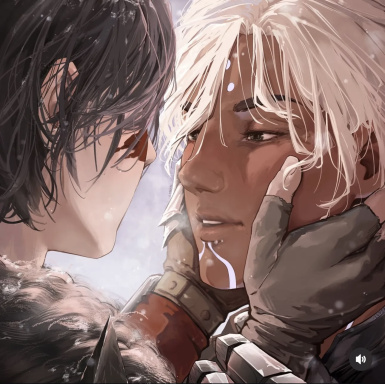 Inconceivable
Original poster
Invitation Status

Not accepting invites at this time
Posting Speed

1-3 posts per week
One post per week
Slow As Molasses
Writing Levels

Advanced
Prestige
Adaptable
Preferred Character Gender

Male
Female
Nonbinary
Transgender
No Preferences
Genres

Fantasy (High, Low, Modern, Any), Romance, Supernatural Creatures, Fairytale Retellings, Mythological, Heroes' Journeys, Fandom (Bioware Games). Open to Trying Different Genres.

[spoili]
When a merchant family is attacked on the road, their young daughter is forced to flee for her life into the mountains. There she meets a mysterious boy claiming to be a demon. They join together to find a way back to her people. As they grow closer, the world they inhabit grows more dangerous. Secrets will spin a dangerous web that could mean their end if they are not careful.[/spoili]

Threats cut through the night air. Tsura flew forward, branches scraping her checks.

"Run, my lamb!"

Blind instinct guided her. She knew nothing of the mountain. Thorns caught her woolen dress and green cloak. She heard the fabric rip as she struggled through. Mama wouldn't be happy about that.
A root caught the toe of her boot. She dove head first into the weeds. Nettles stung her face, making her eyes water. She brought her hands up to rub the pain away. There was a thud from the woods behind her. Cursing followed.

"You can't run forever, you little bitch!"

Tsura blinked back the tears, pushed herself up and plunged onward. Her lungs were on fire. Her legs had gone numb. Fear kept her moving. A thick patch of bramble caught hold of her. She struggled through like a snared hare. Her cloak was ripped from her shoulders, but she kept on running. She couldn't stop. Papa told her not to stop.

Suddenly the trees fell away. Bare rock reared up before her. Manmade pillars stood out against the rugged backdrop of the natural world, each intricately carved with swirling patterns. A carving crowed the structure with a picture of a knight surrounded by a heavenly aura lifting his sword heavenward. Well-worn stairs marked the path to the ornate gate of silver and steel. The structure was dark as though it had been abandoned for years.

"Beware the temple carved of rock. There rest the thralls of steel and light."

She stumbled to a stop at the base of the stairs. The gates stood open, but the darkness forbade entry. The air was heavy as though a storm were about to break.

The sound of thrashing reached her ears from the woods. She scurried up the stairs into the shadows. Heavy silence hung in the halls, disrupted only by the sound of her footfalls. Small torches began to appear as she walked, illuminating the hall with a dim glow. She stared at one as she passed. The fire looked weak, sickly almost. Wall carvings became visible as she went along. Some depicted scenes from the stories she'd heard the grey cloaks tell. Others were filled with words she could not read. A few were covered by elaborate tapestries with lots of bright colors and detailed pictures. Yet little passion emanated from the art. It felt more like an obligation; created to fulfill a duty to the subject. Tsura hurried passed them, hoping to get further into the safety of the darkness. A passage appeared and she took it, turning down another and another. It was not long before she felt she'd lost her pursuer as well as herself.

She stopped to rest behind a large statue. It was carved of pure white stone and depicted a man in armor. He looked angry with a frown chiseled onto his features and his sword thrust up skyward. Tsura looked away, gathering her knees to her chest. Suddenly she tensed. She could hear footsteps
"I heard it this way."

She froze. Her ragged breath stopped as the footsteps approached her.

"No one should be out of their cells."

A pair of men appeared from the other end of the hall. They wore silvery armor with lions on their breastplates and pauldrons. She'd never seen a lion before, not a real one at least. They were creatures from a distant land across the sea. Mama had told her stories about them. The men walked past with their backs to her. Her eyes were drawn to their swords at their sides. She remembered the curved dagger of the man chasing her.

"Those new recruits were still restless yesterday. Maybe one got out to prowl."

"Too quiet for that. Sounded like an animal."

Tsura curled herself into a tight ball and squeezed her eyes shut. They had swords like the men from the road. What if they wanted her too? She never should have stopped.

"No animal would come in here."

Their voices retreated down the hall, quieting to a distant murmur before breaking off. Tsura sat there quivering. Exhaustion had sunk into her bones, but she needed to keep running. She wanted to go back. Mama and Papa would be waiting for her. But the man with the knife was outside. Papa had told her to keep running, but she didn't know where to go. They had been traveling most of the day without seeing even one town. She couldn't walk all the way back alone. Not with those men out there. She laid her head on her knees in the cradle of her arms. There had to be a way to get home. Mama had told her a trick once to find the caravans, but she had forgotten it.

"There, I see it!"

Her head shot up. The men were back. They were running down the hall.

"A child?"

She jumped to her feet and shot down the corridor. She turned into the first doorway she saw.

"Damn, the chamber," she heard one curse from behind.

The room was filled with green crystal pillars. Strange marks covered each of them in a series of patterns though she could not say what any of them meant. The rest of the room was nothing more than a large cavern. Water dripped down from stalactites on the ceiling into little pools along the edge. The air was damp and cool. Tsura saw an opening on the other side of the room. She ran for it.

"Stop!" she heard one of the men shout.

Tsura glanced back. Her foot kicked something hard. She went sprawling forward. She glanced down and saw a big disc. It was green like the pillars with lots of strange lines carved onto the surface. The designs were in a series of rings each one blossoming out of the middle which was smooth and polished to perfection. It was so dark it looked like a hole in the ground. She rolled forward and pushed herself off. The men ran around the disc to catch her. She cleared the door and bolted down the nearest passage way. None of them noticed the drops of blood she left on the stone.

Tsura turned down another hall. It was a dead end save for a small fissure in the wall. She stopped in front of it, peeking in to see what there was. A light shone from the other end. The men appeared at the door. She squeezed in. They reached in after her, but she slipped from their grasp. They cursed as she made her escape. She had to walk sideways, maneuvering her thin frame through stone. She got stuck once, and had to sit and wriggle for a long time to keep moving through. There was a small opening on the other side of the wall, just big enough to squeeze through. She slipped her head out first and the one arm. Her lower half got stuck. She wiggled her other arm out and began to pull herself forward. Finally she burst out and ran smack into a pile of crates. They began to teeter. She rolled to the side as they came down. One burst open, spilling a pile of wool onto the floor while the crate at the very top hit the wall and slide down in front of the fissure. She took a deep breath. That had been close.

There were stacks of supplies everywhere. Sacks of grain were precariously piled in one corner surrounded by barrels and crates of all sizes. Bolts of cloth leaned against the wall, all in varying shades of grey and white. There was a door on the wall opposite to the fissure Tsura had squeezed through. Seeing no other way out, she walked over and pushed the door. It didn't move. She tried again, harder this time. It refused to budge. Panic blossomed in her chest. She rammed herself against the door, resulting in a loud bang and a hurt shoulder. No, it wasn't possible. She pounded her fists against the door, stopping only when they began to go numb. She was trapped.

Her breath caught and her eyes began to water. She needed to get out. Taking a step back, she looked for a tool to help her. Only boxes presented themselves. There was no way to go back the way she came. She needed to find Mama and Papa. "Someone help me," she begged the empty air, "Please."

The door lurched open. Tsura looked up. The men stood before her, red faced from exertion and anger. "Found the rat," the first announced. He stepped forward. She darted to the side. He catch her waist and crushed her to his chest. "Not this time," he warned.

"Let go," she screamed, thrashing with all her remaining strength.

He laughed at her efforts, "Kick my armor all you want, little rat. Don't cry to me of bruises after."

"We need to get her out of here," his fellow said, turning to go.

Then the ground lurched out from under them. Her captor fell forward, releasing his hold on her to catch himself. Tsura raced forward, but a second tremor knocked her from her feet, giving the second man enough time to catch her. Her shoulder burned from where she'd hit the door and her heart raced.

"Simeon," her captor called to the man on the ground, "Get up. We need to check on this."

The other man stood up and walked out of the room. Tsura was carried back and dropped on the ground like a pile of rags. The man shut the door after him. She jumped up and slammed her fists on the door, but it was already bolted shut. "Let me out," she screamed after them, but there was no reply. She sank to the floor by the door, biting her lip to stay strong.

"We'll deal with the rat later," she heard Simeon say, "Come on."

Tsura remained on the floor for a while. Seeing nothing to do at the door, she drifted back to the fissure. She pushed the crate, trying as hard as she could to move it. Nothing worked. Whatever was stored within was far too heavy to be moved by a child. Tears began to flow down her cheeks. She was trapped with nowhere to go. Papa had told her to keep running. Why had she stopped? Now she would never get out. A whimper escaped her lips. She took a deep breath, quieting her sobs before they could begin in earnest. She needed to be strong. Mama would want her to be strong. She stood up again and tried pushing the crate some more. It would work if she just kept at it. It had to.
Last edited by a moderator: