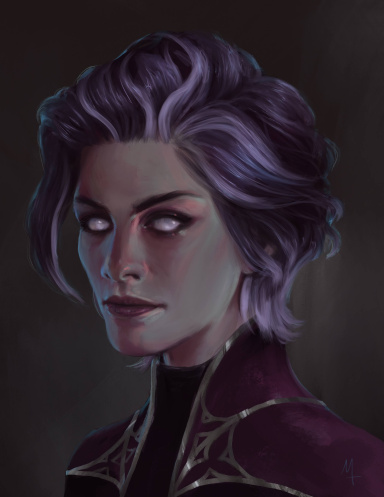 || Perpetual GM ||
Original poster
LURKER MEMBER
FOLKLORE MEMBER
Writing Levels

Adept
Advanced
Preferred Character Gender

No Preferences
---
The Aberrant Vaults - Sign Ups
---
In a world where magic can only be written, a group of powerful magic users known as Scribes have long existed in neutrality to write and manipulate magic for the benefit of all humanity. Generations ago, when the first Great War split the land into two factions, the Scribes were forced to choose sides, and it was only until after the treaty of peace were they able to return to their neutral state. In times of peace, they are allowed to cultivate and grow their magic in peace, but in times of war, by law they must answer to their leaders.
Every four years, the presiding rulers of each faction gather within the Osceli halls to affirm the peace between the factions. But peace would become fragile when nefarious and underhanded plots are revealed. War is on the horizon, and while it has not completely come to pass, both sides will race to gain the upper hand.
They call for their Scribes and their elite Order Agents to take up their lawful duties, which in turn requires them to forfeit neutrality and fight against their own kind. Having gone so long without war, it is a reluctant act, with some branching off in rebellion against the rising conflict.
This rebellious branch will be tasked with hunting down the true interests of each faction: powerful magical artifacts crafted by an ancient civilization that can be wielded by any human, even those without magic. These artifacts must be found before they are placed in the wrong hands. Can there be trust in such troubling times?
---
OOC
---
What I'm looking for:
Intermediate to advanced writers
2+ paragraphs per post
4-6 players
Collaborative players
Players will either be playing a Scribe (Magic User) or an Agent of the Order (Non Magic-ish Fighter). All player characters will be above the age of 20. This is a fantasy adventure, but there will be only humans as a race. Please look at the Lore section before submitting a character sheet. If you have any questions, please feel free to PM me at any time.
This adventure will not start until January 2023. Please take your time with the sheets. You can reach out to me via the
OOC
section or via DMs. Do not use this section for anything OOC.
Anyone submitting a character sheet that is not a Scribe or an Agent must speak to me via PMs before submitting, otherwise there will be no acceptance. This would be very special circumstances for a character to be outside of the Scribes or the Order, and therefore would require collaboration. I'm not opposed to it, however, bear in mind it will be difficult to put your character in the plot. Our discussions via PM also do not guarantee your place in the plot as well. It is only to help you build a character that could fit, but I will still be reading through your full app.
List of players greenlit to app their non Scribe or Agent character concept:
Any characters who may struggle with working with others towards the goal of finding these artifacts may not work well in this plot. For the best experience, the group needs to stick together. Try to think of how your character would fit in, even if a little aloof or on guard.
A discord server will be in place for OOC discussions and collaborations for approved players.
---
Character Sheets
---
All character sheets must contain the following. You may code how you like, or just provide the information in basic format.
Name
Age (20+)
Profession and Status (Scribe or Agent, their rank or status within their profession is in the Lore section)
Description of Appearance and Personality
Realistic artwork or picture of appearance
3 strengths, 3 weaknesses
IF YOU ARE A SCRIBE - you may choose out of the following: 5 large scrolls with 5 unique "major" spells, or you can split a large scroll into 2 small scrolls and have 2 unique "minor" spells. If you are building a book at the start of the game, you can have either just the book with 5 spells within one focus (refer to Lore), or you can have 4 focus spells with one scroll that is outside of the focus. And so on. If you wish to have a fully formed book, you need to DM me and explain to me what the book is and how your character received the book. Characters over the age of 50 can potentially have a completed tome that they built on their own. If you have any issues thinking up of spells, D&D has a lot of good ideas!
IF YOU ARE AN AGENT OF THE ORDER - please either describe your character's mask or provide a piece of artwork that you feel illustrates the look best. Please refer to the Lore section about masks if you're unsure. Please also detail in your backstory how your character feels about the Order. Please also provide a Call for your character.
A list of secondary weapons, if any.
Backstory (please be thorough, but you don't need to write a novel. I'm expecting at least 3 paragraphs)
Link to your best RP post from any iwaku plot
Fill out the following and DM it to me. Do NOT post it in your public sheet!
Conflict (who or what does your character fight or fight for?)
Challenges (what limits your character?)
Mystery (what doesn't your character know?)
Passion (what drives your character?)
Secret (what does your character NOT want others to know?)
Rumors (come up with two rumors about your character (things others may have heard - NPCs or PCs) - one is true, one is false)
@Elle Joyner
@ze_kraken
@Verran
@Pupperr
@Toogee
@Ur Degaton
@Luther
@Red Thunder
Last edited: