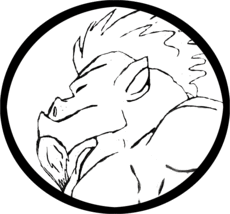 long time rper, returning to Iwaku!
Original poster
Welcome to Taekwondorkjosh's SFW Search thread. It says in the title but I'll repeat it here: no underage partners please. Not because I expect most of this stuff to turn into smut, but because I don't really feel comfortable chatting one-on-one with minors, let alone discussing romantic stories with them. Just kind of squicks me out.
Okay, the ideas here are not presented in any particular order. When it comes to pairings or canon-character play, the role I'd prefer to play is marked with an asterisk (*) though I'm up for either role if my partner would prefer that role. If my interest in the play hinges on me playing a role, it will be marked with a tilde (~). I do not want to do these unless I'm playing that particular role. If I've no preference at all, then there will be no markings.
Roleplay Ideas that I'm craving particularly strongly will be marked with a dollar sign ($). The more dollar signs, the more I'm craving the idea.
I play an alien hunter of some sort that arrives in a superheroes proctorate. The superhero and the alien fight over and over, with no clear-cut winner, but budding respect and curiosity leads to the characters interacting in non-combat settings, and eventually the alien starts helping the superhero. This leads to a budding romance, as well as a growing plot involving alien threats and other superheroes. I could play a completely original alien, or something from a canon universe I'm familiar with, like Predator, Starcraft, the Alien Franchise, Transformers, or even Steven Universe if we swing it interestingly enough.
I play a transforming alien robot that your character wakes up. My Character (MC) imprints on Your Character (YC), and leads YC on an adventure facing government threats, other robots, and whatever else we cook up. Throughout the play, we recover components of MC's body, and they grow larger and regain some of their memories each time. This does not require me to play using the Transformers Mythos, but it will be informing many of my decisions for the character and plot revolving around it.
I play a fledgling monster or alien creature that starts following your character around. Perhaps I get loose on your ship, or follow you out of a Vault (Fallout Universe), or just crash land in your backyard. I begin to grow, becoming hungry, curious, and dangerous, and it is your responsibility to keep me sated. As I grow, I get more powerful, larger, and more intelligent, and you are pulled into an adventure involving alien threats, bounty hunters, and who knows what else! Could also very easily involve a magical creature, like a small dragon, demon, or fey creature!
I would like to play a monster, a magical warrior, an alien from an advanced civilization, or anything like that, and get stuck in a modern or near modern setting. You would play the character that takes me in and does your best to keep me hidden, while I show you things of my world. Plot could vary between something small and personal to a world-saving epic where your character gets swept up into some big adventure. Could also work really well with a post apocalyptic setting.
Monster x Hunter, Superhero x Monster, Superhero x Villain, Fighter x Magic user
Below is a list of the various canons I'm familiar with. If I have any particular ideas about them, I will have converted the name into a spoiler that will reveal ideas and pairings.
Raynor x Kerrigan
Raynor x Protoss or Zerg OC
Kerrigan x OC
Zagara* x OC
Zerg x Protoss
A Zerg creature~ in a different universe, slowly building its forces through manipulation, subterfuge, and psychic ability, see "Evolving Monster" in "Developed Ideas" for more details
Zerg x Xenomorph (Alien Franchise)
Dinobot (BW) x OC*
Rattrap(BW) x Dinobot (BW)
Arcee (Prime) x OC
Starscream (Prime or Aligned) x OC
Transformer OC x OC that they're expected to protect or work with
Strange Intergalactic Monster~ x Just About Any Character or OC in the setting
Predator x Alien from another continuity
Predator x Superhero (See "Superheroes and Aliens" in "Developed Ideas" for more details)
Predator x Xenomorph
Xenomorph x Zerg (Starcraft)
Xenomorph x Alien from another continuity
Xenomorph~ x OC
Predator~ x OC
Steven universe
Dungeons and Dragons
Warcraft
Pokemon
Digimon
Fallout
Artemis Fowl
Harry Potter
Adventure Time
Percy Jackson and the Heroes of Olympus (and all other Riordan Content)
Animorphs
Archer
Koboyashi Dragon maid
Full Metal Alchemist
Inuyasha
Cowboy Bebop
Madoka Magica
Avatar the Last Airbender
Legend of Korra
Trollhunters (and all other Tales of Arcadia)
My Life as a Teenage Robot
Danny Phantom
DC Animated Universe
Marvel Cinematic Universe
Teen Titans (Animated)
Godzilla (Legendary and all others)
Voltron Legendary Defender
She-ra and the Princesses of Power
Last edited: