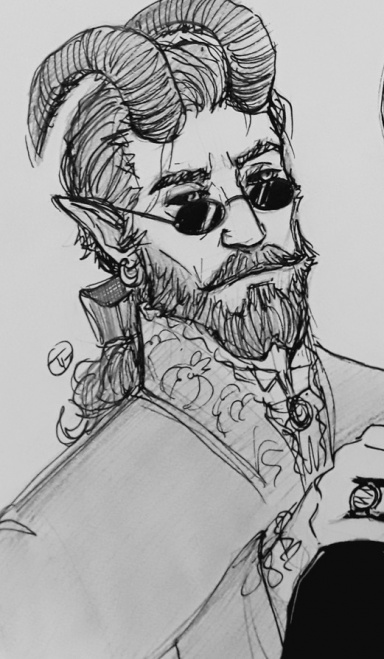 sweet tart
Original poster
TALES of TALVIEN: The Maddening Mist
a medieval fantasy roleplay w/ inspiration from the Pathfinder rule set and more!

---
PREMISE
---
It was just 12 years ago when the last of the halfling kingdom
Nadever
was drowned in a sick fog. A fog that, while it seemed like any other mist by appearance, was actually capable of driving those caught into a vicious and bloody rage. The afflicted could do nothing but tear at those around them and once there was nothing else to attack, they would turn to their own bodies. A gruesome fate, and one that the entire continent of
Talvien
believed awaited them, until as suddenly as it appeared, the fog halted its advance. It became dormant, seemingly content to settle on
Nadever
and refrain from spreading its torturous effects to the neighboring dwarven nation or elven clans.
Until now...​
Chaos. Talvien found its descent into madness all too quick the moment a young dwarven merchant caravan reported one of their regular stops on the surface, a tiny farm village, had been lost to the fog since their last visit. The calamity, the
Maddening Mist
, was spreading once more and if the technological marvel that was the halfling capital and all of its researchers and alchemists couldn't halt it what hope did the rest of the races have?
The dwarves were quick to close ranks. They fooled themselves into believing their citadel buried deep within the
Iron Hills
would be spared with some preparation. The elven clansmen and their nomadic villages had no choice but move further east and into human territories, inciting outrage from the peasants as they complain to their local lords about not wanting "no damn flesh munchers digging up our dead uns."
All the while a feverish nightmare plagues the continent come evening. None of the civilized race are spared from the dream of a haunting divine halfblood, calling out for help, crying for salvation. Between her seemingly universal place in the minds of the people and the second coming of the Mist, many are convinced without a doubt that these are the end of times. It has to be.
And yet...
​
There are those who refuse the chaos. Those who refuse to watch the Maddening Mist swallow the world. Those who, just like the
Thirteen
had nearly a millennia ago, stand to face the unknown despite it all.
Cadeira
, the capitol of the illustrious and ambitious lizard empire, has funded an expedition party. With the miraculous arrival of a quirky spellblade newly capable of moving himself and others through the fog unharmed, there comes a hope. A chance.
And you my dear friend are one of the brave (or perhaps insane) souls destined to help stop the madness.
---
RULES AND EXPECTATIONS
---
[I.]
All of your typical Iwaku rules and guidelines apply.
[II.]
Communication and plotting are key! I encourage you all to use this thread as a place of discussion, planning and banter.
[III.]
We will be shifting between collaborative group posts and longer individual posts depending on what flows best for the current IC events.
[IV.]
One or two posts a week from each of us would be great. More than that is even better, but life is life and I get that.
[V.]
I won't be enforcing a specific post order. Just remember to wait for 2-3 posts before posting again if we're in a round of individuals.
[VI.]
Romance is encouraged but not mandatory in the slightest! With that said--expect Ozz to flirt with everyone.
[VII.]
As always things are up for discussion and change. Feel free to PM me or post here if you have any concerns.
[VIII.]
And finally--have fun.
♡
---
LORE AND OTHER INFORMATION
---
History

A vast and ultimately unforgiving continent, Talvien is defined by bloody conflicts of far too many forms. War and strife has been wrought between the races throughout the years. The continent and the founding of its current kingdoms can be traced back to The Thirteen, a legendary and now timeless band of heroes. A millennia ago, the Goddess who's name has since been forgotten at the behest of the heroes who defeated her, brought life to the wastes and created Talvien and the races that inhabited it. She bestowed upon her creations food, water, shelter and the ability to think and therefore grow.

As free will has always allowed, it was only a matter of time before her grateful subjects turned to selfishness, conflict and debauchery. Centuries passed before war and violence took root in Talvien but it was inevitable. For awhile the six races fought against one another other vehemently, the Goddess unable to do anything but watch her creations slaughter each other, until in an act of savagery (or in the eyes of the offenders--liberation) the Goddess true children, the Celestials, were slaughtered.

The Goddess was thrown into fury. Into insanity. Using her immense power she erected an army of the fallen, the corpses left behind after hundreds of years worth of conflict risen to destroy those who had destroyed them, risen to destroy the races she had foolishly allowed to grow too strong for her to face on her own.

The six races; humans, elves, dwarves, halflings, orcs and lizards had to band together in order to stand a chance against their creator. Against their progenitor. Centuries worth of racial pride and prejudice were overturned out of desperation thanks solely to the eleven representatives that forced their kin to open their eyes and the two eldest celestial twins that saw their mother and their siblings descent to madness before anyone else.

Together they made The Thirteen and together they led the armies of their people in a holy war. Countless died but they fought with valor and with absolutely everything on the line. The conflicted ended with the Goddess' defeat and her incomprehensible power as the creator of the world separated equally among the heroes that led the charge.

The Thirteen opted to watch over the world in a way far less involved than the Godess had, leaving behind their racial forms behind and transcending into the stars where they became the new Gods of Talvien and its six races.

And as it always has and always will, the world moved on. Generations passed and the peace and cooperation between the races were destined to end. Now nearly a millennia later, the idea of the races working together is nothing more than a pipe dream. The elves and the dwarves have become isolationists with only a few outliers here and there. The humans and the lizards are constantly expanding their empires and pushing uncomfortably against the races around them. The haflings have been decimated by the Mist and the orcs are either in hiding, dead or enslaved by the lizards that they had gone to war against.

Talvien is splintered and shattered and there are those beyond the fog that intend to benefit from it.


Deities




THE THIRTEEN​

---

OCTAVIUS

/

PATRON OF THE LAW

/

LN, LG, LE

/

MARTIAL - SWORD AND SHIELD

---

Before divinity, Octavius was a dedicated paladin born to defend the helpless and smite those who would harm them, regardless if it was their intention or not. He was the mortal human who stood in front and led everyone into the decisive battle against the Goddess. Godhood has done little to change his attitude towards honor and tradition and he blesses those who evoke his name to serve justice.



Octavius holds domain over: Law, walls, blades, and discipline.




---

SYBIL

/

LADY OF LOVE

/

N, CN, CG, CE

/ ARCANE - ILLUSION

---

Sybil was a powerful sorceress who's diplomacy and persuasiveness rallied both her human kin and united the mortal eleven when the Celestial twins came to her in hopes of an ally. Her bloodline is rich with magical power and her followers tend to follow in suit. Sybil's passion for love and life remains the central focus to those who follow her however, so the non-magical are just as welcome as the those talented in the arcane.



Sybil holds domain over: Free love, free will, magic and roses.




---

GARNAG

/

EMBODIMENT OF RAGE

/

N, NE, CN, CE

/

MARTIAL - ALL WEAPONS

---

Garnag is the most fearsome and most ferocious warrior of the thirteen, a slave turned gladiator and later--a liberator. Above all else Garnag values and blesses those who lose themselves in the fight, those who turn to instinct rather than training, and those who call his name while they charge.



Garnag holds domain over: War, feasts, wild beasts, and strength.




---

SAHABI

/

KEEPER OF THE DEAD

/

LN, LE, N, NE

/

ARCANE - NECROMANCY

---

Formerly a cruel but unmatched elven shaman, Sahabi both in divinity and before it forgoes her relation to nature as an elf to focus on the dead and the realms they inhabit. She went from overseeing the ritual and preservation of the graveyard of her clan to overseeing the plane of everest where all souls go when they leave the world. Those who follow this deity understand the inevitably of death and embrace in its certainty.



Sahabi holds domain over: Death, sleep, pain, and rest.




---

AKADUM

/

THE ALL-FORGER

/

N, LN, CN

/ MARTIAL - ALL ARMORS

---

Akadum was the prodigal dwarven smith whose armor could withstand blows from the Celestial, from the Goddess herself, and whose weapons cut the a new path for the world underneath the Thirteen and not the progenitor Goddess. Followers of Akadum are all craftsman of some kind and are incredibly dedicated to their chosen craft.



Akadum holds domain over: Creation, armor, hammers, and metal.




---

CADE

/

THE MIND ABOVE MINDS

/

N, NG, CN, CG,

/ MARTIAL - CROSSBOW

---

Cade Havernash was the halfing whose intelligence knew no bounds. His methodical battle tactics and stunning alchemical creations turned the tides of battle time and time again, even though the man was more than happy pursuing knowledge as opposed to using it to harm others. Cade's temples are more akin to schools and libraries than a place of worship. He encourages all forms of gaining knowledge and free thought in his followers.



Cade holds domain over: Intelligence, knowledge, alchemy and books.




---

OBANIR

/

THE TONGUE DRIPPED IN SILVER

/

N, CN, CG, CE

/

MARTIAL - RAPIER

---

Obanir was a lizard who's charm and wit was incredible enough to compel beast, man and celestial alike! Those who swear to Obanir are the people who see the value in words and relations and charm. They seek to talk thing through and gain whatever they want with just the right set of compliments and favors.



Obanir holds domain over: Speechcraft, diplomacy, written words, and social places.




---

ENA

/

MASTER OF THE HUNT

/

N, NG, CN, CG

/

MARTIAL - BOW

---

Ena is she whose arrows tore the world asunder, who rose from a humble forest to become the patron of all nature and it's more docile beasts. Followers of Ena choose to live away from cities and commune with nature, be they druids who speak to animals or hunters who understand and respect their place in the cycle of life. Followers of Ena place the most value on life than any other religious following.



Ena holds domain over: Life, nature, calm beasts, the fey.




---

SEBASTYAN

/

GUARDIAN OF THE LIGHT

/

NG, LG, CG

/

DIVINE - ABJURATION

---

Before divinity, Sebastyan was a beautiful young man and cleric who's honeyed incantation and unrelenting hope inspired the faithful and good. After taking a part of the original Goddess' power he has became the embodiment of light, its guardian, and the Faith of Sebastyan is one of the most prevalent, if not oppressive, religious sects in Talvien.



Sebastyan holds domain over: Light, holiness, warmth and goodness.




---

ERDALEH

/

KEEPER OF THE ARTS

/

N, NG, CN, CG

/

MARTIAL - DAGGERS

---

Erdaleh was a scaled and enchanting bard who not only fought alongside her brother and sisters in arms, but recorded it in songs and painting so that the world might never forget where it comes from. An increasing need of survival in Talvien has meant the arts have lost their place among whats valued and followers of Erdaleh seem to grow fewer and fewer each day.



Erdaleh holds domain over: Music, singing, painting, and dancing.




---

L'ÉTOILE

/

THE MORNING STAR

/

LN, LE, LG

/ DIVINE - EVOCATION

---

L'étoile was the Goddess' first true kin, her first daughter, and her first child. For centuries she served as her mother's righteous and unforgiving right hand and she would later become the only Celestial who knew her mother's fall was inevitable. L'étoile would go on to become a goddess herself and parent angels, divine beings who seek out injustices and correct them. Followers of L'étoile are steadfast, blunt, and have named themselves The Order of the Morning in her honor. They are particularly ruthless in their judgement and dole out justice in a way that some followers of Octavius might feel uncomfortable about. They are incredibly illusive--only appearing the direst of situations.



L'étoile holds domain over: Righteousness, flames, order, and the sun.




---

ÉTOILE

/

THE NIGHT'S HERALD

/

CN, CE, CG

/ ARCANE - EVOCATION

---

Étoile is the younger twin brother of L'étoile and therefore the Goddess' second true child. He was her free spirited and pleasure driven left hand and would later become the unfortunate father of demons when he tried to take on some of the Goddess' pain and insanity in hopes of trying to save his dear mother's life. In the end he worked alongside the Thirteen to stop her and thus earned his place in divinity, even if his older sister and Sebastyan hold him in distaste for his chaotic nature. Years of slander at the hands of the followers of Sebastyan and L'étoile alike as well as his ties to the nefarious demons known for leading mortals to awful deaths have made the followers of Étoile scarce and heavily judged if one is revealed to be one.



Étoile holds domain over: Pleasure, flames, indulgence and the moon.

Races

---

HUMANS

are expansive, ambitious, versatile and heavily outnumber all the other races. They are second only to the lizards even though unlike their fellow races they are rather plain physically. What they lack in natural strength and abilities, they make up for with their determination and ideas. They are also the only race capable of crossbreeding though these relationships are usually frowned upon by most.

(Humans can have mixed breed children with elves, dwarves, halflings, orcs, demons and angels)

---

DWARVES

are hardy, stubborn, industrial and defiantly proud. They've an extensive network built within the Iron Hills that's so developed and large that many dwarves go about their whole lives without seeing the surface world. Surfacers are usually looked down upon even though a large part of the dwarven economical success and security is thanks to their above-grounder's hard work.

They care little for interacting or dealing with the other races, too busy and too tied up in their own traditions and political storm to see what's wrong with everyone else.


---

ELVES

are illusive and heavy isolationists. They are universally considered beautiful but also generally misunderstood/judged for their inherent fascination with death and the afterlife. They live longer than any of the races, their eldest nearing almost four hundred years in age before finally passing on to Sahabi's graveyard.

They live in, respect, and work to protect nature.


Whilst working with Kat to make an elven character I answered a handful of questions about the race. All my answers are below.


There are five major elven clans that roam around the Throat. They mostly keep to the forests rather than the hills and the three largest clans swear fealty to Sahabi. The Three tribes are as mystical as they are mysterious and rarely interact with the other races. They are infamous for their fascination with necromancy and their cannibalistic rituals.

After all, all elves possess the ability to experience the memories of those who have passed on by eating their flesh. It's a skill that can be practiced and some are inherently gifted at it.

A truly talented flesh reader is capable of experiencing a living person's memories just by licking their skin. Whatever memories and thoughts they feel are often moments of intense emotion.

The two tribes that don't follow Sahabi, follow Ena instead and are more akin to wardens of nature and beasts rather than ominous death shamans. They can also flesh read, but don't put quite the amount of emphasis the Five do. They are significantly smaller and receive the same prejudice their fellow elves do despite not practicing the same beliefs.

These tribes follow Sahabi:
Laaseluune
Wyntaarie
Niur

These tribes follow Ena:
Shiye-Lyeere
Shiye-Taarii

In regards to the Shiye Tribes... both clans are sister tribes and are more than happy to interact and intermingle with one another when they cross paths (as all elven tribes are nomadic and roam from place to place in the Throat). They do trade with the humans of Dorothea but have given up trying to explain that they are different than Sahabi's followers. They are almost all entirely followers of Ena so they're very nature oriented and hunt only what is necessary, thanks each kill for sustaining them, and always aim to preserve nature no matter how deadly or vicious it might be in the Throat. They are survivalists and unlike Sahabi's followers they bury the dead as opposed to eating them. The original elves were all like this, but Sahabi led the majority astray when she ascended into divinity.

- Elves retain their beauty throughout all their years, the only indication of their aging being the loss of pigment in their hair and a decline in physical ability.

---

LIZARDS

are aristocratic, haughty and probably the most openly racist group... though mostly because they are so assured in their superiority. They excel in just about every area, warfare and swordplay, magic and the arts, and they are naturally resistant to nature and sickness. All these attributes play in their empire's favor, the sheer power of the lizard race enough to force human, elves, and halflings into pursuing diplomacy for security's sake.

Lizards have recently overcome their orc neighbors and overtaken their land quite readily after a century long conflict in the making reached its boiling point.

---

HALFINGS

are mischievous but undeniably ingenious little creatures. They've usually got luck on their side, but ever since the Maddening Mist, it seems like they have anything but. Most of their advanced technology and innovations have been lost to the fog, and the few Haflings that weren't affected are spread too thin across the continent to make a conscious effort to better their races statuses beyond unfortunate, intelligent refugees.


---

ORCS

are bloodthirsty, direct and aggressive. They value strength both personally and strengthening their tribe regardless of the type of contribution. An orc who pursues an intellectual study is valued just as much as a warrior so long as he uses his abilities to benefit his tribe as best as he can.

Most orcs are either in hiding or enslaved however since their brutal loss against the lizard empire. They are the only race to have ever challenged the lizards head on.

---

TIEFLINGS

are incredibly rare and the result of an unholy communion with a human and a demon. They share many traits with your typical human but there is an inherent duality with a more fiendish being within them, depending on the kind of demon that fathered them all Tieflings struggle to control their urge to satiate a certain pleasure, most often give in and develop infamy for their actions.

Tieflings can have unusually colored skin, unusually colored eyes, horns, and a tail. They usually have at least one of these attributes.

---

AASIMARS

are also incredibly rare but are actually a result of a rather unlikely communion between a human and an angel. Like tieflings, they are quite human with the exception of a desire to exact or display or demand the chosen virtue of the angel that parented them. Many become paladins and clerics for the holier deities.

Assimars usually have unusually colored hair and glowing eyes. Very rarely do they possess wings and when they do, they're often a target of blackmarket dealers with clients who will pay a heavy sum for this defining feature.

---

(NPC) ANGELS are lawful, merciless creatures that pursue and enforce their virtue of choice. They are not playable.

(NPC) DEMONS are chaotic, unpredictable creatures that pursue and draw people to their pleasure of choice--more often into unhealthy excess.

---

Map




Plain for clarity's sake. Will be updated as the group finds more and more locations.

​

LOCATIONS OF NOTE:
THE WHITE ISLE is an unexplored island just off the coast of the rest of Talvien. Its named after the everlasting blizzard that shrouds the island. Time and time again adventurerers have set off for its mysterious shores and time time again the cold storm has ripped their expedition to shreds.



THE KALESHIAN EMPIRE

is the expansive and fruitful land of all lizards. The empire started as a thin strip along the southern coast and has since expanded northwards into orc territory. Cadeira is the nation's capital and it is a sprawling metropolis spreading from a central palace. The land is ruled by Ashara--a cutthroat but intoxicatingly persuasive politician who finessed her way into becoming Empress. She rules alongside a board of senators, said senators having their own estates all along the empire's reach.



THE NORTHERN SHELF

is the last stand of the orc tribes. Formerly a sacred mountain range where orc shamans worshiped Garnag, it has since become the race's last bastion against the lizards. The orc's knowledge and familiarity of the terrain has made it too difficult for the lizards to advance. The latter is more than happy to let the orcs stay freezing in the north while they enjoy the benefits of the their lands.



THE THIRTEEN'S TRIUMPH

is the only neutral land in all of Talvien. It is the site of the Thirteen's war against the goddess and is characterized by series of rough mountain tops. A monastery has been built here to serve as a neutral space for the rulers of the land to meet and discuss Talvien's future. It has been many years since such a diplomatic boon was utilized.



DELPHINE, DOROTHEA, AND DIANE

are the three human nations that hold Talvien's north. They are ruled by three noble families that, despite their differences, cooperate well with each other. House Dorothea is the cultural capital of Talvien where taverns, brothels and dance halls are around every corner. House Delphine sits on bountiful land and supplies enough resources for itself and its two sister nations. Diane is the human's military stronghold and their rather isolated position has promoted racism against the others of Talvien for far too many centuries.



NATURE'S THROAT

refers to the lands of Talvien that have remained untamed and wild. Beasts roam here and the two natives to the area--the dwarves and the elves--are far too concerned with their own societies to bother with enforcing law and civility. The throat is no man's land and one that requires you to be strong in order to survive the local animals, bandits and even fauna.



THE FOG'S HOLD

is the title the former halfling kingdom has taken. It has been decades since anyone has stepped foot in the hold and returned sane enough to tell of what they saw. There is no way to know what or who might lurk in the mist.

Magic

---

BASICS
There are two types of casters in Talvien. The

ARCANE

who derive power from personality and birthright and the

DIVINE

who evoke either L'etoile or Sebastyan in order to cast down holy fire/mend wounds. The Arcane are incredibly more versatile than their counterparts but have been on the receiving end of centuries worth of slander and defamation from clerics. It's gotten to the point that nobody in a village would bat an eye at a travelling cleric magically healing wounds but the moment a sorceress does something as simple as cause flowers to grow exponentially, the dirty looks and whispering will commence. In the worse case, so will torches and pitch forks.

---

ARCANE
Arcane magic is a natural occurring phenomenon believed to be passed from person to person through bloodlines. Such power was distinctly rare a millennia ago but due to the teachings of Sybil and those who followed them, such magic takes root in more family lines each and every generation. Still, the arcane blooded makes up a small portion of the general population.

The magical ability available to a sorcerer/sorceress is dependent on the magical being that tainted their blood at some prior point in history.

All arcane magic users experience the same physical and mental cost of casting however. Repeated spell use will not only cause physical exhaustion, but if driven to an extreme point, the loss of one's sanity. Such a level of abuse is not recoverable and many asylums (and graveyards) house mages who did not respect boundaries/were not trained to exhibit self control.

---

DIVINE


Divine magic is a product of reverent prayer and devotion to either Sebastyan or L'etoile. Those who follow the former are capable of healing wounds, lighting the dark path before them, and instilling the likes of hope and calmness in their allies. Those who follow the latter are much more offensive comparatively. L'etoile's followers are capable of evoking fireballs, spraying flames from their hands and mouth, and are particularly potent against the undead or demonic.

Bloodlines

AASIMARS

☼


"Aasimars are humans with a significant amount of celestial or other good outsider blood in their ancestry. While not always benevolent, aasimars are more inclined toward acts of kindness rather than evil. It must be acknowledged that some aasimars take advantage of the reputation of their kind, brutally subverting the expectations of others with acts of terrifying cruelty or abject venality."

The following bloodlines are available for Aasimars:



Angelkin (Angel-Blooded)

: Angelkin are mortal paragons of exceptional beauty, and they serve as exemplars of good and light regardless of the myriad forms they may take.



Emberkin (Peri-Blooded)

:

Emberkin feel the dual pull of their peri forebear as well as that of a fallen angel further down their ancestry, and wrestle with their urges to do both good and evil.



Idyllkin (Agathion-Blooded)

:

Idyllkin possess bestial aspects and calm dispositions, and often act as peaceful intermediaries between lawful and chaotic agent of good.



Lawbringer (Archon-Blooded)

:

Lawbringers are champions of justice and of doling out punishment to the wicked, and often believe chaos is the cause of all mortal suffering.

Musetouched (Azata-Blooded): The musetouched epitomize freedom and joy, and travel the world to liberate less fortunate individuals.


---

☾

TIEFLINGS
"Simultaneously more and less than mortal, tieflings are the offspring of humans and fiends. With otherworldly blood and traits to match, tieflings are often shunned and despised out of reactionary fear. Despite their fiendish appearance and netherworld origins, tieflings have a human's capacity of choosing their fate, and while many embrace their dark heritage and side with fiendish powers, others reject their darker predilections."

The following bloodlines are available for Tieflings:



Beastbrood (Rakshasa-Spawn):

Beastbrood regard themselves as deserving of appreciation and opulence. Through deceit and sheer willpower, they often achieve privileged stations in society.



Faultspawn (Asura-Spawn):

Lacking any sense of empathy or pity, faultspawn often abhor all ways of life but their own. They inflict severe emotional and physical pain on others, and never stop picking at the resulting psychological scars.



Foulspawn (Demodand-Spawn):

Crude and boorish, foulspawn take a particular delight in giving offence and scandalising polite society. They enjoy violating taboos even more than breaking laws, especially if it means degrading or repulsing an innocent.



Grimspawn (Daemon-Spawn):

Dreary and pessimistic, grimspawn are so enthralled by death, disease, and dilapidation that they often dedicate themselves to ending lives from behind the scenes as macabre saboteurs.



Hellspawn (Devil-Spawn):

While often rigid, stubborn, and highly focused on sticking to plans and schedules, hellspawn also have a rare talent for penetrating others' facades. They know a lie when they hear one, and can often determine what hidden vice or secret shame motivates another.



Motherless (Qlippoth-Spawn):

No woman survives the birth of a babe whose qlippoth ancestry has emerged. At best, qlippoth-spawn rip their mothers apart during labor. At worst, they tear themselves out even earlier.



Pitborn (Demon-Spawn):

Pitborn delight in destruction, especially while unleashing their havoc on what others consider precious.



Unknown Bloodline:

Tieflings of this bloodline do not know what dark being sired them. They are conflicted creatures who can't discern what parts of their persona are their own and what parts come from a demonic plane.


---

ARCANE

❅


"Scions of innately magical bloodlines, the spawn of monsters, pawns of fate and destiny, or simply flukes of fickle magic, sorcerers look within themselves for arcane prowess and draw forth might few mortals can imagine. Emboldened by lives ever threatening to be consumed by their innate powers, these magic-touched souls endlessly indulge in and refine their mysterious abilities, gradually learning how to harness their birthright and coax forth ever greater arcane feats.



Arcane Bloodline:

Those of this bloodline (with great effort) can trace their roots all the way back to Sybil herself. They retain her natural inclination towards magic that manipulates the mind. Arcane sorcerers are capable of weaving confusing images, granting invisibility, and can even create phantoms to baffle and vex their foes.



Draconic Bloodline:

The sorcerers who find themselves with a rather unnatural endurance and hardiness can attribute their longevity to the dragons of old having tainted their family bloodline. Their skin is harder, their blows are stronger, and they are the least likely of all the lines to lose themselves to mania. Depending on the color of the dragon that affected your ancestors, you can cast elemental spells of a specific element (but not to the potency of an Elemental bloodline sorcerer).



Elemental Bloodline:

Elemental bloodline sorcerers have the power of the elements within them and at times can hardly control it's raw power. This ability comes from a time in one's history where their relatives were exposed to a powerful elemental force. This bloodline can evoke fireballs, shooting rays of frost from their hands and call down lighting to strike those who get in their way.



Serpentine Bloodline:

Those with the blood of the serpent are gifted with cold cunning and an affinity for subtle manipulation. Deception and mesmeric charm are their birthright, but there is an inherent duality with serpent bloods that make it difficult for them to be genuine or vulnerable. Serpent blooded sorcerers are capable of affecting, confusing and even controlling the mind. Unlike most bloodlines though, physical touch is required. This bloodline is very rarely found outside of the lizard race.



Fey Bloodline:

Sorcerers who are fey blooded are far more emotional and impulsive than the other lines. They can seem childish at times but usually mean well. They are also equipped with the ability to manipulate nature to their liking and use fauna/woodland creatures to hinder or hurt their enemies.



Undead Bloodline:

The undead bloodline are drawn and moved by the forces of death. They are fascinated by it and study it, learn from it, grow from it, and ultimately accept its inevitability. At some point in an undead blooded sorcerer's family history someone had dabbled with necromancy or found themselves transformed into a lich, either way they are capable of instilling fear into their foes, causing them to decay physically or even raise the undead to serve them. This is a bloodline very rarely found outside of the elven race.
---
CURRENT PARTY
---

​
---
SPELL LISTS
---
Every magic user has a spell list tailored to them. These different magical abilities are derived mainly from bloodlines and race.​
Ozztarak

❅

Shocking Touch



❅

Weapon Enchantment (Lightning)



❅ Jolt

❅

Stunning Barrier




Dusk

❅

Blur (Arcane)


Creates a distortion effect around one's body that makes them invisible to those at a distance. The closer one is however, the easier it is to see a faint, stuttering outline of the caster's body. For every ten minutes one is blurred, one spell cast charge is consumed.

❅

Color Spray (Arcane)


A vivid cone of clashing, bright colors, spring forth from the caster's hand. A defensive ability that can be used to stun wild creatures and blind civilized races.

❅ Cause Fear (Unknown Tiefling Bloodline)
The caster is able to instill a sense of dread and terror in a target with just a single touch, distraction or even immobilizing them.

❅ Ray of Negative Energy (Unknown Tiefling Bloodline)
The caster channels negative energy and focuses it into a projectile that shoots from their fingertips. This spell not only causes harm, but also causes whoever hit by it to be weakened physically.

❅

Draining Grasp (Unknown Tiefling Bloodline)


Thanks to its heritage to an elder demon, the caster is able to take the life force of a living creature with just a touch, restoring and mending any wounds they have in the process.


Maximum spell casts per day: 11
[ 5 (Base) + 3 (Tiefling Race) + 3 (Unknown Tiefling Bloodline) ]​

Jarek

Unknown... for now.

Ana'Riel

❅

Blur (Arcane Bloodline)


Creates a distortion effect around one's body that makes them invisible to those at a distance. The closer one is however, the easier it is to see a faint, stuttering outline of the caster's body. For every ten minutes one is blurred, one spell cast charge is consumed.

❅

Color Spray (Arcane Bloodline)


A vivid cone of clashing, bright colors, spring forth from the caster's hand. A defensive ability that can be used to stun wild creatures and blind civilized races.

❅

Wild Growth (Fey Bloodline)


A caster causes greenery to grow exponentially and to their will. This can make vines and grass into snares, flowers bloom in a matter of seconds and grow food for one to eat whilst on the road.

❅

Glitterdust (Fey Bloodline)


A caster causes a cloud of golden particles to shower an area and everyone in it. This effect blinds unsuspecting foes and reveals enemies hidden by stealth or illusion/distorstion magic.

❅

B

ull's Strength (Elf)


Calling upon a direct link to nature and it's beasts, an elven caster can give themselves or an ally increased strength for a short duration.



❅

Bear's Endurance (Elf)


Calling upon a direct link to nature and it's beasts, an elven caster can give themselves or an ally increased stamina for a short duration.

❅

Cat's Grace (Elf)


Calling upon a direct link to nature and it's beasts, an elven caster can give themselves or an ally increased speed for a short duration.


Maximum spell casts per day: 7
[ 5 (Base) + 1 (Elven Race) + 1 (Fey Bloodline) ]​
This section will be updated as our spellcasters grow in power and ability.
---
​
Last edited: