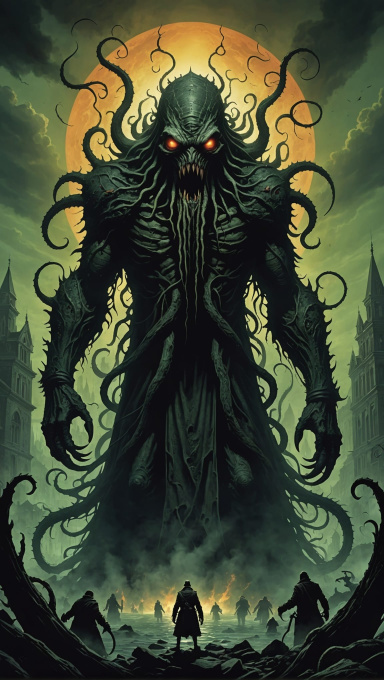 Waiting for Wit
Original poster
SECURITY DEPARTMENT
Invitation Status

Looking for partners, Not accepting invites at this time
Posting Speed

1-3 posts per day, Multiple posts per week, One post per week
Online Availability

On fairly regularly, every day. I'll notice a PM almost immediately. Replies come randomly.
Writing Levels

Adept, Advanced, Prestige
Preferred Character Gender

Primarily Prefer Male, No Preferences
Genres

High fantasy is my personal favorite, followed closely by modern fantasy and post-apocalyptic, but I can happily play in any genre if the plot is good enough.

It was cold.

So cold he couldn't think.

So cold he couldn't breathe.

In that moment, the notion of heat, warmth, comfort, seemed like the furthest existence from his reality. Instead, there was nothing but deathly numbness, beyond the point of pain.

However, somewhere deep inside of him, he knew that it wasn't supposed to be this way.


---

"Are you sure you want to do this, Caller?"

In the middle of a round room, a middle aged man with long salt and pepper hair sat on the ground in front of a kneeling young man who looked just beyond the edge of teenagehood. Both of them were dressed in a black shirt and pants, their feet bare.

"It's still not too late for you to back out."

There was obvious worry on the face of the older man, as he stared at the youngster kneeling before him. However, the young man, Caller, showed nothing but determination on his face.

"I'm sure, Master. I've been waiting for this moment for years. I'm ready to begin."

Caller's confident words did nothing to reassure his master, who seemed to be oscillating between frustration and a deep-seated resignation. However, that didn't stop him from urging his disciple one last time. "You're a genius who touched upon a fragment of the law of fire while you were still in the xiantian realm. Caller, there's no need for you to do this. Our sect's methods are dangerous. You know this. Your third elder disciple brother still has yet to return from his last descent. You're gifted; other sects' methods would surely still be effective for you. There's no need for this. No need, no need."

"Master…" There was a trace of helplessness in Caller's eyes. There was no counting exactly how many times he'd heard these types of words from his master in the past month since he'd formed and stabilized his law seed. None of them had done anything to dissuade him. "I believe in our sect's methods. Everyone in the sect performed their first descent after forming their law seed. This is our tradition. I'm not going to be an exception."

"Screw the tradition!" Caller's master suddenly burst out, his patient expression suddenly vanishing. "If tradition is the only reason you're doing this…"

"Master!" Caller interrupted, his voice firm and loud. "I believe in our sect's methods. We've long since prepared a suitable world for me, and now it's time for me to descend. If you won't help me, I'll go to uncle master and have him do it! You know he will, and there's no way he'll be as careful as you'd be."

The older man was momentarily stunned, his mouth gaping slightly, before he finally shook his head. "Fine! Pig-headed boy, I swear you're going to be the death of me one day."

Taking a deep breath, the man clapped his hands sharply, and several panels on the wall spun around, revealing intricately carved lines that seemed to almost squirm across the wood. Several other people, dressed all in black, entered the room, their faces stern, glowing white objects cradled in their hands. They spaced themselves out equidistant around the room, before beginning to chant lightly.

In the middle of the room, Caller's master stood up, his hands extended. Gradually, his fingers began to move in intricate patterns. The white light from the surrounding orbs was drawn towards him like gossamer threads. Under the influence of his gestures, it spun itself into a glowing sheet, which began to drape over Caller's shoulders.

His vision growing blurry, Caller took a deep breath, steadying the rapid beating of his heart. Nervousness, excitement, he did his best to calm it all, instead paying attention to his master in front of him. Small sparks of fire were now arcing from his fingers, blending in to the glowing sheet that was obscuring Caller from view.

All of a sudden, there was a muffled thud from somewhere in the distance, and the room shook. On the side of the room, one of the chanters stumbled, his words breaking off in a sudden yelp of pain. A gust of cold air suddenly raced into the room, causing hair and garments to fly wildly. Caller felt the symbols around him suddenly grow burningly cold, enough that even he couldn't repress a groan of pain. His vision continued to grow blurry, but in front of him he could see his master trying to shout, his hands reaching out as though hoping to catch Caller. However, before his master's hands could touch him, Caller's vision suddenly went dark.

And then nothing remained but bone-piercing cold.


---

In the darkness of his mind, thoughts began to flash.

Caller, no longer sure if he was dead or alive, felt arcs passing through his mind. Pictures of endless water appeared in front of him. A nearly naked woman, webbing growing between her fingers and toes, twirled around in the current, glancing back at him to smile playfully. In the corners of his eyes, he could see strands of white hair, tugged by the same current.

Then the image was suddenly gone, replaced by a giant monster. It looked something like an eel, but far larger than any human being. Arcs of lightning flashed from spines along its back, as it chased through several people in the water. Panic and fear raced through him, before his hands reached out, shoving a green-haired man swimming beside him into a tendril of kelp, which tangled his legs. The massive eel-like monster lunged forward, the wide-eyed, green-haired man instantly disappearing in bloody water.

The next instant, he was surrounded by people, long spines held in their hands. A green-haired woman, her face twisted in fury, lunged at him. Unable to dodge, he could only let it carve into his flesh, drawing a deep scar across the tattoos that covered his body. At her scream, the other surrounding people moved forward, cutting his body repeatedly with near surgical precision. In the distance, he could see a man with long white hair, something frilled fluttering along the sides of his neck, shaking his head in disappointment.

And then everything went dark once more.

Somewhere deep inside, Caller felt himself relax. Not dead, then. Not yet. He knew what this was. This was the memory merger, the moment when the realmheart gifted the descender with fragments of their new body's memories.

Du Fuyi. A pitiable, cowardly young merperson, who'd sacrificed his own cousin rather than risk a powerful monster coming after him, and been banished from his tribe for his betrayal.

Gradually, the memory of the freezing wind that had appeared moments before his descent flashed back into his mind. Something had gone terribly wrong.

The world he was supposed to descend to was a small flame plane, one that should have an easy task for a first-time descender to use to gain experience. Instead, he'd somehow found himself in a vast, complex realm filled with water and ice. One that was now insisting he deal with a 5,000 year old monster before it would release him.

For a moment, Caller found himself wondering if he should have listened to his master, and followed the methods of other sects. If he had, there was no way he'd be stuck in a situation like this, so woefully underprepared for the task that now confronted him.

A moment later, he calmed his heart. Caller would be lying if he said he'd been prepared for this, but he had been prepared to overcome whatever challenges he might encounter. The Myriad Realms Sect was nothing but a tiny sect in the Great Realm, their methods ridiculed by almost everyone, but to Caller, it was his home. He'd grown up on stories of remarkable descents, and the grand challenges his elders had overcome in their journeys. He'd spent his whole life preparing to join them.

There was no way he'd let one little accident—well, a rather catastrophic accident—thwart him.

Suddenly feeling a trace of warmth flowing through his body, Caller, Du Fuyi, felt his eyes flutter open.