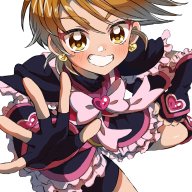 Ancient Iwaku Scum from 2006.
Original poster
MYTHICAL MEMBER
Posting Speed

Slow As Molasses
Online Availability

NEVER
Writing Levels

Adept
Douche
Preferred Character Gender

Primarily Prefer Female
Genres

Surrealism, Surreal Horror (Think Tim Burton), Steampunk, Sci-Fi Fantasy, Spaghetti Westerns, Mercenaries, Dieselpunk, Cyberpunk, Historical fantasies
Sword of Embera: Jani's Tale​
Deep in the valleys of the world, there is a place of steam and magic, airships that roam the skies, with pirates and other tales of such romanticism.

Welcome my friends!



This is my home realm. It is called Mirabella, the Land of the Faye. Now, I know some say that such a land is just a fairytale, and it's just an image in every kid's head but that's not the case here.

Our world is made up of various islands separated by vast amounts of seas. However, we've found ways of amending this issue! With the invention of airships with a constant supply of a magical energy called Embera, we can travel long distances over short periods of time. It's simply impressive!



My name is Jani, and I am on a journey looking for parts and machines to create a new kind of steam powered airship that the world has never seen before. You may have heard of the exploits of my two famous sisters Rane the White Haired and Sara the Enchanter. I can't say I'm anything like those two but I'm always looking for people to help me out on my quest. You may join me if you like, or you may be my foe. But you will not stop me.



Yes, I know there's a war happening in the southlands. Some terrorist group that goes by the name of the Malden have been waging a conflict with the imperial court of Colinsburg. Funny thing is, I'll have to head down that way to get what I'm searching for. Figures, doesn't?

This journey will not be easy. I will have to face dangers, but, as long as I believe in my dreams, no one can stop me!