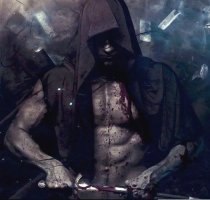 Wolf of the North
Original poster
It has been two months since Akikiko Kayaba locked the 10000 players in his VRMMORPG game, Sword Art Online. His rules were simple. To leave, clear all 100 floors of Aincrad. If you are unplugged, the headset removed from your head in the real world, or the game shut off, you die. If you die in-game, you die in the real world. Since that day in the Town of Beginnings, 2000 players have died.

You start on Floor Seven, in the town of Stohess. Your mission: Clear the game, using whatever means necessary.

Will you be a member of the infamous Knights of the Blood Oath, the leaders of combat on the front lines, or will you play solo? Will you join a guild or party for good, or will you join a guild that kills other players, such as the Titans Hand? The choice is yours. Clear the game. Godspeed.

Kirito slowly walks down the street of Stohess. Two months, and already 2000 dead. It's unreal. He continues walking until he reaches the blacksmith shop of his friend Goro. "Hey Goro. How's business?"

"Ah, you know, Kirito. Business is business. Have you located the floor boss yet?"

"Not yet. That's why I'm here. You got any info? I'm on the front lines and don't get much news."

"Nah. Maybe the Knights of the Blodd Oath have some. Check with them."

"I don't know, Goro. They don't take well to solo beaters like me."

"Well, you ain't asking them standing there."

"I know. See you , Goro." Kirito walks down towards the teleport gate. He's going to see an old friend in the Knights.