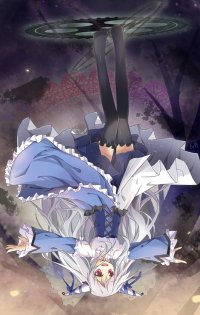 The Slightly Villainous One
Original poster
This RP inspired by Sabagebu, which is pretty awesome so you should check it out.

You're familiar with them, right? Every decent school has one - a survival game club. For those of you who don't know what these are, they're basically paintball clubs. You enter your arena against another school's survival game club. You get hit by a paint ball and you pretend to die. Your mission is to eliminate the enemy team before they eliminate you. This time though, there's a few changes!

This is the Survival Game School. On the outside, it's a perfectly normal co-ed boarding school. On the inside, it is a warzone. In this school, everything is decided by your school ranking. Your dorm, your lunch, your allowance. The better you are on the rankings, the better your life. The rankings take two things into account: The ranking of you personally and the ranking of your club. This way, a terrible player who joins a high ranking club still gets a moderate standard of living. There are a few rules in the school, here is an excerpt of their rule book:

1. Running in the corridors is allowed.
2. Arriving late and skipping class is allowed.
3. Not participating in the games is grounds for expulsion.
4. If you are hit, you are dead for the rest of the day. Lie on the ground for 15 minutes to allow for looting, then go back to your dorm room.
5. Shooting inside the dorm rooms is not allowed, but shooting in the dorm corridors is A-OK.
6. Returning to your dorm room assumes you are dead. If you go to your room, you cannot participate in the games for the rest of the day.
7. A "day" is between 6 AM and 10 PM. Hits scored before 6 AM and after 10 PM do not count and will not increase your score.
8. If you get hit, your score will decrease. If you hit someone else, your score will increase. Rank gap will give different score changes. Hitting someone many ranks higher than you will increase your score more than hitting someone with the same rank as you. Being hit by someone with a much lower rank will lower your score more than being hit by someone with a similar rank.
9. Any tools may be used and any modifications to weapons may be made, as long as they do not result in real injury.
10. Actually injuring someone is grounds for expulsion.
11. Being a bad sport upon death will lower your score more than playing along. The most dramatic and realistic deaths may even increase your score.

On the 3rd Sunday of every month, a free for all competition will be held. Normally, your club score will increase as well as your personal score, and you will lose score for hitting a member of your own club. On the third sunday however, clubs don't count. Everyone is targeting you and everyone is a target. This sunday is a final chance to increase your personal score without needing to worry about club score. After the event, club score and personal score is reset to zero for everyone, and the more permanent rewards (such as dorm room) are distributed. Your dorm room only changes after this third sunday, while your allowance is set on a weekly basis (also sundays) and your food is set on a daily basis. Clubs also get rewards such as budget and club room (monthly). Rooms are changed on the Monday following the third Sunday - you will return to the dorm to find all your belongings have been moved to a new room. Club rooms are changed overnight - when you go to your club room the next day, your belongings may have been moved to a new room. You are not told which dorm / club room you have been moved to - you must fight your way to it!


Anyway, that's about it for this Interest Check. It's an anime style school life RP in a wacky situation. It's all casual fun, although there'll be a "villainous" (but mainly comedic) plot at some point. Imagine a world where everyone is out to kill you except you don't actually die and it's all just a bit of fun.

Now, a little something I'd like to ask you all: Should there be imaginary magical abilities or not? This entire system is mainly just in the minds of the students, but should they also imagine magical abilities? Personally, I could go either way so what are your inputs?
Last edited: