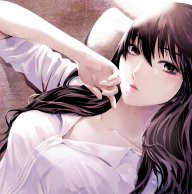 Bookworm Librarian with a pen
Original poster
MYTHICAL MEMBER
Invitation Status
Posting Speed

1-3 posts per day
One post per day
1-3 posts per week
One post per week
Preferred Character Gender

Male
Female
Futanari
Genres

Fantasy, romance, yaoi/yuri, vampires (non-twilight vampires preferred) though right now I'm VERY interested in finding a romance fantasy
The vampire could have been called a Chinese model as he stood there in the rising moonlight. His black hair was pulled back into a badly done ponytail that still seemed to look sexy to any human that saw him--though that was far from his intent. Even in it's pulled up state it still hung down to between his shoulder blades. He wore jeans that had several holes in them that were also loose. There were things he just couldn't stand about the modern society--tight clothes had to be close to the top of that list next to blood whores. the man's shirt was a loose rather traditional looking Chinese looking shirt that was held closed by a knot at his right side and then three buttons near his right shoulder. The full lengths of the sleeves hid sheaths that he had hidden there that he never left home with. Just because vampires had 'come out of the dark closet' did not mean that there were people out there that did not want them dead.

His angular face turned as there were insane noises coming from the house across the street where his brother insisted on living. Why they couldn't just share an apartment, Zane Wei did not know. His dark eyes moved up to the apartment in which he was staying before moving to the door directly underneath his. He would have to tell all humans of his presence soon and there was no way he was going to leave the house then without his protective knives.

Nicoli Wei was the complete opposite of his brother. Tight but comfortable jeans and a plain black t-shirt with some kind of abstract design adorned his body as he exited his house. He had cut his hair short to mock the American style of hair while his brother had kept his the same length it had been when he had been changed. Being several years younger than his brother in both human and vampire terms, Nicoli was less angular than his brother with softer curves of the cheeks. He was less creepy (at least in his own mind) than his brother who seemed to carry the 'evil vampire mojo' around with him. If anyone didn't know he was a vampire, then they may not have guessed it. He seemed like an happy young man that was out for a night stroll.

"Yo, brother, when are we going to eat?" Nicoli called over to his brother who turned to glare at him with those dark eyes. While Zane's eyes were dark, Nicoli had taken after their European father instead of their mother and had been graced with blue-grey eyes.