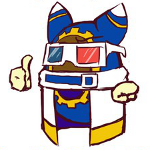 Swagolor Approved
Original poster
FOLKLORE MEMBER
Preferred Character Gender

Male
Pretty busy summer for superhero movies, with four big names vying for success and only one of them failing at it.

For completion's sake I've put Thor and The Green Lantern into this conversation, although really, would anyone disagree with me if I just cut this down to X-Men: First Class and Captain America?

It's a tough choice.

Thor was entertaining. I loved the unashamed use of Clarke's Third Law to let the writers and designers do whatever they wanted with the Asgard, just tossing in what appears to be magic and saying, "It works. Deal with it." And Natalie Portman was adoracute. Yeah, they fall in love after two days, but so what? If you've been watching movies or playing video games, you should be well adjusted to this shorthand.

Captain America is a damn fine movie. It works in elements of the Avengers movie continuity without the need for lampshading or exposition, has some great dieselpunk design work, and is reminiscent of good old pulp action-adventure stuff, the kind that made Raiders of the Lost Ark. Good writing, good humor, good performances. Again, Captain America is a damn fine movie. I would watch it again in a heartbeat.

But I can't help but give my edge to First Class, as I think it set its goals just a little higher. Not just trying to be an origin story, but to show the relationship between Xavier and Erik, and frame the dilemma that would destroy that relationship. First Class shows us how each of them became the leaders that we know they become, and it does it without picking sides or cutting it down a "This is good and this is evil" line. That's the part that really hit me about First Class after I had gotten home, that Erik wasn't wrong. Whatever weak performances some supporting actors gave(But hey, she at least had the 'Wear lingerie all the time' part of being a comic book woman down') is more than made up for by the two leads and the writing involved.

But hey, enough about me gushing about First Class, what say you?

NEW RULE.
UNLESS YOU MAKE A POST ABOUT WHICH MOVIE YOU PICKED AND WHY, YOUR VOTE DOESN'T COUNT. THEREFOR, AT THE MOMENT IT IS ONE FOR FIRST CLASS AND ZERO FOR EVERYTHING ELSE.