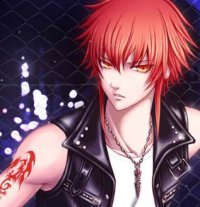 Roleplay Invitations

Group Roleplays, One on One Roleplays, Chat Roleplays, Private Convo Roleplays
Posting Speed

Several Posts a Day, A Few Posts A Day, One Post a Day, A Few Posts a Week
My Usual Online Time

sorry don't know at this time but i'm happy to keep updating people
Writing Levels

Intermediate, Advanced
Genders You Prefer Playing

Male, Female, Primarily Prefer Male
Playing Style- Passive or Aggressive

I can be aggressive but if my partner has good ideas i'll go along with them.
Favorite Genres

fandom romance sci fi fantasy modern and possibly more
Genre You DON'T Like

yaoi yuri trap and bsm and futa

Jay Kennedy

Morning
Breez Bar
Collab with

StareNation

"So you are in cohorts with providence scum today. Please for the love of god tell me that isn't connected to your requested favour."

Jay gave Nissa a nervous smile, before grabbing a second glass and filling it with tequila. He decided to give her the drink before answering.

"Look, for the record she came to me. I would've turned her away if Kathleen and Aster weren't involved."

Upstairs, gunshots rang out.

He sighed and rubbed his eyes before taking a drink.

"I had to worry about that all morning, now I have a shootout going on upstairs in my parlor."

Nissa's brow furrowed in response as she straightened in her seat. As much as she could sympathize with Jay on the ruckus in his bar, she didn't take being railroaded into a job lightly.

"Jay, get to the point. Just what is going on?"

she replied shortly as she folded her arms across her chest.

Jay took a deep breath and said through gritted teeth.

"I sorta, kinda need you to be a guide on a rescue mission in Stoneview."

He paused and managed to look Nissa in the eyes.

"I'm not gonna lie, it'll be dangerous. But if what I heard is true, they may have found something that can help against monsters."

He did his best to give her a confident smile.

"If you don't want to do it, you won't have too. I won't ask you again, but will you please do it? For me?"

Nissa had seemed to completely ignore the fact that there was chaos upstairs though given the kinds of places she had been and the things she had experienced, gunshots ringing out weren't that unusual. What was unusual was what Jay had asked her. The colour visibly drained from Nissa's face as her expression darkened, her eyes glaring at him as his met hers. Stone view was the last place she would set foot in with the exception of providence. There was simply too much there, too many memories and too much pain.

"Absolutely not, you know I won't go back there…you couldn't fucking pay me enough."

Nissa snarled at him lowly, her usual calm demeanour shaken by the mention. She could see he was doing his best to approach the subject as calmly as possible but his smile irritated her in the moment.

"Wipe that smile of your face,"

She added, bracing her hands on the counter briefly as she stared at him. Perhaps what had irritated her more was the fact that he had a point to make. Something that could help them get rid of the monsters once and for all was an opportunity not to be wasted, prompting an unsettling feeling of confliction in her.

"Fine, fine."

Jay raised his hands off the counter and sat back and, as requested, his smile disappeared.

"I'm sure Logan and whoever else goes can handle it, I just figured it wouldn't hurt to have two people I trust out there to watch each others backs."

He pushed the glass of tequila that sat in front of her a little closer, quickly changing the subject

"Drink up before the ice melts."

Nissa watched Jay intently as he spoke, a brow raising as she listened to him before he pushed the glass of tequila closer to her. It was needed and she didn't hesitate to take the glass and promptly throw her head back, tipping the liquor down her throat roughly before placing the glass back on the counter, her tongue rolling the ice cubes around in her mouth as she contemplated his words. Her frown dissipated as she let her head tilt back to a neutral level, pushing the empty glass back towards him and crunching the remaining ice before swallowing it.

"Really? You're going with a guilt trip?"

Nissa argued as she gave a small sigh. Glancing over her shoulder to where Logan had been, thinking over his appearance in the bar just minutes earlier before looking back at Jay.

"And I'm guessing no one else knows Stone View well enough?"

she asked before hesitating.

"How long has Kathleen been gone?"

she asked curiously.

"Guilt trip? I would never!"

The bartender said, acting innocent as he took a drink of his glass. He set the cup down and leaned back on the bar, a serious look on his face.

"No one around here knows it as well as you."

He had to think about her second question for a moment, tapping his fingertips on the bar as he tried to remember.

"Almost two weeks now. She left to meet up with a few scientists from Providence and some guy from Folly. The expedition was meant to strengthen relations between the cities, but a few days ago they stopped responding to the calls made by Providence. That girl-."

He paused and nodded up the stairs.

"-was in charge of keeping tabs on them. When they stopped responding, she asked Providence to send another group to help them. When they said no, she stole a van and came here."

He waved his hands over the counter.

"There, that's most of the cards on the table."

Jay's mock innocence produced a weary chuckle from Nissa before he grew serious in front of her, and a pause of silence settled between them as Jay's fingertips sent a small vibration through the bar top as he tapped them in thought. Though Nissa was quite often one to stay away from matters in town, she knew Kathleen enough to know the woman wasn't stupid. Jay began to explain the situation with more detail and Nissa's posture softened as she listened to him. Trying to establish a 'better relationship' between the cities was a joke in her opinion but nevertheless this expedition group had tried to do just that. The lack of contact was disturbing to say the least and she wondered if perhaps relations between the attending individuals had become so strained that they had turned upon each other. Jay was right, she knew Stoneview like the back of her hand and as much as she wanted to refuse any kind of trip back there, there was a small lick of guilt that grew as she thought upon the idea of refusing to find out if something had happened to Kathleen Ramadan, Aster and the others. Since when had she grown this kind to her acquaintances?

Her eyes finally left Jay's line of sight as she glanced down to where her fingers had been grasping the edge of the bartop, her skin blistering where she had gripped the bench with some force. She hated this feeling, the sense that things were about to be out of her control. With reluctance in her voice she muttered.

"Dammit you owe me...big."

Jays smiled his usual happy grin. He took her hand, after prying it away from the bartop and gave it a firm, yet friendly squeeze.

"Thank you Nissa, I feel a lot better about this whole thing now."

He laughed some, adding

"And when you get back, I might have the town erect a statue in your honor!"

The sound of footsteps coming downstairs drew Jays attention. His hand slipped away from hers as he took a step towards the staircase, and he let out a groan at the sight of blood.

"Please don't tell me she bleed all down the hallway."

​

Logan Russo

Morning

Breez Bar


Kat

Rads

ItariChan

Logans frown was more aggravated than normal. For starters, the womans bloody leg was getting blood all over one of his only good pairs of jeans. As she started too pass out, she relied more and more on Logan carrying her extra weight, which annoyed him. Finally, and the worst of it all, the ringing in his damn ear still hadn't gone away.

As he reached the base of the stairs, he looked around the bar. Most of the people cleared out, the only ones that were left were Jay and Nissa at the bar. Jay said something, but Logan couldn't hear him complaining.

The kid-summoner and doctor were still there too. He half-walked, half-carried Lauren to the doctor and sat her at the edge of the table. The doctor said something, but with the ringing in his ears, Logan didn't quite know what he said.

"WHAT?"

He meant to say it in a normal voice, but unbeknownst to him he half-yelled the question. He looked back at Jay, who mouth the words 'old man' to Nissa before replying

"He said Lauren is a trouble maker, but she needs to get her cuffs taken off so he can treat her properly."

Logan shook his head.

"Not a chance. If you can't help her with the cuffs on, she can bleed out."

With Lauren seated on the table, Logan rubbed his ear and mumbled in annoyance. Jay gave Logan a curious look and asked

"Something happen to your ear?"

"What?"

Jay sighed and waved Logan off and yelled to the doctor.

"Hey Doc, when you get done with that trouble-making friend of yours, could you take a look at the old-mans ear?"

Logan pulled on his earlobe, then started hitting his temple lightly. Slowly the ringing subsided enough so he could hear clearly, but it still annoyed him.

"I'm fine, I don't need no damn doctor for a little ringing in my ear."

He took a seat at the bar in his stool and grabbed ahold of the bottle of whiskey across the bar. He forgo the glass he used earlier, and instead opted to drink straight from the bottle.

He glanced up towards the stairs as the Providence girl awkwardly stood on the final step like a deer in headlights. She looked around the room at everyone, but made a point to avoid meeting Logans gaze. The other young girl in the room, the summoner, made her way to the girl and took her by the hand and dragged her in front of the bar.

"Well, she's here. Care to start the explanations?"

Jay looked at the girl and started scratching his neck. He glanced over at Nissa before speaking with a charismatic smile

"Well this is certainly not how I planned the day going."

"Get on with it Kennedy, no stalling."

"Fine. Everyone meet Emilia Strider, a priestess from Providence in charge of communicating with a team of scientist that went into Stoneview."

Emilia waved somewhat awkwardly at everyone.

"The team is made up of a few Providence scientists, a gentleman from Folly and our very own Kathleen Ramadan. If what they found is true, they found some magic tech that Stoneview used to keep monsters at bay. Maybe we can use that to actually expand Breez beyond a neighborhood. Maybe we can actually help bring humanity closer."

Jay was really getting into the speech now, which only caused Logan to take another drink from his bottle and roll his eyes.

"The team stopped responding to Miss Strider a few days back and Providence has refused to send anyone to help. We all know Folly doesn't give a rats ass about science, so that leaves us."

He motioned around the room to everyone, which made Logan scoff.

"Why the hell would I risk my life because Kathleen ran off to play archaeologist with some white robes? She dug her own grave going to Stoneview. I'm not about to jump in beside her."


Jay sighed and leaned on the counter. He licked his lips nervously and tapped his fingertips on the counter.

"Aster was with them Logan."

The bottle slipped from Logans hand and gave off a dull thud on the counter. He sat silently for a moment, almost as if stopped breathing right then. He forced himself to swallow and he slowly started to nod. He stood up from his stool and headed towards the exit, saying somewhat quietly

"I'll grab my things."

Jay watched him go before clearing his throat.

"Lauren, you'll be going with Logan and Nissa. Consider it a way to pay off your fines."

He raised a hand before she could protest.

"And I'll throw in some supplies when you get back. If Logan says you behaved well, you might even have a place here in Breez."

Giving her a teasing smile.

"If you promise to stop stealing and shooting in my bar that is."

"Mister Greywater, I'm not gonna force you to go but I'd appreciate it if you tagged along. They could use a healer, especially if the scientists encountered some trouble."

He started to walk back behind the counter.

"Ofcourse you'd be rewarded as well. Food, medical supplies- You name it."

Jay laughed some, adding.

"And I promise I won't be cooking the food this time."

​
Rain gently sighs as he takes all in and then moves Lauren properly on to the table and opens his hands light is coming out his hand and then he says"
I will come along but first I just need to get some stuff from my place, and thank goodness you are not cooking, but seriously man either learn to cook or hire someone that knows how to because you would get more customers even with basic food".
Rain pauses for a minute or so then says."
I will need a mix of medical supplies and food, also as long as the scientist and company don't start talking shit saying how providence and the church are I will be fine with them".
' I get we need to expand but humans can be very selfish and self-serving, it's is going to be a lot harder to bring humans together than many people might think' ' I can fight and use a basic handgun if need be but I'm more of a lover than a fighter'.
' i should ask Nissa and Lauren for some lessons later on so I do not get eaten alive out there, heck I learned how to work with broken bodies how hard can it be'
?
After a couple of minutes or so of thoughts then rain speaks up and Rain says"
I was just thinking the ladies in the group might have their handsful with other takes within the group, so with that in mind I was thinking if I tell people where the traps I have made are me and the scientist have a second layer of protection
".

Rain pauses for a few moments or so then says" also I should be honest and say this before it's too late, while I can fight a little or shot small handgun I'm not going to pretend I'm some badass, I have been more of a lover than a fighter or shooter but if I'm going to survive long enough to help this group I need to learn more about combat at some point"

Kat

@Queensgaurd