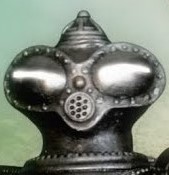 The Wizard
Original poster
LURKER MEMBER
FOLKLORE MEMBER
Invitation Status
Posting Speed

1-3 posts per week
Writing Levels

Intermediate
Adept
Advanced
Adaptable
Preferred Character Gender

Primarily Prefer Male
Genres

Fantasy, Sci fi, anything in which the world itelf is extremely interesting.
Hello and welcome to the Golden Age of Dragon Hunting!
This is a story that follows the adventures of the crew of the DHV Beowulf, (DHV stands for Dragon Hunting Vessel, and is used in the same way as SS or HMS.) The Beowulf is an airship under the command of John Caine, a world famous dragon hunter, who roams the skies searching for his dragon rival who destroyed his first airship and bit off part of his left hand.
The Beowulf
The Beowulf is a large three-part Dragon Hunting Vessel. It was built by taking an antique DHV, reinforcing the hull, making a new balloon, replacing the propellers with crystal-powered engines, and adding powerful new weapons. It has three main sections; The lower section is the ship itself, it has the engines, weapons, and cargo hold. The middle section is in the balloon itself, and has the living space and crew-mates' rooms, it also has a system of gondolas and platforms, allowing damage to the balloon to be repaired internally. A large "dock" at the back of the balloon can open up, allowing planes or smaller vessels to be deployed. The top section has weapons as well, a landing pad, and an observation tower, which doubles as a bell tower to warn of Daggerfoot. Each section can be accessed by elevators at the front and back of the ship. Smaller Dragon corpses are kept in the cargo hold, while larger ones are strapped under the ship. A machine in the front of the ship can drive a large spike downward at a forty-five degree angle, and is often used to finish off a dragon.
A rare and special event has recently happened, after an extremely dangerous hunt, Captain Caine has charted his next stop to be Apollo's rest, the dragon hunting capital of the world, built into a tall mountain. It's here that he seeks to recruit new members, both veteran and beginning dragon hunters, to help him slay his 100th Dragon.
Apollo's Rest
Apollo's Rest is a large city that grew off of Dragon Hunting.
It stands atop a tall mountain and is bordered by massive turrets.
The building at the peak of the mountain is dedicated to dragon hunters, and features a statue of Apollo slaying Python
Dragons.
A Dragon is a serpentine reptile with four legs and two wings. Young adults avererage twenty five meters from tip of tail to end of it's mouth. The largest ever recorded measured in a staggering seventy meters, and had to have a military fleet of twelve airship's take it down, but that was eighty years ago. They are a lot like cats, and dogs, in that they have many breeds.
They are not capable of higher thought, but have shown intelligence of about the same level as a child. They are solitary creatures, usually interacting only to fight or reproduce.
They freely fly in many uninhabited areas in the world, and can adjust to almost any environment. Despite their reptillian features, they are warm blooded.
Theoretically, a Dragon will not stop growing until it can no longer support it's own weight.
All Dragons have a strange crystalline substance that forms on their bones over time.
The color of a Dragon doesn't always correspond to it's ability.
Some Northern tribes used to revere dragons, but with the arrival of Dragon hunting, their beliefs rapidly died out.
Dragons are hunted for many reasons, to keep them away from people, for their blood or scales, for sport... but the main reason they are hunted, are 'Dragon Crystals' that grow on the skeletons of Dragons, primarily around the rib-cage. Dragon crystals are mysterious sources of power to these beasts, theorized to be the sources of their 'magical' breath and their flight abilities despite their massive size. There's not a lot known about the crystals other than that their color corresponds to the dragon's abilities, and that they can be used as a source of fuel. They are still being studied extensively.
A crystal extracted from a fire-breathing dragon.
This variant is called "Pyrocite"
All Dragon crystals glow faintly.
Yep, get your hands on some of this from a dragon's carcass, and you can sell it for loads of money. But if you need a certain type or amount of crystal, you're going to need to know what to hunt.
Different abilities are activated with different crystals. The most different crystals a dragon has had so far, is five.
Abilities and corresponding crystals;
Fire- PyroCite- Orange
Ice- Cryocite- Light Blue
Poison- Toxicite- Dark Green
Lightning- Electrocite- Blue
Wind- Cyclonite- White
Water- Aquacite- Dark Blue
Fireball- Blastite- Dark Red
Acid- Acidicite- Bright Green
Plasma- Plazite- Purple
They can be used for almost any purpose.
Daggerfoot.
For a decade now, a subject of much interest has been on the one dragon that John can't seem to catch. This dragon's name, is Daggerfoot. He is called so due to the massive claws on his feet, which can tear through airship balloons like a hot knife through butter. He has fifteen reported airship destructions, and is believed to have played a part in over thirty unconfirmed cases of destroyed vessels, despite this, Daggerfoot has not displayed any dragon-breath abilities yet. Despite a "small" size, he has shown incredible endurance, still being able to fly after taking heavy firepower.
*A fog horn indicates any dragon, but a loud bell indicates Daggerfoot.*
Character Sheets.
Name:
Age:
Gender:
Appearance: (Picture, Description, or both.)
Personality:
Job/s:
Previous Experience: (If none then leave blank.)
Backstory:
Luggage:
Captain of the DHV Beowulf
Name:
John Caine
Age:
34
Gender:
Male
Appearance:
About 5 feet 6 inches
A chunk of his left hand is missing, including his pinky and ring finger, having been bitten off by Daggerfoot.
Personality:
He has shown to be quite friendly, and despite his fame and experience, respects most other dragon hunters, regardless of their feats or skills, he enjoys a good story, and enjoys telling them as well, normally with a few good laughs involved... unless it's a story about Daggerfoot, those stories can get outright frightening.
Job:
Captain
Previous Experience:
Many years of Dragon Hunting, in which he has brought down a mind-blowing 98 Dragons.
Backstory:
He'll only tell all of it to close friends, but what most people know is that he started Dragon hunting at a young age, and by 21 he was taking the world by storm, bringing down massive dragons while commanding his own ship. His most famous hunt was one in which he was holding open a dragon's mouth by pointing a sword at the roof of it's mouth... the dragon prepared to breathe fire, but he used a free hand to throw blast powder down it's throat. However, one dragon has haunted him since he first started... the dreaded beast known as "Daggerfoot." It appeared on his fourth hunt, when it destroyed his first ship and bit off part of his hand, in return, he caught it's mouth with a meat hook, and ripped it's upper jaw, permanently removing an area of it's mouth on the right side of it's face. The two have fought countless times after, nearly always wounding each other, but neither being able to land a fatal blow.
Luggage:
Carries with him a necklace made with all different types of Dragon crystal, and either has an extremely powerful rifle (as seen in the picture), or his trusty lance.
First Mate of the DHV Beowulf
Name:
"Enki"
Age:
Uncertain, most likely around John's age.
Appearance:
Nobody (excluding crew members) knows what he looks like, many speculate he simply prefers to be anonymous.

About 5 feet 2 inches.
Personality:
Doesn't talk to non-crew-mates, in order to keep anonymity, but is reported as being surprisingly kind.
Job:
Helps John watch over the ship and crew mates. Helps hunt dragons.
Previous Experience:
Has been a part of John's crew since his third hunt, long before he was famed.
Backstory:
Hasn't said anything to non-crew-mates. Will be revealed by conversation. Lots of rumors surround this man...
Luggage:
Has a high-powered sawed-off shotgun, and uses a straight sword, and carries a grappling gun, he is extremely proficient with each of these.
Head Chef of the DHV Beowulf.
Name: Alton Barnett
Age: 52
Gender: Male
Appearance:
View attachment 87126
Heavy set and surprisingly fit for his age.
Is 6 feet and 5 inches.
Personality: He comes off as foul-mouthed and short tempered, and he is, though he loves telling stories as much as John. He often gets caught up in the heat if the moment when hunting dragons. You got to earn his respect.
Job/s: Acts as Head Chef, and helps extract crystals from Dragons.
Previous Experience: He hunted, butchered and cooked Dragons for years. He also has a passion for fist fighting.
Backstory: Started out as a pugilist, and gained quite the following until a massive winning streak was broken. He lost massive amounts of money in the bet, and turned to Dragon Hunting to make money. After years of service with John Caine, he had a short break for three years as he ran a popular restaurant in Apollo's Rest serving Dragon meat. When John Caine landed down so close to killing 100 Dragons, Alton decided he wanted to help.
Luggage: A heavy Machine gun, bionic arm enchancers, a large collection of knives, a buzzsaw, and a gargantuan amount of spices.
The Dory Corps.
View attachment 88188
*Dory Uniform.*
A mercenary guild that John has had employed for a few months, he has forty seven aboard the ship.
*Bits of Lore.*
The Crow Man;
A malevolent spirit associated with misfortune. Essentially a sky-version of Davy Jones.
Artillery Ammunition;
Blast shot, Fire shot, Ice shot, Grape shot, Blunt Shot, Disk shot, Spike shot, Chain Shot.
Idus;
Mechanical capital of the world, large lower class population.
Pygmachia;
A small city that grew around a brawling stadium. Tourist spot.
Ruin of Doxa;
A high-class city rebuilt on the ruins of an ancient Empire. High political power.
Mysterious Ruins all over the uncharted world suggest an empire of great power once existed. Today, many of the abandoned castle make homes for Dragons.
World population is about 80 million, much of the world is wildernesses.
Dragon hunting started as a profession one-hundred years ago, before that, Dragons were thought to be almost invincible.
Iwaku Rules apply.
Maximum 3 characters.
Characters are Humans without powers. Robotic limbs do exist, however.
If character has had previous experience on The Beowulf, PM me and we can discuss it.
Captain- John Caine
First Mate- Enki
Head Chef- Alton Barnett
Tracker/Scout- Alastor Alf Heron
Engineer- Aaron "Mouse" Felner
Bounty Hunter- Alyss Reindl
Scout/Hunter- Cayde Rivia
Character Sheets.
Name:
Age:
Gender:
Appearance: (Picture, Description, or both.)
Personality:
Job/s:
Previous Experience: (If none then leave blank.)
Backstory:
Luggage:
Last edited: