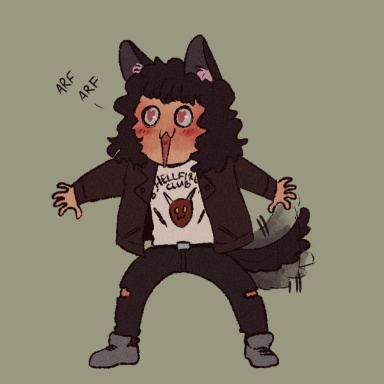 My sun sets to rise again.
Original poster
ADMINISTRATOR
Roleplay Invitations

Group Roleplays, One on One Roleplays, Chat Roleplays
Posting Speed

Speed of Light, Slow As Molasses
My Usual Online Time

It varies a lot depending on my schedule, unfortunately.
Writing Levels

Adaptable
Genders You Prefer Playing

Primarily Prefer Male
Playing Style- Passive or Aggressive

I play what's needed, but I do like to take the lead. In my one-on-ones, I often like being the "Game Master" in the sense of creating the setting, controlling NPCs, and steering the plot. But I still like input and collaboration from my partners. In group games, I prefer to be the GM or to play a leading or mentor role.
Favorite Genres

I love a little bit of everything. My top choices would be Horror, Modern Fantasy, Urban Fantasy, Magical Realism, Noir, Steampunk, Cyberpunk, Splatterpunk, Post-Apocalyptic, Historical, Mystery, old-school High Fantasy, and Sci-Fi (especially Spacesagas). I'd love to do some occasional Clockpunk or Weird West or Wuxia or Dieselpunk, too.
Genre You DON'T Like

I guess the only thing I don't particularly care for is high school drama, and even that can be fun with a good hook.
This is the OOC thread for a private one-on-one between

firejay1
and myself. Please don't post in it!
IC THREAD
​
---
This is a continuation of the characters and plots originally made by

Astaroth

and

firejay1

for the Game of Thrones/ASoIaF fandom roleplay A Season for Snakes by @Jorick and @Pahn. We have removed all references to their original concepts except where integral to the characters. This can be considered non-canon in case that RP starts up again.

In an alternate timeline Westeros, the young Lord Stark, Hand of the Queen, has just taken a new bride. Court politics, secrets, and intrigue abound in typical Song of Ice and Fire fashion. Also cute dorks who might actually fall in love for real.



---

House:

STARK

Name:

Steffin Stark

Title:

Lord of Winterfell, Warden of the North, Hand of the Queen

Age:

17 (b. 293 AC)

Gender:

Male

Appearance:

Steffin inherited the classic Stark features of curly dark brown hair, silvery grey eyes, and angular features. He can't yet manage to grow a full beard, so his facial hair comes in sparse and patchy... but still he stubbornly keeps it in an attempt to offset his youthful face. There is a distinct dimple in his chin. His limbs still have some of that youthful lank and gawkishness, all long and gangling with large hands and feet, as though he hasn't quite grown into his paws. Steffin has a magnetic sort of presence that draws in the people around him, and his good looks certainly don't dampen that charisma. He prefers to dress in the style of the North even in King's Landing, only without the extra layers of fur and heavy fabric.

---

House Members:


Lady Eister Stark, nee Farwynd, age 14. His sweet new bride;

Niklas Stark, deceased at age 46 in 300 AC. His lord father;
Ursula Stark, nee Mormont, age 32. His lady mother. Lives in Winterfell and is visiting;
Tomas Stark, deceased at age 32 in 310 AC. His elder brother, prior Lord of Winterfell and Hand of the Queen;
Deckard Stark, newly 12. His younger brother. Lives in Winterfell and is visiting with his mother;
Andreata Stark, nee Manderly, age 24. His brother's widow. Lives in Winterfell;
Mikah Stark, age 10. His nephew. Lives in Winterfell;
Beatrice Stark, age 7. His niece. Lives in Winterfell;

Mirella Stark, age 5. His niece. Lives in Winterfell;

Rickon Stark, deceased at age 50 in 306 AC. His uncle, a former Hand;

Ser Koll Manderly, 29. His bannerman and kin by marriage. Resides in King's Landing;

Various Stark cousins, all residing in the North and not worth mention.

Biography:

Steffin Stark was never meant to be a man of significance to Westeros's political playing field. The second son of Lord Niklas Stark, he ought to have been trained as a knight or perhaps even taken the Black by now. Instead, due to the early demises of his father (an illness), his uncle (an accident), and his elder brother (in battle), he has found himself in the precarious position of being not only Lord of Winterfell, but also the Queen's newest Hand.

At only 17, many do not believe that the young Lord Stark is capable of such responsibilities. There are whispers at court. More so than ever now that Steffin has taken a young Ironborn girl as his bride, a willful young woman who has Steffin wrapped neatly around her tiny finger.

Steffin's greatest boon is his natural charisma and his strong instincts for problem-solving, qualities that may be his only saving grace in navigating a world far more experienced and worldly than his own. He also possesses an ally in his good friend Ser Koll Manderly.

While the Lord Stark resides in King's Landing under the Queen's guidance and does daily battle with the Small Council over day-to-day management of the kingdom, his mother runs Winterfell in his stead. He did not consult the former Lady Stark in his choice of her successor, and her visit to King's Landing will be the first time that these two mistresses of the North meet...

---

HEX:

#888888




---

House:

House Farwynd of the Lonely Light

Name:

Eister Farwynd (ess-tare, like "guess" or "best" or "chest" and "stare" or "bare" or "care" or "bear")

Title:

Lady Stark

Age:

14

Gender:

Female

Appearance:

Eister has coarse, dark hair that's kept short, but relatively well-maintained. Her skin has a slightly burnished, sun-weathered look, but not as noticeably as her parents and siblings, because she is still fairly young. Though not ugly, it would be a long stretch to call Eister a beauty by any accounts. Her narrow face has a nose just a little too big to fit quite right with it, and the tan of her skin contrasts with her thin, pale lips. The most striking of her features are her wide, intense grey eyes that seem to look right through you. She has a lean form, and is relatively short, standing only a little over 5'.

---

House Members:

Ygran Farwynd - Lord of House Farwynd of the Lonely Light, Father, 67 y/o, b. 244, m. 266 (age 22), w. 274 (age 30), m. 295 (age 51)
†Drysell Harlaw - Father's 1st Wife, 26 years, 248-274, m. 266 (age 18), c.o.d. childbirth
Oletha Weaver - Lady of House Farwynd of the Lonely Light, Mother, 30 y/o, b. 281, m. 295 (age 14)
†Stern Farwynd - Half-brother, 4 months, 267-267, c.o.d. unknown
Levina Farwynd - Half-sister, 42 y/o, b. 269, m. 287 (age 18), (has a daughter and a son)
†Derrin Farwynd - Half-brother, 24 years, 273-297, m. 296 (age 23), c.o.d. killed in Greyjoy Uprising)
Aldus Farwynd - Half-brother, 37 y/o, b. 274, m. 300 (age 26), (has three sons)

Timeline (for own reference):

244 - birth of Ygran

248 - birth of Drysell (Y 4)

266 - marriage of Ygran (22) and Drysell (18)

267 - birth of Stern (Y 23 D 19)

269 - birth of Levina (Y 25 D 21)

273 - birth of Derrin (Y 29 D 25 L 4)

274 - birth of Aldus and death of Drysell (Y 30 D 26 L 5 D 1)

281 - birth of Oletha (Y 37 L 12 D 8 A 7)

287 - marriage of Levina (Y 43 L 18 D 14 A 13 O 6)

295 - marriage of Ygran (51) and Oletha (14) (L 26 D 22 A 21)

296 - marriage of Derrin (23) (Y 52 L 27 A 22 O 15)

297 - death of Derrin (24) and birth of Eister (Y 53 L 28 A 23 O 16)

300 - marriage of Aldus (26) (Y 56 L 31 O 19 E 3)

311 - marriage of Eister (14) and Steffin Stark (17) (Y 67 L 42 A 37 O 30)

Biography:

Eister was born during a rather inauspicious year. The Endless Winter had already been two years begun. Her young mother nearly died during the childbirth, and worst of all, she arrived on the day the Greyjoy Uprising began to go terribly wrong - the day the assault at Lannisport failed. That same day, her brother Derrin was mortally wounded, wounds which they were told he died from after another two days of agony. She was the first and last child of her father's second wife, who was never able to bear another child, much less another son, and she was not in possession of the striking beauty that had drawn her father to her mother so late in his age. Young, useless, and without any special wit or extraordinary talent, Eister grew up being reminded of the ill-omens that had surrounded her. The only one who really seemed to care about her was her father, and the only one who talked to her often was her mother.

Her mother, Oletha Weaver, came from a House so small and young that even in the Iron Islands few had heard its name. She had her beauty, though, and that was just enough to secure her a place in a better-known noble house. To her unfortunate only child, she taught relentlessly three key lessons. The first: there should be nothing beneath her in the pursuit of her own self-interest. The second: as a girl, her only value was in getting married and the power she could then exert on her husband. And the third: that she, Eister, possessed nothing of value to offer. Eister took these lessons to heart, probably in more ways than her mother could've anticipated. One thing she never lost, though, was the pride she had in being a strong Ironborn, capable of defending herself and unwilling to submit without a fight on her hands or a plan up her sleeve.

When the news arrived that there was a young new Lord of House Stark and Hand of the Queen, she saw it as her chance to marry well. He was not another Ironborn, but his rank was one of the highest in Westeros and he was younger than most of the others looking for wives. Not only did this make him closer in age to her and less likely to overpower her in the course of their marriage, it also meant, she hoped, that her chances were a little better. His House had long supported the Queen, who had endorsed the Lannisters' subjugation of Eister's people, and she provided him with no useful alliance or other skills. All she had was her charm to recommend her, and little enough of that as her father had not seen fit to insist perfect comportment from her. Perhaps, as a younger man, he could more easily excuse these objections, somehow. It was almost to her surprise that she succeeded in securing the marriage (for make no mistake, it was she who had secured it). Now, she only had to ensure that the power of her husband, and subsequently herself, was not damaged by whatever the strange Queen thought up next.

---

General Personality:

Though Eister likes to think of herself most of all as a calm, patient individual, in actuality she could probably be best described as stubborn and proud. She is unlikely to take another's advice, since she tends to insist she knows better, and is quick to anger at the slightest hint of an insult. She tries to keep ahold of her temper, and since getting married has somehow avoided hitting anybody, but has a great deal of difficulty mastering her language. She refuses to show fear or be intimidated by anyone, sometimes even when she should, and despises being controlled or ordered around. She is a generally serious child who delights in very few activities beyond dancing and swimming; being "charming" or lively takes considerable force of will for her. All the same, Eister is very sincere in her love, and loyal to those she has decided to affiliate with even if no love is involved.

Education:

Reading, writing, horseback riding, embroidery, use of a spear and sword, some sailing (especially astronavigation), fishing, swimming, dancing, and a little of the basics of running a household.

Important Relationships:

Ygran Farwynd - Ygran is the one person Eister would do anything for. Old enough to be her grandfather (and in some families, great-grandfather), he always doted on her. He paid little attention to the background of her birth, and was the one who taught her to be proud of her blood. Acting somewhat as if he never expected her to get married at all, he taught her some of the things he had taught his sons and let her mostly roam free, taking no interest in her courtship prospects. It was she who brought up the marriage with him, something only possible because of the freedom with which he allowed her to speak with him. Eister loves her father dearly, but also sometimes finds herself annoyed at the way he coddles her, when she understands her responsibilities and is perfectly capable of taking care of herself. (She also suspects Ygran has been looking for an excuse to kill her husband, and she's not about to let that happen any time soon.)

Oletha Weaver - Most people say she might be just a little bit crazy, but Eister knows better. She may respect her mother a great deal, but Oletha is most definitely very crazy. Dissatisfied with her daughter, her husband, and the prestige of the house she married into, Oletha has been muttering to herself for years about everything from running away to bearing another man's son and passing it off as Ygran's, all within the hearing of little Eister. She grew up understanding there was something not quite right about her mother, but has gotten used to it and discovered that it doesn't really matter to her WHAT her mother is or does. She does, however, respect her mother's counsel, when it is offered. Being crazy doesn't make her an idiot, and the two of them are alike in ambition. Eister is very well aware that her marriage to the Stark is pretty much the only thing about her her mother has ever approved of. No surprise, really, since it was Oletha who taught her how to please and flatter a man.

Steffin Stark - Having done her damnedest to seduce the man through the courtship, Eister still has no idea what kind of person he actually is, and although she'd never admit it, that scares her more than a little. She quite enjoys bedding him, but for sure she doesn't love him, and at the moment isn't sure if she's even ever going to like him. It's much more important that he like her, and she's fairly certain he does, but that doesn't prevent the slight apprehension of one day waking up and discovering that she cannot stand her husband and is utterly miserable. She married for power, make no mistake, but the prospect of an unhappy future stuck to a man whom she hates is still a real worry. She is cautious around him, and much more schooled in her behavior than she would be otherwise, but is definitely very loyal to him. The fate of House Stark now affects her and any offspring she might have with him, she can't really afford to scheme against him.

HEX:

#5ab