Fluffy
Guest
Original poster
[dash=red]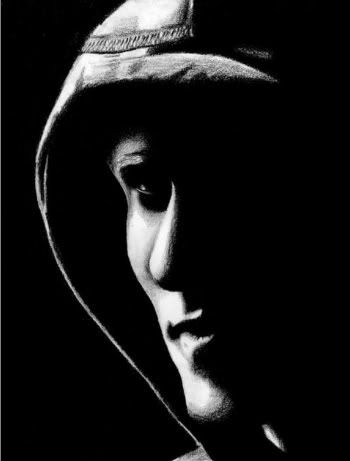 "Can't believe I had the guts to come here."
Incidentally, it didn't matter where Rathe went at all. He was a dead man no matter what, and it was because he wasn't careful enough about his identity. On this planet, at least he wasn't being chastised or worse, killed. Would those meddling law enforcers dare follow him to such an ominous, spine chilling place?
The member of Lethality had abandoned his ship after landing, to scope out the planet he landed on. Rathe wasn't familiar at all with the stories about The Reaching Darkness. The sight of it definitely gave him the creeps, though. Seeing that there was no sign of life, he felt he shouldn't wander any longer. This planet was uncomfortably cold, and he swore he could hear something growl...
With his hands in his pockets, Rathe walked back to his ship. Although he put his brotherhood in danger, he needed to alert them of his location so they knew he was still alive. Hopefully he could contact someone from all the way out here.
Something caught his attention, then. A human shape was sitting in the driver's seat of his vehicle. Rathe picked up his pace and reached for his weapon, ready to strike this person down if they were a thief.
"Hello!?"
No response.
"... Hello!?" Rathe inches closer to the silent stranger. Whoever it was, they were wearing a tattered cloak with pants that had several holes, and no shoes. Horror then lit up his eyes, as the person falls from the seat and immediately reaches out of Rathe's leg, grasping it as tightly as possible.
Terrified, he shakes his leg to try and free it from the clutches of this putrid being. The skin seemed to be decaying and there was no colour in the skin. One of its legs looked to be severely damaged, too. Dried up blood coloured the pants where there was rotting skin and a broken bone.
When he got his gun aimed at the monster, Rathe was bit on the ankle by his attacker. While he yelled in pain, he pulled the trigger, sending a laser through its head. As its hand loosened around his leg, he kicked off the corpse and instantly fell to the ground, pulling up his pant leg to examine the wound he'd just received. From where he sat, he shot again and again at the body and kicked at it to put reasonable distance between the two of them. No matter how much he tried, it still moaned at him and tried to reach out for him.
He felt exhausted now, for some reason. Grimacing, he leaned back against his ship and shut his eyes, suddenly feeling ill. His ankle was a grotesque mix of red, black and blue, as if bleeding and bruised all at once. The universe was spinning now, making his stomach feel sick. All he could do was sit there until the sick feelings wore off. If they ever would...
"Don't... Come... Near me..." Following his weakly spoken words, he turns his head to look at his undead foe, who was twitching on the ground in an attempt to get back up. Rathe's shaking hand raises his blaster to point it at his attacker, should it come any closer. By now, he'd completely forgotten about the bounty hunters. He just wanted to live.
Rathe left his ship to explore the planet. After finding nothing and no one, he walks back and finds a zombie at his ship. The zombie attacks him, bites him, and gets shot. Rathe now feels sick and sits against his ship, slowly being turned while the zombie that attacks him tries to get back up.

Introduce your characters how you wish. One way or another, our paths will cross and we'll come across the devastating discovery of Rathe.