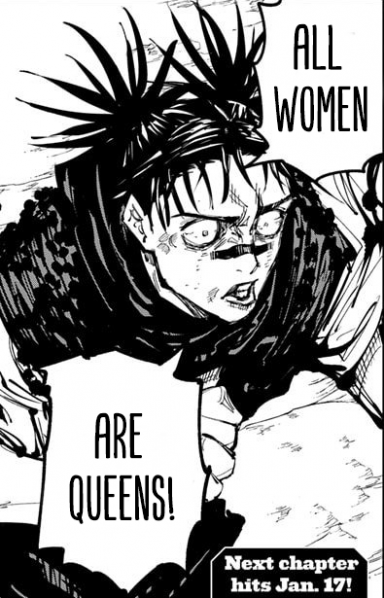 Only Jujutsu sorcerers are the true humans.
Invitation Status
Posting Speed

One post per day, 1-3 posts per week
Online Availability

28:21 to 25:30
Writing Levels

Give-No-Fucks, Intermediate
Preferred Character Gender

No Preferences
Genres

Fantasy, modern fantasy, Magic.

​
Stella resigned herself the mission and proceeded to count inventory. They had weapons, at least enough for most of the clones. Stella kept her eyes on them. Maybe it would be better for her to ignore her prejudices concerning the clones, but her fears were all but too genuine. Her Jedi Master always remarked on the tragedy the clones wars as something avoidable. If they had uses droids or people willing to fight for the republic, maybe they could have avoided the end of the Old Republic. In his opinion, the clones were never fit to fight to begin with. They were clones of a deadly Bounty Hunter. A man who embraces his darker and selfish nature and possibly passed it on to his copies.
Stella cared less for the array of ships, she's seen it all before on the Confedarcies side of things. The unnoticeable amount of excitement of the initiates was interesting, reminiscent of her days at the academy. Stella clenched her teeth as she then remembered her cruel treatment and bitter experiences that made her the jaded woman she was today. She continued monitoring the Clones. She walked up to a pair standing around chattering. She wasn't sure what they were talking about and didn't care.
"You two! While the rest of your kind remain active, you two are simply chattering like civilians. If you want to leave the ice rock I suggest you start loading what you can into crates for us to load on our ships."
"Jedi, We are discussing-"
"
No, you should be working. I'm not to keen on you men as it is, don't give me more reason's to think yow two are a hindrance to our operations. You men are dismissed."
Stella snapped her fingers and then men left her sight. Stella then caught a clone claiming into one of the starfighters. "
Clone! What are you doing!"
She yelled forcing the clone to stop.
"I was just about to calibrate the starfighter. I just wanted to make sure things were still fine. It's been too long since they've had been checked. I doubt the droids did everything." T
he
Clone explained.
"Hmm, you know your way around a fighter.?
His answer was satisfying. He seemed confident in his abilities.
"Of course, I wouldn't be up here if I didn't. You seem on edge Jedi, I know what I'm doing, trust me and my brothers." Stay turned away from him and search for another clone to either question or give an assignment too. Eventually, Knight Shay's concerns lessened and she returned to the group.
Suddenly two Initiates came barreling into the hanger, one following the other. Denise was nearly in a panic. He had a piece of dire information to tell Knight Ken and the rest of the team. In one week a snowstorm would cover this base and they'd be stuck there for who knows how long. He could have told them over the comlink, but this Initiate had the foresight to see that this news could cause pandemonium.
She wasn't worried about it. They had a week to get off the planet.
"A week is plenty of time to get things in order and ditch this outpost. If you men are so deadset on getting these clones off this planet, we'll need a cruiser now. We all saw the downed ships on our way here. You people might think I'm insane but some of them might be operational or salvageable. They must have some clones trained in ship repair. We can leave this frozen hell of a planet in 4 days in we hustle."
She felt her presence warm and looked down at the furry creature standing at her side. He was shaking like some small child.
"Taal Lun! Are you cowering at a time like this?"
Stella's was stunned. She couldn't believe that this was an initiate. She looked down at the Taal with a look of disgust and a sneer.
"Your emotions are clouding your resolve. Steel yourself, what you face here will be nothing when you come across the confederacy. If you aren't cut out for this let us know. The weak have no place here, in this life or any other. You'll only earn yourself misery Taal, and it will spread to those around you. Weakness is misery, ignorance, and trustest of all...Death."
If was the truth, weakness was unacceptable, amongst any creature in the universe or in the rebellion. Some might think this was too similar to the philosophy of a sith, and to them, Stella would say they simply fail to understand the natural state of the universe.
Last edited: