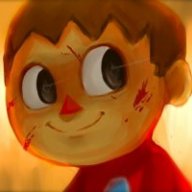 Hi-def
Original poster
LURKER MEMBER
FOLKLORE MEMBER
Preferred Character Gender

Male
Genres

Fantasy, Horror and Sci-fi. I'll try basically anything though. I also love strange and unusual RP genre concepts. Different is good!
STAR CROSSED CYBORG

Background & Info



SINTRONICA INC.

(By October Knight)
​

The Mass corporation, Sintronica, are the forerunners in the race to a so called 'perfect Cyborg'. They instantly skyrocketed to gods in the business world with their creation of the port chip. A chip that would break the boundaries between humans and robotics. It was capable of bridging the gap between the functions of the human brain and computers, thus creating the "perfect Cyborg", or so was thought.

The only issue, besides the cost to manufacture which ended up being covered through tax for technologies, was the moral issue. Living brains were needed to create these Cyborgs. Mostly brains of people who died in freak and car accidents were used, old brains were too warn and ones who's owners had died due to sickness were usual damaged in some way. Sintronica was collecting brains at an alarming rate and creating these "Perfect Cyborgs" even faster. They would erase the old owners memories, implant their chip, and sell to the highest bidder. Soon These Cyborgs were in all walks of life. Everything seemed flawless.

Once in a while, however, the connection between the chip and the living brain would malfunction, sending the Cyborgs into a state of homicidal mania. And when Sintronica lost control over their creations they were forced to 'deal with the problem'. They either had the choice to eliminate the threat or suffer the consequences of a murderous Cyborg with their label plastered across it. This is when the Night Owls came in





The Night owls are a privately contracted organization employed by Sintronica. A special team with a special job. They went out and 'neutralized' defected Cyborgs, by any means necessary. Since a huge moral issue came into play, dealing with partially living organisms that many people grow to love, the Night Owls were a more or less secret organization. They are a morals killing squad who's names and faces never reached the main stream media. And in recent years, with more and more of the older Cyborgs malfunctioning, Their work has been busier than ever. A night owls first law is to never disclose their identity, and their second…to understand that a Sintronica cyborg is nothing more than a machine, so killing one is no different than "fixing" a broken computer.

But everyone who personally knew a Sintronica Cyborg knew damn well they were much more than computer life. They lived, thought free thought and breathed. Fluids pumped through their veins, they could sleep, eat and do just about anything else a human could. People in society that were involved with the Sintronica Cyborgs were just as attached to them as they were their family. This is where the moral issues come in. Because like all things powered by computer there is always a chance of malfunction. When Sintronica Cyborgs malfunction, it is usually due to the fact that the link between the human components and the computer components have a conflict. It creates much tension inside the Cyborg, and in almost every case this results in violence and mayhem. Sintronica cannot risk this getting out into the public.



The 'Perfect' Cyborg
(by Trance Kitsune)

​
Serene Serotonin is among a small group of cyborgs that have been more or less fitted for less peaceful means. They're able to be equipped for defense and offense, with an addition to the port chip, which was a parent program that seemed to overshadow their normal thought process and make them more or less living marionettes for whoever ran the program. The cyborgs' programming were tested, and found to be faulty however, and as it was deemed such, Night Owls were dispatched to destroy the small group before they could become a threat. They lay prone, strapped to vertical beds, their arms in lockers on either side of them, a small wire plugged into a port where their left ear would be, a program keeping an eye on their minds at rest.

Awake, but unaware, they lacked the ability to even raise their heads without being told to. Constant tests were ran, making sure that the parent software was working. When it seemed like there were problems, corrections were made. But the day would come when they had to admit that the problems were bigger than they could handle, and that the promises that they had made for the parent software ended up to be baseless hopes.

The Night Owls were finally dispatched when the parent software finally became so distrusted that it seemed like it would go offline every thirty minutes or more. The cyborgs were slated to be destroyed, even before receiving their first mission or being truly used for the first time. Deemed to be too dangerous, only allowed to sleep for the moment before they were destroyed while Sintronica would keep trying to make cyborgs to tailor their customers' needs, striking blindly in the dark, hoping that the next batch would be more fruitful.




Name:

"Serene Serotonin"/ Molly Devon



Age:

23



Height:

5'6



Weight:

154 lbs (Due to the weight of the mechanized body, her weight is a little increased) (164lbs if the specialized limbs are used)



Build:

Trim, lanky



Hair:

Grey and Blue



Eyes:

Green



Skin:

Fair



How did she die:

She had a tragic death, and it is a wonder why or how her brain was in tact, She was with her mother and father and a childhood friend, driving just to get some icecream, On the way home, they got hit by a drunk driver, the car swerving and spinning around, then rolled once or twice. By this point, the mother was dead, and the father was on his way out. The boy had gone through the windshield, due to a stroke of luck, Somehow, going through the windshield had been a good thing in this case, Due to the fact that otherwise than a few scrapes, bruises, and one broken arm, he was fine, where as, the family in the car was running out of time, the car was smoking and quickly seemed to catch fire. The girl was almost certain to be dead. Apparently, though her parents weren't salvageable, her brain was more or less in good condition. Meanwhile the boy was taken to a hospital and told that there were no other survivors.



Removable parts:

Her arms and legs are removable. Able to be switched out with more modified versions with weapon systems built in.

Ports: She has a port on the back of her neck, and where a human's ears would be, also at the base of her spine where her tailbone ends.



Accessible areas:

At the back of her neck, there is a part where her skin can be pulled away and reveal a metal door, which can be opened to expose wiring and some knobs, buttons, and a couple ports.

Weapon Systems: In her specialized arms, she has a pair of guns that fire 10mm ammunition, the muzzle from which they are fired is at an opening in the wrist, razor sharp claws that can extend up to seven inches from each finger, and enhanced strength. In her specialized legs, she has enhanced strength, enhanced ability to absorb the shock from a fall, as well as metal plating in her shins for protection. A less obvious enhancement is a metal elongation of the spine, a razor-sharp segmented tail.



Strengths:

Enhanced strength, endurance, defense and offense are heightened due to her mechanical body; Able to replace one limb with another should repairs be needed due to the second set. Software has been applied to her thought process, which helps monitor her current thoughts and tries to keep her focused on what has been commanded of her. Although, it's extremely new in technological advances, so sometimes it works, and sometimes it randomly disconnects.

Weaknesses: decreased speed due to weight, Mental capacity is a little strained due to the fact that her biological brain was retrieved as a child, and due to the lack of schooling, is rather immature in some areas, and lacks knowledge in others, easily distracted and highly unstable if distracted from her tasking or if disconnected from her parent software. Her memories before her death have been wiped away, and so, she believes her name is Serene Serotonin, and that all she is, is what she's told to be.


(Played by October)



Name:

Cliff Garrison



Age:

23



View attachment 1862


Weapons/Equipment: Twin DE .45 http://t1.gstatic.com/images?q=tbn:...albums/s271/static132/arms/untitled-4.jpg&t=1

carried in angel draw holsters http://www.copsplus.com/products/large/bh-40sh00bk.jpg


Persona:



How he is now:

Closed off and detached More or less a loner out for himself and no one else. Uncaring and seemingly living his life without morals; He does whatever it takes to survive without fear of the repercussions of his actions. Relentless, harsh and unwavering. His dedication to Sintronica as a Night Owl is all he really has. His curet personality is basically the result of two things; The death of a loved one and really the only friend he ever had and his training by Sintronica. The combination has left him a cold hearted killer.

How he was: At a young age, Cliff lost his best friend and the girl (in his 12 year old mind) that he planned to marry. Prior to this he was a warm person and a true friend to those he loved and trusted. He had a great sense of humor and was always willing to help people just for the purpose of being a good person.



Bio:

After the Death of his friend (The details of this are shaky in Cliff's mind because he has blocked it out so much over the years) Cliff became a lost soul. He got into trouble and ran away from home. He was raised on the streets and like a stray dog, his intents -and life for that matter -became instinctual and predatory. Living with the scum and vermin of the streets he got involved with low level street gangs, and over time became a killer. He would contract himself out to various organizations to take out hits on people. His skills with weapons and stealth became legend. At the age of 21 he was recruited by Sintronica and employed as a Night Owl. Young men that had no friends or family is what they wanted, and that is exactly what Cliff was.




...and so their journey begins....



<object height="385" width="480">


<embed src="http://www.youtube.com/v/WsOCHIMr7Fk?fs=1&hl=en_US" type="application/x-shockwave-flash" allowscriptaccess="always" allowfullscreen="true" height="385" width="480"></object>
​
​
​