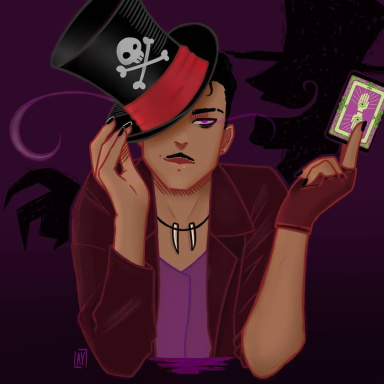 Posting Speed

Speed of Light
Multiple posts per day
1-3 posts per day
One post per day
1-3 posts per week
One post per week
Slow As Molasses
Online Availability

I never know when I will get online, but I usually get on most days of the week and weekend. I am pretty active on here so you will see me around a lot.
Writing Levels

Adept
Adaptable
Preferred Character Gender

Male
Female
Transgender
Primarily Prefer Male
Genres

High School/College, Scifi, Modern, Magical, Horror, Romance, Yaoi, Yuri, Slice Of Life, R Rated xD, Modern Fantasy

Found one for my second char. So Capgras Disorder and Depersonalization disorder ...both of my chars will believe the people or the place around them is fake rofl. Fun.
Depersonalization disorder
[BCOLOR=#ffffff]
Symptoms can be classified as either depersonalization or derealization. Depersonalization is described as feeling disconnected or estranged from one's body, thoughts, or emotions. Individuals experiencing depersonalization may report feeling as if they are in a dream or are watching themselves in a movie. They may feel like an outside observer of their own thoughts or body, and often report feeling a loss of control over their thoughts or actions.
[/BCOLOR]
[ ​
[BCOLOR=#ffffff]
In some cases, individuals may be unable to accept their reflection as their own, or they may have
[/BCOLOR]out-of-body experiences[BCOLOR=#ffffff]
.
[/BCOLOR]
]​
[BCOLOR=#ffffff]
While depersonalization is a sense of detachment from one's self, derealization is described as detachment from one's surroundings. Individuals experiencing derealization may report perceiving the world around them as foggy, dreamlike/surreal, or visually distorted
[/BCOLOR]