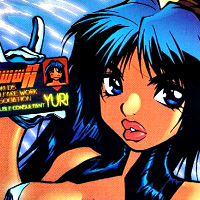 Posting Speed

Speed of Light
Multiple posts per day
1-3 posts per day
One post per day
1-3 posts per week
One post per week
Writing Levels

Beginner
Elementary
Intermediate
Adept
Advanced
Adaptable
Preferred Character Gender

Male
Female
Futanari
Primarily Prefer Male
Primarily Prefer Female
No Preferences
Genres

Fantasy, Scifi, Modern, Magical, Mecha, Furry, Anthro, Horror, Historical, everything really.

[fieldbox="Proprietor Tenrai, red, dashed, 10, Tahoma"]
For the hot-tempered Tengu, the day could not have started off any worse. First, the someone had stolen hundreds of bath tokens overnight. Second, one of the bath flooded, creating high level damage. And lastly, the Radish Spirit had too much to drink and fell off one of the decks. Luckily, he wasn't too terribly injured--he just happened to require extra care and that took up one too many of her servants.
The recruiters were going to have their hands full. Of course, she got word that morning about a few newbies having been lured from the human world and into theirs. She smirked, adjusting her hat. She would have to steal their names and out them to work as soon as possible.
One good new, she wasn't alone in stealing names and enslaving humans. She had two others to give support or do the deed themselves. She finished crossing the second floor and groaned to see the frog men working away to try and fix the water damage.
"You lil' pieces of crap better do the best job those tiny, pathetic hands of yours can do! If I lose any money or business because of this, I'll feed you to the Boiler Man!"
She stopped her wooden shoe on the hunched back of one of the frog men. He curled into the fetal position,
"Y-y-yes ma'am!"
A few of the others watched in horror, their huge eyes bugging larger than usual. She spit out her piece of straw and pointed to the rest, stomping her other foot--splintering the wood,
"The heck you think you're doing just ogling! Get tot work!"
The frog men gasped and shivered, hurriedly looking back to the scrubbing and prying of the bad wood. Some of the female spirit servants gasped and took another route to find the first floor.
She thundered down the hall, sliding her fingers down her face,
"Idiots... I'm surrounded by idiots..."
Humans may have looked strange, but at least worked harder. She made her way up to the third floor, where the private business was handled and flopped down in her chair, throwing her feet onto her desk.
In the lavish room there were two others desks for her work associates.
[/fieldbox]​