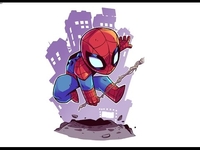 Aspiring Demonic Mafia Ninja Pirate Dragon God
Original poster
Roleplay Invitations

Group Roleplays, One on One Roleplays
Posting Speed

A Few Posts A Day, One Post a Day
Writing Levels

Elementary, Intermediate, Adept, Adaptable
Genders You Prefer Playing

Male, Female
Playing Style- Passive or Aggressive

I'm more or less fine with either if I'm being 100% honest. I try to do my best to direct as a GM, but sometimes I like to lay back and just go with the flow.
Favorite Genres

Fantasy, Modern, Romance, Action, Adventure, etc.
Generally, it's what I feel more in the mood for.
Genre You DON'T Like

Mostly just horror. I'm not good at it, though with the right scenario I'd be willing to try.

​
Spider-Verse: Inheritance is a roleplay based on Marvel's Spider-Verse. Spanning the entirety of the multiverse it will take inspiration from a medley of sources revolving around the titular series. The Spider-Verse events of the comic books in particular, however, will be focal. You do not need to read or have read them, but if you come in expecting a lack of spoilers and the like, you will sorely be mistaken. That said, it will follow a relatively small group of spider-people, and other "totems" as they are referred to in their attempts to escape a new breed of Inheritors who are hunting them for the purpose of training (and a little nourishment).

The game will be a bit more of an adventure/survival game with a heavier focus on the characters, their behavior, and how they choose to go about things, then a simple action romp. Additionally, we'll be taking the roles of original characters. This can range from your own spider-people, other characters of the Spider-Man mythos that you've put your own spin on (like Vulture, Rhino, Kraven, etc.), or even a random animal totem person of your creation. Of course,

I'll be judging fairly, but try to have some connection to the Marvel Universe in some way shape or form. I don't mind if you want to try and make your own Peter, or Miles, Gwen, or whatever, but we will NOT be playing any of the current incarnations as they currently exist. Some may make appearances later, but that's a topic for then and not now.

If you're interested, have ideas, suggestions, or questions, let me know! You can go ahead and declare interest here, shoot me a pm, or hit me up on Discord at Demon Shinobi#1478
Anyway! Thanks for reading!