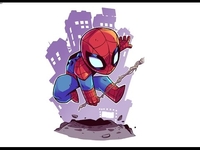 Aspiring Demonic Mafia Ninja Pirate Dragon God
Original poster
Roleplay Invitations

Group Roleplays, One on One Roleplays
Posting Speed

A Few Posts A Day, One Post a Day
Writing Levels

Elementary, Intermediate, Adept, Adaptable
Genders You Prefer Playing

Male, Female
Playing Style- Passive or Aggressive

I'm more or less fine with either if I'm being 100% honest. I try to do my best to direct as a GM, but sometimes I like to lay back and just go with the flow.
Favorite Genres

Fantasy, Modern, Romance, Action, Adventure, etc.
Generally, it's what I feel more in the mood for.
Genre You DON'T Like

Mostly just horror. I'm not good at it, though with the right scenario I'd be willing to try.

David
[ ]
Spider-Man
New York City

[ ]

Earth - 784
September 17, 2023

[ ]

6:47 AM
Mentions:

EmperorsChosen

Mr.Scales ⚖
thempress
Daz

Eon
chaosheart13

Huntress
​
David groaned as he sat up. He was in a makeshift cot that had served as his bed for the past few days. He had healed completely by now, but could practically still feel everything from when he'd taken his last beating. That woman, that crazy... he sighed and rolled out of bed. He was in an abandoned building, which evidently wasn't an uncommon living space on this world.

This world.

David still didn't really believe that he was on another Earth, but after a month of trying to figure things out, it was the only logical conclusion. It didn't help that he was worried each day that he'd be found by one of the so called Inheritors that the bitch said would be hunting him and "his kind."
He was a totem; that's what she said he was. He didn't have any reason to really believe her, but why else would she go through all this trouble if there weren't at least some merit to the notion. He grumbled as he threw on some clothes he'd managed to get either by swiping a few things here and there. In truth he hated the idea of stealing, especially when things were already so bad, but given the state of the world and what he'd learned by talking to people and reading old newspapers and other things like that, his only other options would have been try and work or beg. Either way, he wasn't getting much with his suit, battered though it was, it was still a little too close to the Spider-Man of this world who'd disappeared with so many others. He threw some of the other clothes he'd gotten and a few provisions in a bag with his costume. If he really was going to be hunted, staying in the same place wasn't a good idea.

David took a deep breath. It was about time to go on the offensive anyway. They might not know where or when the Inheritors might strike, but he could try and build up a team to combat them. There was somebody called Spider-Byte. He needed to meet them, figure out if they could help him. If not, he'd have to climb up the latter a bit. The Hulk, Bruce Banner, led his own faction here in New York. He had to be able to help if this Spider-Byte couldn't. He just had to figure out a way to find them. He didn't have enough information about the territories of New York right now. If all else failed, he could always just go out as Spider-Man. That was sure to draw a bit of attention; the issue of drawing too much attention would just have to take a back seat in the event that he had to go out in costume.

Luckily, he'd managed to avoid trouble for a bit. Lying low helped. At least he had a better chance of fighting back now. Especially with the little help he did have. Course, he'd have to meet up with everyone he'd managed to meet already. There was a small news stand a few blocks from where he'd been staying. That was the designated meeting area. Staying together in one place was too dangerous right now. Especially when he hadn't been 100% when they'd first met. He just hoped there were no unforeseen surprises today. Not when he was finally starting to get things together.

As he walked for a bit, he couldn't help, but grimace as he looked around. This New York was a shell of its former self. That was tough to think about. He didn't even like New York, but he couldn't imagine the one back home turning into something like this. He could only hope that he would never have to worry about this happening back home. If he could help it, he'd make sure nobody he cared for ever had to deal with something like this. At least, he would if he ever made it back home. God... What if he didn't make it back? His mother wouldn't even know what had happened to him. He shook the thoughts from his mind. No, he was making it back. No matter what.



"I hope I'm not the last one there,"

he said aloud, mostly to himself, breaking the silence he'd imposed upon himself. He'd never spoken to himself before as much as he was on this world. Maybe it was cause he always had Jay in his ear, or a bad guy to banter with. Fuck he missed when it was all that simple. Just a not-so-friendly neighborhood Spider-Man for the scumbuckets of Jersey to worry about while the real Spider-Man handled things in the city. Never did he think he'd actually miss that bastard Jack O'Lantern.

Hell, I'd even settle for that piece of shit Shocker right about now if it meant I'd be back home.

Even so, David would have to take things one step at a time for now. And that meant getting to the news stand, where the others would hopefully be waiting for him or arriving shortly after.
Last edited: