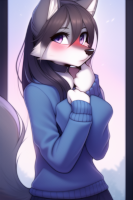 Hopeless Romantic
Original poster
IC THREAD
RULES
--------------------
All Iwaku rules apply
Please, no drama in the OOC
Please refrain from IRL political/Religious discussion or other 'hot topics'. It makes me uncomfortable.
I, as GM, have final work on disputes. This includes on if a character is too OP.
Please be reasonable in your powers and your actions in combat (See combat rules below)
If you have a problem, question, or request, please let me know in OOC or PM!
---------------------------------------
POSTING REQUIREMENTS
-------------------------------------------
Please post at least once a week, more often is very much preferred. One post per GM post in most cases
Please do your best with spelling and grammar, it needs to be at least legible.
Please at least one paragraph per post. Do your best to help move the scene forward with your posts
Please do not fill pages with interactions between only two characters. Be respectful of those who can post less often.
----------------------------------
Hello, my name is Mythy! I got myself a fantasy RP idea that I thought might be fun to try, so here we go!

In this world, named Meckhan, nature is still the ruler. Outside of large cities and walled villages, bandits and monsters roam. Weapons are made of bronze, with leather armor and bronze gauntlets and greaves the norm for well-outfitted folk. Bows and all fantasy weapons exist, excepting crossbows and guns. Worship is generally of the whole pantheon, and the seas are a dangerous beast that may be tamed through rituals, or simply ridden.

There are two types of magic. One is found through years of intense study, and is cast through rituals that consume materials, reagents and time. Many spells exist, all with varying effects. Through the use of ritual circles, reagents and chanting, one can tame nature, call upon the skies, and much else. It takes a precise hand and spirit to use these rituals, and their very nature makes it difficult to use in war, and near-useless in active combat. Weapons may be enchanted with runes carved into the metal, and then activated by a ritual. Once activated, these enchantments may be turned on and off via command words.

The other sort of magic is known as Soul Manifestation. It is much rarer than ritual magic, only manifesting in a small percentage of individuals per generation. It seems to be activated during their formative years, sometimes earlier if something traumatic happens. In any case, a Soul Manifestor learns of their power when their so-known 'Soul Weapon' forms in their hand as a defensive measure. This weapon can be in any style of weapon, but is unique to the individual. As it is a manifestation of their soul, its form, use, and powers are all tuned to the user, and it evolves with them.

There are three levels of power that a weapon can reach:

First Level, called Manifestation. The most basic form, the weapon appears in the Manifestor's hand as it is held over their chest. Resembling a custom weapon at this time, the biggest clue as to its nature is the fact that it glows the color of the user's aura. This level grants the ability to attack, as well as light-power passive effects and attack abilities.

Second Level, called Named Manifestation. Part of a Manifestor's training includes introspection, where they learn the true name of their soul. Some Manifestors adopt this name, others keep their birth name - but all use their soul names when awakening their second level manifestation. The weapon grows enters a low-power trueform sometimes called awakened, and the glow gets brighter. As well, the passive effects get stronger.

Third Level, called True Manifestation. This is the ultimate form, where the soul weapon forms it's full true form, usually including additions such as wings or armor. This can be incredibly draining over time, so True Manifestation is rarely used commonplace.

Manifestors, once they are found, will most often be drafted into the nation's military, or be taught within the Manifestor's tower how to control their powers. A Manifestor of any kind has great status, and quickly become famous and infamous once they reveal their powers.

The only thing that neither a ritual nor a Manifestor can do, is directly interfere with life. Instantly killing someone or bringing them back to life is out of the scope of magic. (Of course, the weapons can always cast attacks that kill or be used to kill)

---

The PCs will be Manifestors learning in the tower, the day before they begin the process to learn their soul name. A tragedy will strike before the ceremony, of which the group will be survivors. Then we will adventure, learning about themselves and unraveling what happened.

I hope you find this interesting!

Kelemba and Borar
Kelemba is a heavily martial nation, with an orderly and well-disciplined army. They and their neighbors, the warrior-led land of Borar, have had skirmishes for decades. A few years ago, Kelemba invaded Borar in force. Now, while Kelemba assimilates Borar, there is a healthy resistance. The leader is the son of their late warrior-king, and they assault Kelemba at every turn. Kelemba itself is led by a council of generals.

Nomad Tribes
The nomad tribes is the name given to a number of nomadic clans that wander the majority of lands, but are most known for living in the dangerous lands that are sections off on maps as 'theirs'. They live in tune witrh nature, taking what they need and then moving on. More sedentary nations scoff at their flightiness, and traditional nomads are often put off by the other nations' inflexibility. However, trade is strong and despite this mockery, nomads are on friendly terms with one another and other nations. Disliking open warfare, most personal disputes are settled through duels. Clan disputes are handled between champion duels.

Menchora
Menchora is a cold land, but also the land where the most mines are found. People from here are often sturdy, and their military has a surplus of steel compared to other nations. A large amount of blacksmiths learn their trade here, though many also go elsewhere once their training is over or they want to learn rune-carving.

Chemnat
Chemnat is a nation cut in half by an inner sea. They utilize this to become strong traders and merchants. They also have a bustling fishing trade, with a great many types of fish swimming in the inner sea. As such, they have a number of sailors trained in rituals to appease the seas and the creatures therein.

Velthum and Belthum
Velthum and Belthum used to be a single nation, however a generation ago the king suddenly died, leaving twin sons without any idea on who should lead. To combat this, they split the nation among both of them - and once one would admit that the other was a better leader, they would recombine. That hasn't happened yet.

Kolran
Kolran is a heavily mountainous region, filled with creatures, caves, and tunnels. The majority of people live in the foothills of the land, near the border in the capital city. But there are many riches to be had, so often many venture higher and most never come back.

Zoru
Zoru is a nation that, while led by a single leader, is split in ideology. Zoru is said to have been blessed by The God of the Hunt, given the abundance of animals in the region. North Zoru believes more in the Stalker aspect, the way of slow and patient hunting. South Zoru focuses on the Pack aspect, a louder style of group hunting.

Mebbun
Mebbun has the greatest concentration of magical energy, being home to the large campus of the Ritual Academy. If one traces back the lines of ritual-casters, even if one doesn't go to the academy and learns from another, the chances that someone within three degrees of learning went to the academy. The council of magical masters runs both the academy and the nation.

Hertsei
A heavily fertile land with an island that forms a heart-like sea, Hertsei has a number of unique crops and preparation techniques. This makes it the culinary capital of the world, with many aspiring chefs making their way to famous kitchens all over Hertsei. On the island to the north of the mainland is where the Manifestor Monastery is found, and thus where all freelance manifestors come from.

Cholsuri Alliance
A loose collection of island-based nations and a tail of the eastern land, people of all kind are born in the Alliance. They do not fight among each other, and are trusted to come to the other's aid if one is attacked by an outside force.

The Four Kingdoms
An island separate from all other nations, the four kingdoms were once united under the same banner. Political strife, however, saw them split. Now they fight against each other, as well as break bread at the same table. They have an odd relationship - but one rule they all follow is do not fight the Alliance.

The Badlands
The Badlands are a land full of the largest flora and fauna known to this world. Beyond a single fortress, there is no human presence on the island. Every graduating class of the Manifestor Monastary has the same task in this land: As a group, slay one of the large beasts and bring a trophy. Those who live are recognized as true Manifestors.
In most cases, combat will be handled like so:
1- GM Post introducing combat
2- Player Posts stating their combat actions
3- GM Post stating what each action deals
Repeat 2-3 as needed
There may be exceptions, such as with weak enemies where I will allow a number to be killed per character per post.

Often I will allow the group the chance to deal executions in style. If a certain person is granted an execution, please don't steal it unless they offer it up IC or an OOC accord is reached.
PLEASE PM ME YOUR SHEET BEFORE POSTING
Character Sheet
Name:
Age: (17-21)
Home Nation:
Gender:
Aura Color:
Soul Name:
Please Spoil
Appearance: (Picture, Description, or Hybrid is all fine)
History:
Soul Manifestation Details
Manifestation
Appearance:
Powers:
Name Manifestation
Appearance:
Powers:

True Manifestation
Appearance:
Powers:
~~~~~~~~~~~~~~~~~~~~~~~~~~~
Name: Laukai Kenkuri
Age: 19
Home Nation: Cholsuri Alliance
Gender: Male
Aura Color: Gold
Soul Name:
Burning Hope
Appearance
History: Laukai was born to a fishing family on a small island within the Alliance. It was a simple life, and he lived it happily for years. Then, when he was five, he went out on his first fishing trip. A large sea serpent overturned the boat and summoned a deluge. As far as he knows, everyone else was lost as the next time he woke up, he was in a bed of a rather affluent family in Hertsei. They told him that they found him floating with a sword of burning gold in his hand, and that light was the only reason he was still alive. Soon after that, the Master of the Manifestor Monastery arrived, and took the boy to his new home..
Soul Manifestation Details
Manifestation
Appearance: As Pictured Above
Powers: Small fire blasts and manipulation. Brighter than normal aura burn.
Name Manifestation
Appearance: The blade begins to burn with golden flame, and grows in size to a
large slab of a sword
.
Powers: Uplifting Aura to allies who can see his glow, burning blade and larger ability to summon and manipulate fire.
True Manifestation
Appearance: The blade becomes a burning pyre, and an aura of golden fire coalesces to form a cloak like a wolf pelt/head around him.
Powers: Allies within range feel unending hope, continuing to push on while fire burns and purifies all around them.
Laukai Kenkuri (above) -
Mythy the Dragon-Wolf
Gaius Carmine
-
Shalashaska
Märchen
-
chaosheart13
Ilaryll Anarore
-
Ariel
Dael'liska Noskanthra deLouve
-
Boo Girlie BoomBoom
Nergüi Altan Nüd
-

Cresion Breezes
Andren Coenberht
-

Pupperr
Thirra
-

Karyra
Escarlaté Hauesser
-
Azurewinter
Kayne Valoran
-

Elusive Thorns
Last edited: