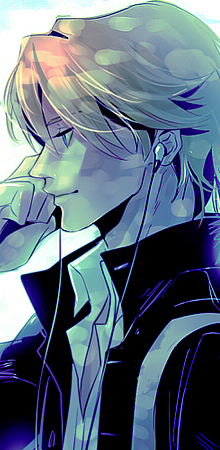 Edgenoble
Original poster
FOLKLORE MEMBER
Invitation Status
Posting Speed

Multiple posts per day
1-3 posts per day
1-3 posts per week
Writing Levels

Intermediate
Adept
Advanced
Preferred Character Gender

Male
Female
Primarily Prefer Male
Genres

Fantasy, Scifi, Modern, Action, Adventure.
Fifteen long years have past since the first Kishin was defeated. It was said that, after his death, the world would be free from his plague of madness. And it was true. Peace prevailed throughout the world, and all was good. Until, slowly, the plague of madness began to rear its ugly head, and with it, a new wave of weapons and unique individuals who could resonate with them was born.
​
This is their story.​

The Academy doors have reopened after being shut for those fifteen years of peace and are once again accepting students. From far and wide, all across the world meisters and weapons have arrived to hone their skills - some even receiving special invitations from the new Shinigami himself.
​
"The Madness has returned. Power, Knowledge, Fear, Order, Anger. They seek to consume us all."
​

Purpose
Shibusen, while being that of a military organization, also functions as its own seperate school with a unique system. Part of the academy's purpose is to teach and supervise young meisters and demon weapons to prevent the uprising of another kishin.

Overview
Shibusen serves a multitude of purposes. It exists to teach individuals from when they're young, as well as supervise them, to ensure the prevention of another Kishin rising, an individual who excretes a Madness Wavelength at a godly level. and maintain world order. In addition, it is to teach Demon Weapons to control their power in an effort to prevent their power from accidentally hurting others as well as for them to properly integrate into society.


The EAT Class

The curriculum, standing for Especially Advantaged Talent, which is the curriculum that involves the student to use their power to fight against evil. The last 10% of the student body make up and follow this curriculum.

Shibusen decided to divide both Curriculum's classes into advanced, or normal, based on the student's preformance in a little test on their first day.

This test is meant to divide those who need work, out of those who can excell.

It's a simple preformance test.

Once the meister has chosen a partner, they're taken to the fitness room, where everyone lines up and shows off their skills.

If their skills are good, and can do excellent in battle, they'll be placed in advanced classes; it's a nonbiased system Sid Barret runs.

If both succeed, both go to the class.

If both fail, they're stuck in a normal class, it being harder to raise in the ranks, people are normally 1 Stars for good in this class.

If one fails and the other succeeds, a simple Soul Resonance test is conducted to see how evenly their soul wavelengths mingle.


Headmaster
Not much is known about the job and responsibilities of the headmaster, though it can be assumed the headmaster has the highest ranking in the schooling system. The headmaster seems to be the one to determine If someone can take Remedial Classess and supervises the students within the EAT Class and their progress. He also advises the teachers on the various lessons/courses for the EAT Class to take.

In addition, the Headmaster is able to make exceptions when needed and assign missions to students. He's even able to be contacted freely If needed by a student by calling "42-42-564" on a mirror and get status updates from the students themselves and/or if a student wishes to ask him something. He can also be contacted in the Death Room.

Teachers
In the academy, it seems that all individuals who teach classes, especially those who teach within the EAT Curriculum, are known as three-star meisters/weapons and are highly ranked. They're responsible for teaching the class the subject in question and have a variety of responsibilities.
Teachers seem to have a responsibility of taking attendances though may skip doing so.

They're also responsible for teaching the class and are able to do so however they see fit. However, when urged by the headmaster, they abide by his wishes.
Teachers are allowed to formally discipline the students, whether it be physical or giving them a chore to do.
Currently, these are the teachers/supervisors of Shibusen:
Soul Evans DS HRW
Maka Albarn HRM
Franken Stein HRM
Sid Barret HRM
Marie Mjolnir HRW DS
Mira Naigus HRW
(HRW = High Ranking Weapon HRM = High Ranking Meister DS = Death Scythe)

Other Staff Faculty
There's other various jobs in the school, inculuding the Receptionist, who gives out quests to students, individuals who gives out food during lunch, the academy's interim nurse and doctors, and Dorm Superintendent.
The people a part of this group are as follows:
Misery - Dorm Superintendent
Clarissa - Receptionist
Mira Naigus - Nurse
Franken Stein - Doctor
Librarian - Librarian
Lunch Servers - Lunch Servers




Rules
If two meisters are dueling on school grounds, at least one of the faculty members must be present to witness.

Taking souls not on Shinigami's List is forbidden.

Taking too many souls is forbidden.

Keep an eye on your pet, especially the supernatural ones.

Rule #118: In the event of an emergency, students are allowed to walk into the Death Room without permission


Classes
In the academy, there are various classes students partake in the Shibusen.

Soul Studies
The class lessons are based around on the subject of 'Soul Studies' as knowledge of souls are important for the students.

Battle Arts
In addition to Soul Studies, lessons can pertain to that of battle, such as lesson on Soul Wavelength Synchronization. Lessons pertaining to battle and fighting are called Battle Arts.

Gym
Among other courses is Gym, in which focuses on enhancing the physicality of a individual. It is more intense then that of a regular gym.

Other Courses
Many other lessons are taught in classes such as science and lessons pertaining to history.

Remedial Class
Remedial Classes are lessons in which failing students take If in an event, they've have not collected any souls and/or haven't complete their quests. These lessons seem to be orchestrated by the Headmaster and some of the staff.


Name:
Gender:
Age:
Sexuality:
Species:
Nationality:
Weapon/Meister:
Identifiable Ability: (Something that can 'define' your character. Something like a unique quality.)
Personality:
History:
Appearance: (Preferably drawn.)

No, you absolutely cannot be...
Related to Shinigami.
Related to a witch.
Be an animal.
Be an alien.
Be an anthromorph.
Pretty much anything besides human or a demon weapon, you can't be.

You can, but only with permission...
Have a strong unique ability.
Have more than one weapon/meister.
Have a pet (Supernatural or not, just ask me!).
Be an age exception (Though you can only be as young as 8.).
Any questions? Just ask me, I don't bite!
These traits should NOT apply to your character...
Flawless.
100% immune to Madness.
Unable to be injured.
Can't die.
Being over 18 years (The academy invited an age group of 11 to 18, so be in that area and you're fine.).
Be some crazy weapon (No tanks. No super lasers, or any of the sort. Weapons are only able to be to the size you can wield in your hand.).
Be able to connect almost instantly (Unless you're related, you're bound to have some hiccups, considering everyone's new.)
Be a two or three star (EVERYONE is a one star to start off.)
What is NOT okay while rping...
Godmod (If you don't know what this is, ask me.)
Short sentences (We have a minimum of 4 COMPLETE sentences per post, unless you have nearly nothing much to post. Be fair and try to chalk up to that much. This rule applies to everyone.)
What is NOT okay in the Skype Group chat/OOC...
Bossing others around
Leaving people out of conversations (If it's something that should be between only a select few people, either make your own chat and settle it there, or take it to private chat/ PM. EVERY conversation in the chat, everyone is included, NO QUESTIONS ASKED. NO LEAVING OUT ANYONE. ACKNOWLEDGE EVERYONE'S EXISTENCE.)
Spamming (Especially while others are talking. It doesn't matter how excited you are, don't do it.)
Being an overall dick
Bring IC matters to OOC/OOC matters to IC. No, just no.
Paging:
@Dragon Rebellion
@Raven Haruka
@Rax Rosetta
@slyredx
@Kobal
@Uuko
@CrimDemon
@WhiteWolfKC
Last edited by a moderator: