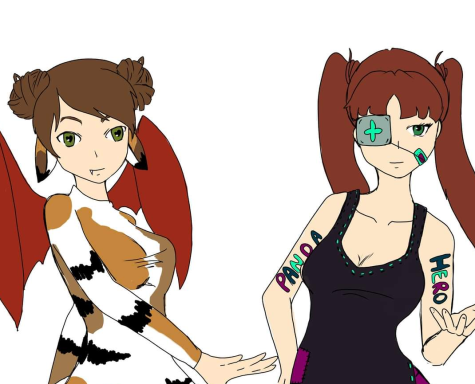 Roleplay Invitations

One on One Roleplays
Posting Speed

A Few Posts A Day, One Post a Day, A Few Posts a Week, Slow As Molasses
My Usual Online Time

AEST : 10am-10pm
Writing Levels

Give-No-Fucks, Elementary, Advanced, Adaptable
Genders You Prefer Playing

Male, Female, Transgender, Futanari, Androgynous, No Preferences
Playing Style- Passive or Aggressive

More Aggressive, can sometimes be Passive.
Favorite Genres

Action, Adventure, Animal, Apocalyptic, Comedy, Dystopian, Fantasy, Furry, Game, R. Harem, Horror, Modern Fantasy, Parody, Romance, Supernatural Modern
Genre You DON'T Like

Fandom, Pure Slice of Life, Cannon
Everything was almost a blur. Despite the one attack Sage got on the wolf, she didn't kill it. So she had to swing at it a couple more times. The wolf had seemed stunned, however, and didn't dodge or resist as Sage killed it. By the time she looked up again, Sanz was pinned on the ground. "Sanz!"

Sage couldn't really get to Sanz, but she could stop the other wolves from jumping onto him as well. So, Sage swung again, clipping one of the wolves on its back legs. It yelped and turned on her. It growled before rushing her. Sage gasped and stumbled a bit, bringing her hands up to guard her face. It wasn't long till the dog did bite her. It hurt. She was surprised how much it did hurt. She was lucky, though, the dog had bitten down on her left hand, her right hand still free. In a flailing attempt to make the pain stop, Sage hit the wolf with her sickle. It yelped and flinched off of her, sitting off to the side.

It was just in time to see Sanz charge up before hitting the wolf on top of him. The wolf was launched across the clearing and it didn't move. So, that was how you used a skill.

Two wolves dead, three to go. Two untouched and on injured.

Sage scrambled to get up, realized sitting on the ground wasn't going to do her any good and she was in too much danger to survey her injury. She guessed now that the world wasn't digging into her arm, she was sure the adrenaline was pumping and she just didn't feel it as much. Sanz had yelled at Sage to take the other two wolves. She hissed at him, but she doubt he heard her.

Sage turned to the uninjured wolves and tried to concentrate. To use a skill? What was her skill? "Slash!" Sage said. She charged the wolf and when she swung at it, she noticed almost like she swung so fast that a trail of red followed behind it. Sage gasped, as she noticed the trail of red was blood that flew from the wolf, as she had cut it deeply. The wolf cried out as it fell and rolled a few times.

Sage went to go finish off, but the injured wolf jumped on her. It went to bite her shoulder, but this time its fangs sank into the armor. The armor actually offered her some protection this time. Sage stabbed her sickle at the head of the wolf and heard a crack as the blade when into the wolfs head. Sage gasped as she was dragged down by the weight of the head wolf and her blade stuck in it.

She scrambled to get up and try to pull the curved blade from the dogs skull, the other world starting towards her. It then dashed at her and Sage panicked a bit and kicked out at the wolf while she still tried to pull her blade. Her arm hurt and this wasn't pleasant. The dog bit down on Sage's shoe and yanked it off. The wolf seemed satisfied at the moment just attacking Sage's shoe, giving her enough time to give the last heave and pull her blade out.

Sage lunched forward and did as many quick swings as she could manage, blood pouring from the world as she did a little bit of an overkill. Sage panted before opening up the wolves mouth, and pulling out her shoe, "Fuck you." She said, giving the wolves their last parting words.
1