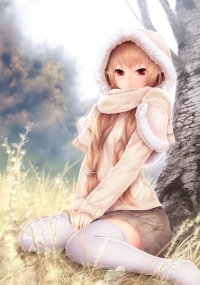 Your neighborhood artist
Original poster
MYTHICAL MEMBER
Invitation Status
Posting Speed

Speed of Light
Multiple posts per day
1-3 posts per day
One post per day
Online Availability

All day
Writing Levels

Give-No-Fucks
Adaptable
Preferred Character Gender

Male
Female
Genres

I like Fantasy, Modern, Modern Fantasy, Yaoi, Yuri, and Romance. Please do not be shy in bringing up another genre. I just might be interested in it ^^

I can do incest and Mpreg as well
Hello der. I am currently obsessed with an Anime game called "Soccer Spirits" on iPhone (I believe) and Android. So, I decided to post an Interest Check and see if people would be interested in it.

About it

Soccer Spirits is obviously a game about soccer. Though it is not exactly one like your traditional soccer games. The story for this is that two rivaling high schools (or one, depending where everyone goes) play match by match against other competing schools until they make it to the Galaxy League, which is where the best of the best play. The whole universe runs on soccer, basically.

There are multiple different races and different kind of soccer leagues, which range from and is not limited to Children's League, Nadir Forest Soccer League, Dark City, Underground Soccer League, and Angel's Soccer. Yes, that means they're demons, angels, gods, goddesses, vampires, and of course humans. You may include your own made up race as well, but I will need to look it over to ensure it's not overpowered. Races who revolve around soccer that'll make them borderline gods is a no no.


How it works

Characters will be made attending either Blue Luck High School or St. Calia, everything about your character is entirely up to you. All characters will begin with low stats and 20 skill points to distribute among it. If the character played soccer prior to their school's team, they'll get slightly higher stats though 16 skill points to distribute. Whenever the team gets promoted to a new league, they will be given points to distribute. I will give the school a league to play against, whether they win or lose will depend on the rolls the character and the opposing character receive.

This RP will use a DnD like system, which means your outcomes may not go according to plan. As an example, say you want your character to kick a goal. If your stats are higher than the goalie's, the roll you require will be lower and the goalie will need to get above a certain number to catch it. That means the odds are in your favor. If the goalie is a brick wall goliath, the same things apply only the odds will be against you. You can't RP out that your character kicked the ball from the Center back, passed by the opposing team, then made the winning goal. That's not gonna fly. I am willing to make exceptions, but only if both parties are okay with it and it isn't bull crap.

Friendships, relationships, and classes will be a thing as well. You do not have to know how to play soccer or be a regular fan of the sport to participate. You leave that to me.


I will add more to it such as Training, Managers/Scouts/Sponsors, Races, Leagues, Positions, Types, and Elements, but this is basically the run down. Do you need to have played the game to RP this? Of course not. It's using elements from the game, but we're using our own characters and creating our own stories. Would anyone want to be a part of this?
Last edited: