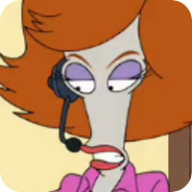 Can I transfer you to my manager?
Original poster
LURKER MEMBER
FOLKLORE MEMBER
Invitation Status
Writing Levels

Intermediate
Adept
Advanced
Preferred Character Gender

Male
Female
Genres

Adventure stories! They can be fantasy, modern, sci-fi, all kinds! Give me some good world travel stories and I'm all over it! I also enjoy romance stories and even though I tend to play females I love playing gay men.
Greystone Empire, a land filled with many magical creatures, from the great walled cities of the Elves to the magically powered riverboat cities of the Halflings, the great forests of the Dwarves and the desert cliff dwelling humans everyone could find a place to live.
It had been a dream of the Greystone Empire for some time now to create entire cities on great flying parcels of land and for years there had been no success until one day, out in his laboratory on Cloud Lake a spark of genius hit Dr. Moba, he had it. It was all so simple! Crying out his victory to the heavens he began his arduous work gathering people from all over the empire to finish his work.
This was fourty centuries ago, now Greystone Empire circles their globe on great floating floes of earth. Travel is fairly simple, having airships being a commonplace occurrence even before Dr. Moba had created the floes. Now with easier exploration lots of chances for adventure have cropped up, not only on the motes but on the planet as well! Of course one must be careful as reports of more and more sky pirates have been cropping up as of late!
One such adventure found a small group summoned by the Empress, who commanded them to find all the pieces of a very rare medallion that belonged to her ancestor, pieces had been scattered on all ten floes as well as two pieces on the planet itself.
---
Mist Darkflame, halfling, expert archer and airship pilot had answered the Empress' call and stood outside the door, waiting for any other people who dared answer the call. Her airship, the Heavenly Maiden, had been docked further down in the city towards the edge of the Empress' floe, but she hadn't fully trusted the guard but the threats of an arrow from her bow in their direction stopped any thoughts they had.

So with a sigh she sat and waited patiently.