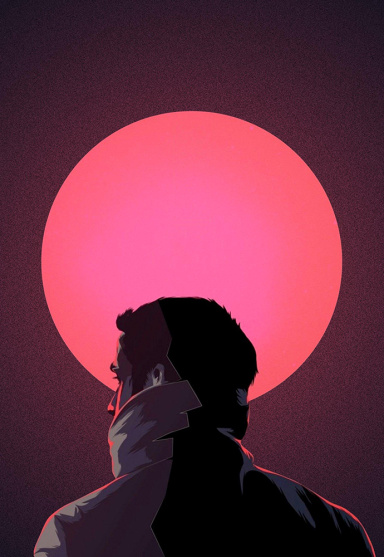 Dear motherfuckers, I'm teetering if you must know
Original poster
DONATING MEMBER
FOLKLORE MEMBER
SOON​


I can smell her, even though I refuse to open my eyes and look upon what she's become.

The smell of blood melded with gasoline and burnt tires, and a hint of rusted metal. She doesn't walk anymore, instead scraping and straining towards me, the sound an assault upon my ears.

"Look at me."

I clench my eyes tighter, willing them to remain shut no matter what she says. The scraping draws closer, and the smell all the more overpowering. She's so close now, I know, so close it's almost killing me. But I can't open my eyes. I just can't.

"Look at me, Frank."
"N...no..." I stammer, a tear now running from my eye and my face contorted in pain and the effort of forcing my eyes shut, "...I can't... I just can't!" The scraping stops, and I know she's right in front of me, so close we could touch. I can hear her ragged breath, somehow still going despite everything trying to make it stop.

"Open your eyes and look at me, Frank."

Her words grow shorter and sharper, now. She's losing patience, growing more and more agitated. Won't be long before she's shouting now, I know all too well. Yet still, I will my eyes to remain shut.

I won't look at her, I won't. I won't behold what--
"OPEN YOUR EYES AND LOOK AT WHAT YOU DID TO ME, FRANK! LOOK AT WHAT YOU DID!!"



NOW​


Winding back-roads in the black of night.

A bad idea however you try and make it sound.

The sedan grumbles up the hills and around the bends, unused to this sort of treatment. The radio's long gone; there's no stations to be found this far out in the ass-end of nowhere.

Fucking Sarah. Throws another one of her shit-fits and runs off for weeks, then phones me up and demands I come pick her up in some shithole of a small town in the middle of nowhere. Now, I love my wife, always have, but one cannot help but describe her as 'highly strung' with her constant meltdowns and disappearances.

One cannot help but describe her as 'a lady pushing her fucking luck', too.

I round another bend, cursing the world, my wife, and this shitty fucking car Michael's loaned me... only to curse and wrench at the steering wheel in a desperate attempt to avoid the car wreck lying right around the corner. I avoid the ruined vehicle, but am suddenly on a direct course towards the barrier that separates the road from the ominous dark void that is the mountainside.

Once again, I make a desperate attempt to drag the vehicle away from a collision course with the empty sky, but gravity and physics have other ideas; the sedan collides with the barrier and punches through it, hurling itself out into the open air and into the darkness.

My last thought it something to the tune of 'fucking Isaac Newton and his theories' before I plunge down into darkness...

...my first thoughts upon regaining consciousness are those of surprise.

Surprise at the fact that despite that fall, I'm not a crumpled mush of flesh inside a ruined car at the bottom of a valley.

My head's pounding and lies at the centre of the airbag that has burst from the steering wheel. Groaning, I attempt to push myself up from it. Bad call; suffice to say that my everything hurts, and objects to being made to move after experiencing that accident. Yet I force myself to sit up, to fumble at the door handle and shove the door open, and finally to fall out of the drivers seat and onto the cold asphalt of the road.

Not my most glorified moment, but fuck it; I just survived one hell of an accident, so I'm not complaining.

Focusing on my surroundings is difficult, as my eyes remain blurred and out of focus. Concussion, perhaps? I start to notice the fog that seems to pervade the area, limiting my vision even further. I grab the side of the sedan and pull myself up. The vehicle's dented, but doing far too well for a car that's just taken a nose dive of the side of a mountain. Already I'm getting the sense that something isn't right here. My hand reaches into my pocket and pulls it out.

No signal, failing battery. Big fucking surprise.

Cursing, I move round to the back of the car and open the trunk. Inside, I withdraw the heavy flashlight I packed along with some spare batteries and slam it shut again. Gonna need to figure out where the fuck I am, and I'm not gonna be able to see very far without some sort of light, what with all this goddamn fog.

My vision's starting to come back into focus as I move away from my damaged car, clicking on the flashlight so it's powerful beam might punch through the fog and let me know where I'm going a little easier. My footsteps seem to echo ominously upon the asphalt, each step like a gunshot in the silence.

And it's as I've taken my first few steps away from the car that my flashlight catches the sign sitting to the right of the road, it's paint fading with age and yet still legible.

A sign that makes me stop in my tracks, because it's the name of the town my wife's at.


.