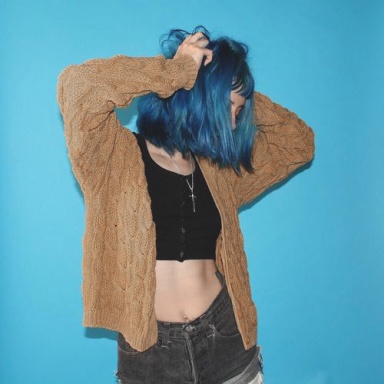 Protesting summer
Original poster
FOLKLORE MEMBER
Invitation Status
Posting Speed

Speed of Light
Multiple posts per day
1-3 posts per day
One post per day
1-3 posts per week
Writing Levels

Adept
Advanced
Adaptable
Preferred Character Gender

Male
Female
Genres

fandom, slice of life, modern, fantasy
welcome
Hello! i'm winnie and i'm back on the hunt for partners after a little bit of a slump. i apologise to my past roleplay partners! i'd been going through a bit of a rough patch but things are slowly looking up now and i'd like to get back into the swing of things. Below i have listed a couple of rules that i ask you all to
please
read through before going on to look at the fandom options. :)
thanks for stopping by!
RULES

»

o n e

« ▏

DESCRIPTION & LITERACY

▏ I expect all of my roleplay partners to be descriptive and have proper grammar and literacy when it comes to roleplaying. This means, no text-talk unless the characters are actually texting in the roleplay, and it also means proper capitalisation and use of punctuation. English is not my first language, however it is the only language I know, and literacy and descriptions matter a great deal to me. Bad grammar is a huge turn off for me in a roleplay. Mistakes and Typos can certainly be overlooked, everyone makes them. Also, please know where to start and end paragraphs! A huge block of text is very hard to read. I require a minimum of 2 good sized paragraphs! I will not force you to go above as long as you don't go below. If your work is quality, then 2 pragraphs is perfectly fine. Just to narrow things down a little, I would require a link to a writing sample from each of you. You can either create one for this specific rule or link me to a past roleplay.

Here

is a sample from my side.

»

t w o

« ▏

ACTIVITY

▏ I don't require for people to be online 24/7, even if I pretty much am. I tend to prefer speedy replies, but once again, this is not a requirement. What

is

a requirement, is a reply

at least

once every two or three days. That, for me, is a minimum, and of course, more is always appreciated, but not necessary. If you are unable to reply, just let me know. I'll understand, and I'll do the same if I'm unable to reply. If I do not hear from you within a week as our roleplay is going on, I will assume you no longer have interest.

»

t h r e e

« ▏

CHARACTERS & FORMS

▏ I always require forms before beginning a roleplay and I tend to prefer really descriptive ones with lots of imagery because it helps for visualisation. I don't mind what form you use as long as it has all the necessary information. I'm just warning you that I, personally, love to create detailed forms. On the topic of pairings, I primarily participate in MxF [or] BxG. That isn't to say that I am against others, I'm just less experienced, and considering I am a heterosexual female myself, MxF/BxG is just a personal preference. I will not say no to MxM/BxB or FxF/GxG, so long as we are doubling and also manage to fulfill my requirement of a MxF/BxG pairing as well. For character appearances, I prefer that my partners use real face claims of models/celebrities. Drawn/Anime pictures will not be accepted under any circumstances.

»

f o u r

« ▏

CRUSHES

▏ This can work two ways. Either you play my crush, which is stated in the 'Fandoms' tab, and I play my original character, or we double up and play each other's love interests. I will usually state more than one crush for a fandom, and will require you to do the same so that I know I am able to play the characters you want properly and vice versa. If there is only one stated and it happens to be the same as yours, then I'm sorry, but I won't be changing my stance. We could find something else to do. Also, and this is very important, but I have come across roleplays where people tend to put their character and crush in the spotlight and forget all about the other couple -- this will not stand. If we are roleplaying, I expect you to give

equal

importance to both my crush and you character, and I can assure you I will do the same. Do not come here if you plan on giving importance to your original character and half-assing the way you write my crush.

»

f i v e

« ▏

TRIGGERS & SMUT

▏ I do not have any triggers, per se, though I do tend to involve violence, drugs, alcohol, mentions of abuse and a

loooot

of cussing in my roleplays. If any of these bother you, you must let me know so we can avoid the topics -- though cussing might be hard to prevent. Smut is also something I generally like to involve as long as the roleplay doesn't revolve around it, however I prefer that it is written tastefully. On that note, i will also not roleplay with anyone that doesn't have a red heart by their name i.e; you must be over eighteen if we are to include smut.

»

s i x

« ▏

GOD MOD

▏ Please, please, please, do not god-mod. This means no controlling my characters or deciding what they say or do. I will never do it for you, and if I ever do, it will be with permission first, and only if it's like my character noticing your character walk into a room or something along those lines. On this note, please also do not make perfect characters. Everyone has flaws.

»

e i g h t

« ▏

IDEAS & PLOTTING

▏ These are fandom roleplays but they require plots as well. We can either follow the actual canon with our characters included, or we can have an alternate universe where certain things are changed. I will not ever change the whole universe, just certain things and the timeline of events as well as age can be altered. I will usually have some ideas myself, but I require that you take part in coming up with ideas and plotting. It

really

turns me off when my partners respond to everything I say with just a 'yes' or a simple one lined sentence. Show me enthusiasm your interest by plotting or fangirling with me and you'll have a happy partner!

FANDOMS



Below are all the fandoms I am interested in. Crushes will be the first bullet point, stated in order of preference.

KEY
I am okay roleplaying this
I want to roleplay this
I need to roleplay this
I don't want to roleplay this


B O O K S / F I L M S

↳ IT [2017]
» Crushes: [older] Eddie Kaspbrak, [older] Richie Tozier

↳ Harry Potter
» Crushes: Draco Malfoy

↳ Divergent
» Crushes: Four/Tobias Eaton

↳ The Hunger Games
» Crushes: Finnick Odair

↳ Percy Jackson/Heroes of Olympus
» Crushes: Percy Jackson

↳ The Maze Runner
» Crushes: Newt

↳ The Mortal Instruments
» Crushes: Jace Herondale, Simon Lewis

↳ The Marvel Cinematic Universe
» Crushes: Peter Parker, Steve Rogers, Bucky Barnes

↳ How To Train Your Dragon
» Crushes: Hiccup Haddock

↳ Twilight [will love you forever if you do this with me]
» Crushes: Edward Cullen

↳ Nerve
» Crushes: Ian, Tommy, Ty

↳ Push
» Crushes: Nick


S H O W S

↳ Stranger Things
» Crushes: Jonathan Byers, Steve Harrington

↳ Riverdale [will love you forever if you do this with me]
» Crushes: Jughead Jones

↳ Game of Thrones
» Crushes: Bran Stark, Jon Snow

↳ Pretty Little Liars
» Crushes: Caleb Rivers

↳ How To Get Away With Murder
» Crushes: Frank Delfino, Wes Gibbins

↳ Breaking Bad
» Crushes: Jesse Pinkman

↳ 13 Reasons Why
» Crushes: Justin Foley

↳ Glee
» Crushes: Sam Evans, Finn Hudson


That's it! Now, please
pm
me if interested!
Last edited: