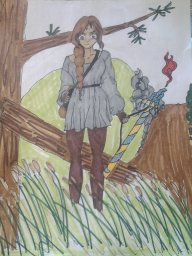 Authoress
Original poster
LURKER MEMBER
FOLKLORE MEMBER
Invitation Status
Posting Speed

Speed of Light
One post per day
One post per week
Slow As Molasses
Writing Levels

Intermediate
Adept
Advanced
Adaptable
Preferred Character Gender

Male
Female
Transgender
Primarily Prefer Female
Genres

Fantasy, Romance, A bit of horror, magical, and almost everything.
"Annelise! You better hurry up or you'll be late for school!" Her mornings often started like this. She'd wake up far earlier than when her mother called. After waking up she would sit in her bed, stare at her ceiling, and contemplate not going to school for the day. Yet every morning she ended up getting out of bed and rushing through a morning routine. She'd brush her mousy brown hair and brush her teeth as she hopped around trying to get dressed at the same time. Her mother would always give her that disapproving stare as she grabbed a piece of toast and ran off to school. Nothing ever changed in this routine. She would always go to school alone and come home alone. That changed all too quickly.

On her way to her homeroom she bumped into one of the other students. Her things in her hands flew everywhere, causing the brown eyed girl to apologize profusely as she quickly tried to pick everything up. It wasn't until she glanced up while picking up a few pieces of paper that she noticed that she had bumped into the school's local open lesbian, Ella Oswood. Oh even her name could make Annelise swoon if she let herself think those forbidden thoughts. It was such a bold name. Short yet strong and completely ripe for nicknames. Annelise could only hope to compare with her far too complicated and old sounding name. As she picked her things up, she wondered how she hadn't noticed the fact that Ella was in her homeroom. It hit her like a speeding train when she truly thought about it.

She sat near the back, carefully trying to avoid conversation. Ella probably sat somewhere far from her so she wouldn't notice the young girl in the corner who happened to be only a year younger than her and kept getting warm butterflies in her stomach when she thought about becoming this girl's friend. Now, on a normal day Annelise would just pick her things up and go to her seat. On a normal day she would have never bumped into anyone. On a normal day, she wouldn't have been so... bold. "I'm so sorry about bumping into you." She gave an apologetic look and held a hand out. "I'm not sure we met... My name is Annelise. You can just call me Elise for short." The world seemed to focus on her as she dared to make friends with this new child, this rebel that she wanted so desperately to be like. Most of the other students ignored them, yet it felt as if they were on a public display ready for people to marvel how cute they looked together or to spit at them and tell them they were going straight to hell... Or at least they thought Ella was. Elise still had to confront those strange feelings and desires her family hated.
Last edited: