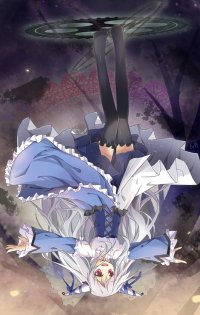 The Slightly Villainous One
Original poster
FOLKLORE MEMBER
Invitation Status
Posting Speed

1-3 posts per day
Writing Levels

Intermediate
Adept
Preferred Character Gender

Female
Genres

Fantasy, Modern Fantasy
Death is cold, and it is lonely. Most have never experienced it, and those who do will not live to tell the tale. Or at least, that is the case for humans. But you are not human, not anymore. You are something beyond death. You are a zombie.
Some humans possess the capability to become a zombie, instead of dying. No one is entirely sure what qualifies you to receive this second chance, but it is known that a tragic and unfair death is one of the necessary aspects. Upon your death bed, provided you are capable of being reborn, you will be visited by a creature. Descriptions of it vary, but they all agree one one thing: It's name - Hope. Hope appears before people chosen at his own discretion, and offers them a choice. Either, you will die, or you will gain a second chance at life as one of his Zombies. Should you choose the second, you will be instantly knocked unconscious. When you awaken, you will be in a white room in some kind of hospital facility. Sometimes you are alone, sometimes there are others in the room with you. You will then be given a bag containing the bare essentials needed to survive in your new life: A small piece of metal about an inch long with 8 tiny needles on the bottom and some kind of sensor on the top, a small 1x1x1 cm cube engraved with a strange pattern that glows blue, and most importantly, the Rule Book.
The information contained within the Rule Book explains to the Zombie how their new reality functions. It is recommended that you read it before trying to do anything:
Page 1 - Introduction



Welcome to your new world, sponsored by Futurestar Entertainment Corporation. You are now a Zombie, and property of us. This facility is built in no-man's land and we are bound by no laws, so please do not waste your time thinking that anyone is coming to rescue you. Now, as I'm sure you're dying to find out, I'll tell you what exactly a Zombie is. Firstly, please do not be under the impression that you are now immune to death. If you die again, you will not be offered an additional second chance. A Zombie is not a human. You may look and function exactly like one, but you possess a quality that humans do not - you possess Potential. The Potential to develop what you know as magical abilities. We have no idea what form your ability will take. The seed for it was planted inside you long before we knew of you. Our role is simply to artificially force that seed to grow. Think of your first level up as a lucky draw: Nobody knows what your ability is, so have some fun finding out! And that brings us onto our next point.



Page 2 - Abilities



The first thing you're going to want to do is choose a spot on your body and insert the metal chip provided. It will function anywhere, but we recommend putting it in a place that is easy to reach, such as the back of your hand or your wrist. The chip will naturally bury itself into your flesh after a few minutes. Please bear with the pain. This chip will act as a receiver for the blue cube you were given. Make sure you don't lose it! These cubes will be referred to as Level Uppers throughout the rest of this guide. The chip I think you will find very useful in itself. As long as you have it in, your body will not age, and you will be unable to catch diseases, but it is the Level Upper that is the most important. Once your chip has burrowed into your flesh and the wound has sealed up, please move the Level Upper close to the chip. It should flash, then go dull. This indicates that it has successfully taken effect. Congratulations, you are now Level One! Head down to the training facility and one of the instructors will test you to see what your ability is and will train you to use it. Should you procure additional Level Uppers, you can continue to raise your Level. Each level requires double the number of Level Uppers used for the previous one: So to reach level 2, you need 2, and to go from 2 to 3, you need 4. Levels themselves should be self explanatory: Higher levels have stronger abilities. Now, how do you gain additional Level Uppers?



Page 3 - Life in the Facility



You'll notice that if you move your hand over the part of your body where your chip is implanted, a small holographic display will appear above your skin with a number in it. This is the number of Life Points you possess. We have pre-loaded your chip with 10 Life Points, right off the bat. Should this number decrease to zero, the chip will release a powerful neurotoxin and your brain will be destroyed. Naturally, you can still die from other causes, such as lack of nutrition or being crushed by a skyscraper (more on that later). Your Life Points act as a kind of currency in the Facility. You can spend them to buy food, drink, clothes, entertainment - anything you think you might want. That's right: You can even buy freedom. But how do you gain Life Points? That's where the Games come in. Anyone who participates in a game will get 1 free Life Point. Depending on the kind of game, other rewards can be gained depending on the position you come in. Please note that there is a nullification field around the living area. Abilities can only be used inside the games and inside the training facility. It is very important that you compete for Life Points. You lose 1 of these points every 2 days, so to break even, you will need to compete in one game every 2 days.



Page 4 - Games



About now, I'm sure you're wondering something like "why do this?". Well the answer is simple. There are people out there who consider our games the ultimate form of entertainment and they pay large amounts of money just to watch them. You, as our assets, are there to see that we get our money. You'd do well to participate willingly, but try to build a character too. After all, the viewers get attached to their favourites and will pay even more for the chance to help them. Convince people to like you and they may even pay for Level Uppers for you.

There are many kinds of games you can participate in. Each event happens at the same time every day.

10AM - 11AM: Horde - A team of Zombies takes on a horde of genetically engineered ferocious animals. You get 1 point for every animal you kill, and the one with the most points at the end is the winner!
Location - Main Arena
Battlefield - Varies
Rewards:
1st - 15 Life Points
2nd - 10 Life Points
3rd - 5 Life Points

11:30AM - 1:00PM: Boss Fight - A team of Zombies takes on one giant genetically engineered monster. Recommended for Level 2 and higher. The ones who dealt the most damage to the monster by the time it dies win!
Location - Main Arena
Battlefield - Open Plains
Rewards:
1st - 15 Life Points
2nd - 10 Life Points
3rd - 5 Life Points

2:00PM - 5:00 PM: Big Team Battle - 2 large teams of Zombies face off against each other in a capture the flag situation. The team who steals the opposing flag and returns it to their base wins! Additional rewards are distributed based on amount of damage done.
Location - Main Arena
Battlefield - Varies
Rewards:
Winning Team: 2 Life Points each +:
1st - 15 Life Points
2nd - 10 Life Points
3rd - 5 Life Points

5:30PM - 7:30PM: Tournament - Many 5 minute 1v1 and 7 minute 2v2 fights between individuals and teams of Zombies. Each Zombie participates in 10 matches. 3 points are gained for a win, 2 for a draw and 1 for a loss. Rewards are given based upon final rankings:
Location - Tournament Arenas
Battlefield - Stadium
Rewards:
1st - 15 Life Points
2nd - 10 Life Points
3rd - 5 Life Points
4th to 10th - 3 Life Points

8:00PM: Showdown - Two randomly selected Zombies fight 1v1, with no time limit. Usually an incredibly brutal show. If one drops out, a replacement is picked at random. This fight goes on until one player is dead or unable to continue.
Location - Tournament Arenas
Battlefield - Stadium
Rewards:
1st - 1 Level Upper
Both participants receive the 1 Life Point participation prize.


Page 5 - Rewards



This will probably be the most pleasant section for you to read, as it details how many Life Points you need for the commonly chosen prizes. These prizes can be bought at any time from the store located in the center of the living quarters.
1 Life Point - 1 meal + 1 drink. Either may be hot, should you choose.
3 Life Points - 1 packet of cigarettes or 1 unit's worth of any alcohol.
40 Life Points - a small TV with 10 channels.
90 Life Points - a laptop
100 Life Points - access to 20mbps internet for 3 hours per day. For a further 100, this can be raised to 6 per day and so on. This is on a download only basis - communication with anyone outside the facility is impossible.

10 Points - 1 Level Upper
100 Points - £20 real world money. Your parcel will be delivered by security to your room once it arrives, provided it does not contain contraband. Essentially this means provided it is not a gun or other weapon.

1,000,000 Points - Freedom (Unconditional). Your chip will be removed, you will be given a small house in the outside world as well as £3,000 cash to get you started, and you will never have to deal with the Facility again. It will take 45 years of coming first in every event to earn your freedom, so the world will have changed a lot from how you remember it. We offer integration services should you require them that will help you return to reality. Since you do not age inside the facility, you haven't technically lost any of your years.

Should you die under the right circumstances to become a Zombie, you will be offered a second chance by Hope once more. Whether you accept this offer is your choice. Should you return to the Facility as a Zombie, you will be treated as a veteran and gain special privileges, though you will be our asset once more.




Page 6 - Your Room



Your room is just that - your own private living space. Each is a comfy 10 meter by 10 meter area and includes an en-suite bathroom. You can customise this however you like, and we will not even watch you while you are inside - look all you want. You will not find any CCTV cameras. After all, we may be forcing you to fight for our entertainment, but we still respect your privacy. The living quarters are separated by gender, with females in block A and males in block B, and your personal ID corresponds to your room location - for example, if you are female and your room is the 4th room on the 2nd corridor of the 6th floor, your personal ID tag is A624. Each block has a bar area on the first floor where you can buy meals. Everything else you might need can be bought from the central block between block A and B. Your chip acts as the key to your room and also to any door through the facility that you have the authority level to open. This is why we suggest putting it in a reachable location.


All the players will be Level Ones, so their abilities are currently quite weak. To avoid the dreaded death during introduction, the IC thread will start with the players being at the start of a Big Team Battle event as newly born Zombies. You may flashback to induction and even the Second Chance event in your backstory should you wish. To save space, you know you have been accepted if you receive a like rating from me.
CS:
Name:
Personal ID:
Gender:
Age:
Appearance:
Backstory: (Optional, I find it fun in these kinds of RP where it has to be tragic to reveal it IC)
Ability: (This will be the main part of the CS that will cause problems. If I feel it doesn't fit the setting, I will have to ask you change it. Examples of what will work well are: Teleportation, wind current manipulation and photon manipulation)
Last edited: