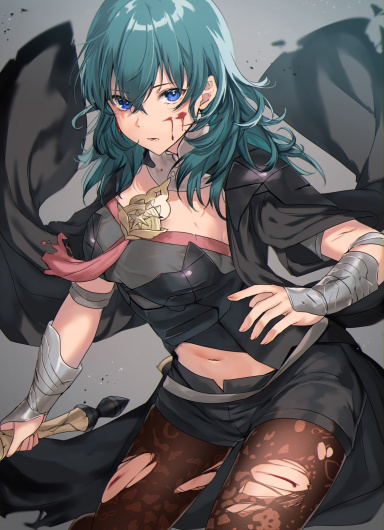 The Apex of the World
Original poster
LURKER MEMBER
FOLKLORE MEMBER
Posting Speed

Multiple posts per day
1-3 posts per day
Multiple posts per week
Slow As Molasses
Online Availability

Roughly 9:30 AM-2:30 AM (CST)
Writing Levels

Give-No-Fucks
Intermediate
Advanced
Adaptable
Preferred Character Gender

Male
Female
Genres

Fantasy, Sci-Fi, Alt History, Anything really. It honestly depends on how I'm feeling. I am always up for a good, solid Cyberpunk RP. I'm also up for Crossover RPs.
SCP Foundation
"Doctor, we have suffered another Containment Breach at several zones. The Chaos Insurgency may be involved."
"Remember the idea? To gather a team? One that could eliminate and control Dangerous SCPs?"
"Pandora's Box? But didn't that shut down because of Able not being able to be controlled?"
"Yes, but we can create new teams. We will find a way to control Able, as well as many others. We will call it Project Sojourner, because we will not stay long."
"Yes, sir."
SCPs are short internet stories in the same vein as Creepypasta. In universe, the SCP Foundation captures and contains anomalous People, buildings, animals, or objects. These can be anything from a rock that makes you procrastinate (SCP-___-J) to an indestructible Lizard (SCP-682) to God himself (SCP-343). They have Researchers who study these SCPs to better study them. There's also the Mobile Task Forces which collect, and contain SCPs for study. A Mobile task force may be like a whole military Battalion, to a small research team of about ten people. An Organization like this would make enemies, and they have many, from the Serpent's Hand, to the Fifth Church, to the Chaos Insurgency. The Foundation still manages to maintain the status quo on Earth, despite all of this. This RP we would play Doctors, SCPs, or Mobile Task Force Agents in a Mobile Task Force to help fight these organizations, as well as Containment breaches of dangerous SCPs.
Welcome, Agents to Project Sojourner. There was an Idea, long ago to Use SCPs to find, and combat other SCPs to contain them. It began with Pandora's Box, or Omega-7. Led by 076-B, or "Able" and 105 "Iris." The team was mostly successful, until Able went on a rampage. The team was broken up, and expunged from records.
We have recently decided to retry this project, but instead of one team, it will be multiples. Each SCP will lead a different team, and each team will be tasked with retrieving and working on a different type of SCP. Every team will have a doctor on it, to contain the SCP, and to assist the team.
The main Teams that will be in this RP:
Alpha-2 "Fate/Zero" (yes, I am aware that this is an anime.) Tasked with retrieving SCPs that are related to Religious or Historical Artifacts. This team is sent anywhere those SCPs might be.
Beta-3 "G-Men" Related to going into Government Facilities, and monitoring all SCP Related Activity from there. This team is STRICTLY a Logistics and Recon Team, and is NOT to engage any SCPs unless threatened.
Gamma-9 "The Pruners": This team infiltrates Special interest Groups such as the Chaos Insurgency, Church of the Broken God, The Fifth Church, and the Serpent's Hand. This team is to contain SCPs related to these groups. It should work with Alpha-2 if the situation requires it.
Delta-6 "Post Bellum" This team analyzes mail, Package delivery, and Emails for SCPs sent via them. The team is tasked with containing those SCPs as fast as possible so that they don't effect anyone.
Sigma-5 "Old Man and the Sea" This team is tasked with capturing Oceanic SCPs. Whether they're a giant fish, to a Ghost Pirate ship, this team has to capture and contain them. They sometimes come into contact and work alongside various world navies, and Coast Guards.
Omega-7 "Pandora's Box" The original SCP Led team. This is an Elite team that can perform any position. Its use is to capture and contain difficult SCPs. It's led by 076-B known as "Able" and 105 known as "Iris". Pandora's Box consists of elite members hand picked by Able.
SCP Application Sheet:
Item #:

Nickname: (what they'll call you.)

Classification:

Special Containment Procedures:

Description:

Addendums: (if you want them.)

Mobile Task:
Doctor Sheet:
Name:

Age:

Appearance:

Personality:

Clearance Level:

Mobile Task Force:

Other:

Agent Sheet:

Name:

Age:

Appearance:
Personality:

Rules:

1. Ask me if you can use a number. I have plans for various canon SCPs, and don't want the numbers to conflict. If you need help, ask me, and I'll find a number for you.
2. Please don't start problems with other players or me in this RP.
3. Have a question? Don't hesitate to ask! I don't bite!
4. My word is FINAL!
5. You can have multiple characters. 4 max.
6. Anime or Real images. I don't care, personally.
7. Have fun
Last edited by a moderator: