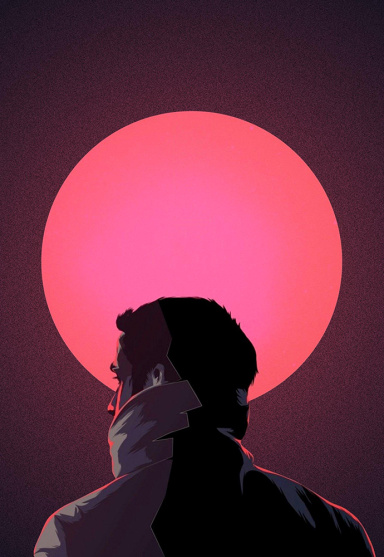 "...before turning the gun on himself."
Original poster
DONATING MEMBER
The Banks of the Mississippi River
Three Days Ago...
​
Linus Love is, to put it mildly, extremely hungover.
This is no small feat for Linus to have achieved. He likes a drink, after all. When it comes to the noble act of excessive alcohol consumption and reckless abandon, very few have him outmatched. This is partly to do with his experience. Like any skill, the ability to consume unhealthy quantities of booze grows more potent with time.
But it's mostly to do with the horns on his head and the hooves on his feet.
He keeps them hidden, of course. He's not a moron. The mortals are an unobservant bunch at the best of times, but even he wouldn't be so foolhardy as to risk that level of exposure. But the horns and hooves are there to see, for those who know how. There are precious few who do in this city, however.
And as of this morning, there's one less.
Linus watches the officers of New Orleans Police Department haul the body of Gabriel Mackie from the shallow banks of the Mississippi River, as he tucks a cigarette into the corner of his mouth.
"Fucks sake..." he mutters under his breath, shaking hands fumbling with the lighter as the forensics team below are busy bagging up the corpse that was until recently a man. They don't know who he is yet, of course, and even when they figure that out the significance will be lost on them. Another dead visitor to NOLA. Maybe he drank too much. Maybe he imbibed something that disagreed with him, or wandered into the wrong district. It happens all too often, after all. But Linus knows better. He knows that it would take far more than that to kill a Scion, the offspring of Ogoun himself. The Loa build them tough and crafty. But not tough enough. Not possessed of the necessary cunning. Gabriel Mackie is dead, and Linus knows all too well that he could only be the first.
"Needing a light,
mon ami
?" The voice is accented, and carries with it a sting that would send shivers up the spine of any mortal that heard it. It's intonations convey the feeling of funerary processions and charnel houses, existential dread compressed into the utterance of a word. Linus, fortunately, is not phased by such sounds. He's heard it before. Nor is he overly concerned by the dark-skinned finger that extends out to touch the tip of his cigarette before igniting in a blue flash of heat. Instead he just takes a long, grateful drag of the Newport before turning to blow smoke towards the new arrival.
"Much obliged," he says with a grin, taking in the sight of the gaunt, emaciated figure in a white suit before him. The suit stands in stark contrast to his skin, and hangs off him like a child borrowing his father's suit. "You're looking especially healthy today, Bacalou," Linus remarks. At this, the Loa spirit flashes a grin and gestures at the police below.
"Still healthier than him, satyr. By your presence I presume you know who it is that they're dredging from the banks,
non
?" Linus nods, taking another hit of his cigarette.
"One of your boys, isn't he? New arrival? I saw him at Belle Epoque just the other night. Fuckin big lad, he was. Knew how to handle himself." Bacalou shrugs, his grin taking on a rictus quality.
"Not well enough, it seems. And you know what this means as well as I."
Down on the banks, the forensics team have finished loading the body into the back of a coroner's van. Most of their number are combing the sodden banks of the river, portioning off sections to be combed over for evidence. Linus knows they will find very little. Whoever, or whatever, managed to finish off the Scion will have had the sense not to leave a trail. He sighs, smoke trickling out of his nostrils like fumes from a crematorium.
"Yup. Means they finally decided to make a play. Shame, I was enjoying this Mexican standoff we had going on. A lot better for business than open fuckin warfare."
"This is our city," the spirit riding in the emaciated corpse intones, "and he was one of ours. Ville au Camp is not going to take this well. Open warfare is coming,
mon ami
, one way or another. Ogoun is not exactly known for backing down from a challenge." The embers of the cigarettes remains spark and bubble as Linus takes his last drag before tossing it down towards the river.
"There's some local assets we can bring into the fold. No doubt the Powers That Be can bring in some outside talent, too." He clicks his tongue distastefully.
"So it begins again," Bacalou remarks, and there's a sombre quality to his rattling voice all of a sudden.
"More meat for the grinder," Linus spits, "more children off to die for a cause they don't understand."
At this, Bacalou's rictus grin returns.
"This is what I love about you Greeks. So world-weary, so cynical." He turns on his heels, the body he's riding wobbling precariously all the while. "I'll send for my people. Have yours do the same, and put the word out to the others as well. If there's a war to be fought, we shall need foot soldiers." Linus watches the spirit depart without a word, glowering all the while. Once Bacalou is out of sight, he reaches into his jacket for another cigarette only to pull out an empty packet. With an irritated grunt, he hurls it onto the ground.
"Dulce et decorum est," the satyr mutters, glancing back at the spot where they found the body of Gabriel Mackie, "pro patria mori."
New Orleans Historical Museum of Voodoo
Dumaine Street
Today...
​
The early evening rain descends in uniform, almost solid in its force, a thick blanket of moisture that coats everything it can reach. The balconies that line the narrow street are the only shelter out in the open for those willing to risk stepping out into the height of a Louisiana rain storm. Few are so bold. But anyone perhaps peering out from the balconies of one of the French quarter's many hotels might perhaps be able to spot a few of the city's more eclectic characters doing so.
Linus Love is many things, but unassuming is not one of them. The white suit does not exactly help matters, nor does the bright pink umbrella coated in unicorn illustrations. He's not alone, either: keeping itself under the shelter of his umbrella is a white cat that is alternating between keeping away from the rain and trying to trip Linus up by weaving between his legs. A more keen-eyed observer might be able to note something even more unusual about this already strange sight. Namely, that the cat in question appears to have two tails. They might dismiss this as their eyes playing tricks on them, or else the haze of the rain obscuring what they're really seeing. But they would be wrong in thinking so.
Together, the unusual duo step out of the rain and under the protection of one of the balconies, Linus shaking his umbrella out and seemingly directing the water towards the cat. His two-tailed companion retaliates by slashing at his legs, but the satyr dodges the attack with a chuckle as he comes to a stop next to a heavy-set wooden door. Though a hand-painted sign that's visible through the glass reads 'CLOSED', the door is nonetheless quickly opened for them. The cat skips through and into the building first, managing to land one claw on Linus's leg as it passes. Cursing, the satyr steps inside after it.
Shadows creep and waver their way up the walls of the room inside, mingling and twisting across the cacophony of shapes that can almost be seen there. Charms and amulets, mounted alligator heads, a flurry of symbols and relics that seems to be stuck to every available surface. All of it is barely lit, flickering candles offering the only source of illumination in this place. A woman, eyes obscured by sunglasses even in the gloom, stands by the door she's just opened for them holding a candle. She gestures towards the door on the other side of the room, past the myriad displays of voodoo paraphernalia.
"They're waiting for you," she informs them, very clearly speaking to both satyr and cat. Linus nods, tucking his umbrella under one arm as he follows the cat towards the door. The cat has stopped in front of it and reaches up to paw at it before turning to gaze at her companion. Linus snorts.
"Open it yourself, you lazy shit." The cat hisses at him, then the shadows seem to deepen around it. Obscuring it, expanding it, stretching it from the frame of a two-tailed cat into that of a young woman with pale blonde hair pulled into twin tails.
"Chivalry's fucking dead with you, honestly," the woman who was just moments ago a cat mutters, before reaching for the door handle herself. Linus rolls his eyes.
"You're hardly a lady are you, Yone. It doesn't count."
"Cloven-footed bastard," the woman snaps back, but she's grinning now. Together they step through the door and descend down into the depths of the museum.
Redbrick walls are illuminated by blazing torches and little else, the naked flames sending patterns dancing across the brickwork. Their steps echo, announcing their presence to whoever waits below. Linus and Yone finally reach the bottom and step out into a cavernous redbrick basement room, supported in its four corners by twisting pillars. The Loa like their places of power to be in inconspicuous locations, but that doesn't mean they skip out on the grandiosity entirely. At the centre of the room is a podium clad in effigy to the Gods of Ville au Camp, burning candles and acrid smoke clustered in and around iron-wrought skulls that seem to float of their own accord. One of the symbols of the Loa's dominion over New Orleans, the beating heart beneath the city. Around this effigy stand three figures, each of them looking towards the new arrivals.
Bacalou is there, of course, the body he rides looking even more distended and rotten with each passing day. Beside him is a man with features so angular they might almost be called jagged, and none of them more so than his pointed ears. To his left is a young woman with pale skin and blazing red hair, clad in a summer dress that has clearly suffered the wrath of the summer downpour just recently.
"Welcome,
compagnons
," the Loa spirit calls through the mouldering throat of his current ride, "you're just in time. Our guests shall be arriving shortly." Linus is staring around the walls with a frown etched on his face. He's never liked these spaces. There's something more than a little unnerving about the way the Loa do business.
"Couldn't we have done this someplace easier to get to? A bar, maybe?" The red-haired girl giggles and the elf rolls his eyes, but Bacalou just keeps grinning.
"Come now, there is a way of doing these things. Protocols to be followed. And besides, what we have to discuss is best kept from prying ears."
Yune drifts over to the others, gazing into the effigy with a tilt of her head.
"I swear, you just bring them down here to try and send a message," she remarks absently.
"And what message would that be?" Bacalou asks.
"Oh, you know." The woman who was until recently a cat matches Bacalou's smile. "'This is our city, new blood, don't fuck with us'. That sort of thing."