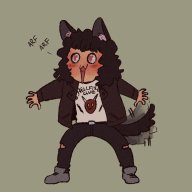 [*screaming into the void intensifies*]
Original poster
DONATING MEMBER
LURKER MEMBER
FOLKLORE MEMBER
Invitation Status

Not accepting invites at this time
Posting Speed

Speed of Light
Slow As Molasses
Online Availability

It varies a lot depending on my schedule, unfortunately.
Writing Levels

Advanced
Adaptable
Preferred Character Gender

Primarily Prefer Male
Genres

Psychological horror
Body horror
Supernatural
Giallo
Splatterpunk
Dark fantasy
Historical
Low fantasy
Magipunk
Weird West
Noir
Thriller
Gothic horror
Southern Gothic
Gaslamp fantasy
Cyberpunk
Space saga
Clockpunk
Space Western
Space opera
Paranormal
Modern fantasy
Dieselpunk
Post-Apocalyptic
Crime drama
Medieval fantasy
The year is 2055. The climate: a bit frosty.


Advances in genetic engineering have made a vast leap in the past near-quarter of a century. Military-funded experimentation into perfecting a prototype "super-soldier" has led to the discovery of an untapped gene in the human coding...

More specifically. Psychic phenomenon.

These abilities presented in subjects grown in-lab through in vitro fertilisation. Subjects were otherwise average in performance as regards to aptitude tests, although a predisposition to a better grasp of spatial relations was noted. Heightened senses of smell and eyesight were also recorded. All subjects presented identical birth defects: an abnormally extended and flexible spinal cord with associated hypertrichosis, as well as irregularly placed ears located atop the cranium of the skull, again with associated hypertrichosis.


Subjects were discovered to be have fully functional reproductive organs, although roughly 20% showed signs of hypersexuality occurring at the onset of puberty. A voluntary fertility program yielded further interesting data: The gene was expressed dominantly in 1 in 10 cases.

These subjects became humanity's future.

In 2050, a government-run institution
was founded to provide a cloistered place of instruction for the new generation of this sub-race- termed Katzen, or Homo felis- and their potentially volatile psychic abilities.

Welcome to
Schr
ödinger's Academy.
​