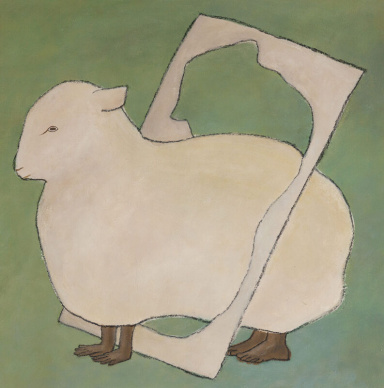 consistently inconsistent
Original poster
This story contains no happy endings. Please proceed with caution.
NEVER_NORMAL_ARC_SANCTUARY
---
NEVER NORMAL ARC: SANCTUARY
When I was eight years old, my father painted me a picture. It was blue and green, a depiction of a flowing river, and it held a serenity in his fluid brushstrokes more prevalent than I had ever known in my entire life. He was a collector of those old, enchanting things. Little cubes of pigment, watercolor. Only the rich could spare water for the enjoyment of art.
I only wish to do right by my father.
He wanted to see the world at peace again. He wanted to see rivers instead of skyscrapers, to see animals instead of holographs of them. He wanted to live, more than anything, so of course, he had to die.
One by one they will fall. Matrikt will keep bringing them in and squeezing them out until all that's left living are the machines. Perhaps father would have preferred a gentler method, but he knew that in this world the only way to fight fire is with fire. He taught me that.
I'll get it right this time, father. I'll get it right.
---
On Octomver 10th, 2439, you received an email.
Dear [your name here]

Fear for your future no longer. Congratulations on your admittance to Sanctuary - this invite is good for one person only and non-transferable. Spend the rest of your days in peaceful bliss as I welcome you into my finest creation yet.

Arrive promptly at my private Skytrain station at Octomver 15th, 11am at this address. If you are late, the train will not wait. Pack only sentimentals and essentials. Everything else will be forever provided.

I eagerly await your arrival.

-Lyris Matrikt.
So there was five days to pack your things and say goodbye. Just like that. With no clue if you could ever return to your old life or not. But it had to be better than this, than starving and dying on the streets or succumbing to an unfulfilling upper-but-not-quite-elite class life. And if not, hey, you could always leave, right?
Right.
Octomver 15th came quickly. There was an enormous amount of security upon arriving at the Skytrain station, privately owned by Big Bux Co, everyone's implant being scanned multiple times and baggage being taken from you rather early on. A little attached? Shame. The workers that buzzed around the station gave little introduction or warning, and you were shepherded onto the train like a well oiled machine.
Not a speck of dust. Not a drop of dirt. The Skytrain was immaculate. Bright, big windows by every row, but it was going much too fast anyone to even comprehend the view. The seats were plush, grey leather -- synthetic, of course -- in pairs, each with a table.
The train car was endless, filled with rows of seats and then, at the very end, a dinner car. But there were no packets in sight, not here. Not when your life of opulence was finally beginning. There were multiple tables piled high with fresh fruits, meats, hors d'oeuvres plates with the finest cheeses, meats, everything imaginable.
How was this even possible?
Seemed the rich managed to keep a few farm animals lying around.
On the other side, in a far off corner, sat a very dejected man with a stoic face. His name was Linreyus, and he did not look very excited about being here. His posture was curled and folded, one leg swung over the other and his thumbnail trapped between his teeth. A fancy looking watch was strapped on his wrist, as well as a sharp suit. The only problem was, it was dirty. As if he'd been pushed to the floor and maybe rolled around in it a bit too. His face as well, marked in brown and black, and his hair a mess. Somehow, he had managed to keep his briefcase, which lay at his feet under the chair.
The doors closed. The engines whirred. And the Skytrain was off, carrying you to your new abode, and perhaps a new fate.
objectives
---
Explore the Skytrain. Ask around, see if anyone knows anything about Sanctuary and what the heck is going on. Who is that dirty guy in the corner. Bother him. Oh my god real food. Eat the real food.
notes

Until the next GM post, you may post as many times as you like. Welcome to Sanctuary! (Technically not yet but almost but you know what I mean)

Last edited: