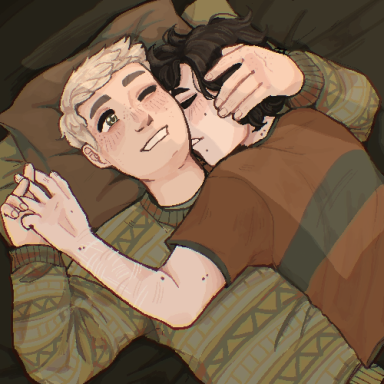 Roleplay Invitations

One on One Roleplays
Posting Speed

A Few Posts A Day, A Few Posts a Week, One Post a Week
Writing Levels

Intermediate, Adept
Genders You Prefer Playing

Male, Female, Transgender, Androgynous, Primarily Prefer Male
Favorite Genres

romance, modern, drama, modern fantasy, horror
Genre You DON'T Like

Scifi, high fantasy (both with some exceptions)

Roman wasn't just sad about Hadley's death. He was worrying about death as a whole. Samuel felt his heart sink a little. It was sad. He new Roman always thought about death, but it was often his own. Samuel hadn't ever really heard him properly express the fear of people dying before him at this point, or the idea of getting old and dying because of that. It had always been him afraid of missing out on life because of his illness. But Samuel wasn't sure if this was any better.

"Roman, listen to me, okay? No one else is going to die in a long time, I promise,"
he couldn't promise that, not at all. Life happened as it did, and they had no control over it, and it was the same when it came to death. Eventually Roman's parents would die, and Samuel's mum and Ollie would too. People got older and then they died. There was no getting around that. Thinking about it made Samuel feel heavy, and he didn't even want to imagine the kids dying before him or Roman. So if this is what Roman had been thinking about the last couple of weeks he understood why he had been so down. Any one would be if all they could think about if their loved ones dying. Samuel would too.
Normally though , he liked to view it differently. Rather than to think they they were getting older and closer to death he tried to think about all of the amazing time they had spent with his family and friends, that if he didn't grow older he wouldn't get that. He was sue that one day he would start to realise time was running out and he wouldn't have many of those days left. But at the moment he could still view it in a positive way. He just wished Roman could too.
"We can't go our entire lives worrying about death. That's not living Roman. I know it's hard because of Hadley, and I know I can't just magically make you not think about these things I just..."
he trailed off and tried to think of something to still, gently rubbing Roman's back as he did
, "... The way I see it, being at a halfway point is really amazing. Yeah were closer to getting old, but getting old is a part of life, and I love life right now. Life with you and the kids. And I know you do too. If we didn't live every day and if we didn't come closer to death we wouldn't get to live? If that makes sense. It's scary that we can't know what will happen but worrying about it and thinking about it until you can't stop it wont change the facts... I... I dunno, I wish I knew how I could make you feel better."