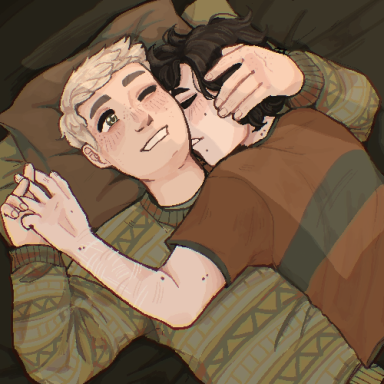 Roleplay Invitations

One on One Roleplays
Posting Speed

Speed of Light, Several Posts a Day, A Few Posts A Day, A Few Posts a Week, One Post a Week
My Usual Online Time

7 am to anywhere between 9 pm to 1 am. Honestly it's pretty random, but I'm on most hours of the day.
Writing Levels

Intermediate, Adept
Genders You Prefer Playing

Male, Female, Androgynous
Playing Style- Passive or Aggressive

Somewhat passive, I guess? I don't mind anyone else taking the lead but I still want to discuss major plot points.
Favorite Genres

romance, modern, drama, modern fantasy, horror
Genre You DON'T Like

Scifi, high fantasy (both with some exceptions)
Clearly leaving the rose on Hadley's grave was a very hard thing to do. But Samuel also knew it was an important thing to do. Roman would deeply regret it if he had ended up not doing it. It was sad, really sad, hearing the tears in his husband's voice as he said goodbye to his uncle. But it was also beautiful. The reason why this moment was so heart shattering was because there wasn't a single person there who seemingly had anything bad to say about Hadley at all. He had been a good man, and his friends and his family all loved him dearly.
When they arrived back at their seats Samuel was crying too, he wasn't sure if it was for Hadley or for the people who had lost him, or maybe it was just because his husband and son was crying. Maybe all the reasons factored into it. But he cried, silently, as her held Roman with one arm and pulled Harper close with the other.
Soon enough everyone had placed their roses and the ceremony was wrapped upp. Samuel helped his husband and son up and kept them close as they, along with the other guests slowly walked away from the area. Next would be the reception, which Samuel hoped would allow people to feel a little happier as they remembered the wonderful person Hadley had been. But first there would be a small window of time for everyone to recollect. Hadley's closest family, his wife, kids and an odd grandchild or two, had stayed behind to get a moment alone to say goodbye.
After getting some distance between themselves and the are the ceremony had been held in Samuel pulled Roman and Harper aside a little and wrapped them both into a nice family group hug,
"are you two holding up okay?"
Samuel asked them softly, not letting go just yet, they both seemed like they needed the comfort right now.