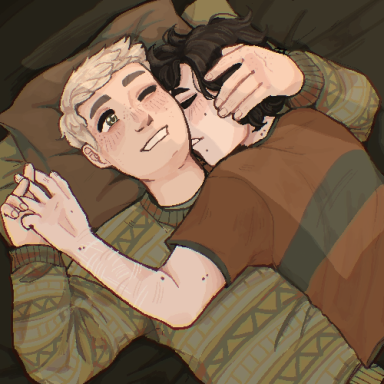 Roleplay Invitations

One on One Roleplays
Posting Speed

Speed of Light, Several Posts a Day, A Few Posts A Day, A Few Posts a Week, One Post a Week
Writing Levels

Intermediate, Adept
Genders You Prefer Playing

Male, Female, Androgynous, Primarily Prefer Male
Favorite Genres

romance, modern, drama, modern fantasy, horror
Genre You DON'T Like

Scifi, high fantasy (both with some exceptions)
Samuel loved the fact that the kids were old enough to leave alone in the house for a while at this point. Of course it came with the implications that they were growing older and that Harper would be closer in age to an adult than to a small kid next year, and that was always something that left him with mixed feelings. But he did enjoy the fact that he and Roman could go out on the weekend and just spend a day alone together.
Today they had decided to go on a little date. Just because they were in their forties and had been married for ages didn't meant they didn't love each other and wanted to go do things together. So they were going to a little coffee shop in time. There wasn't a time Samuel wasn't in the mood for coffee, nor a time when Roman wasn't in the mood for sweets.
Since it was Saturday and mid-day, the place was bustling, they had managed to get a hold of a small table for themselves though, the only downside was that it was close to a group of very loudly chattering women in their probably early thirties, but honestly, they'd live.
"What do you want? I'll go order for us so no one steals our table?"
Samuel asked, not actually having sat down yet, with the intention of doing just this.