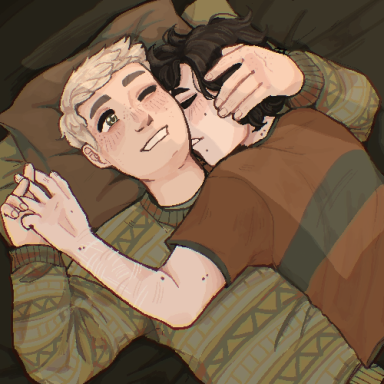 Roleplay Invitations

One on One Roleplays
Posting Speed

Speed of Light, Several Posts a Day, A Few Posts A Day, A Few Posts a Week, One Post a Week
Writing Levels

Intermediate, Adept
Genders You Prefer Playing

Male, Female, Androgynous, Primarily Prefer Male
Favorite Genres

romance, modern, drama, modern fantasy, horror
Genre You DON'T Like

Scifi, high fantasy (both with some exceptions)
Eden was seated by a table in the cafeteria eating his lunch and staring into his math homework as he ate. He was occupying a table for four all by himself, which he usually did unless some people he didn't know asked to sit because there were no other empty spots.Eden liked to spend a lot of his lunches alone. It wasn't like he had that much of an option or anything, or well he could always sit with Stella and June and their friends, and when he didn't share his lunch period with Stella he knew he was welcome with her friends but he wasn't always super comfortable with that. they were nice people but he didn't really feel like he belonged there without Stella or June at least.
The thing was though, that eating lunch by himself allowed him time to study. It was a little hard to focus in the cafeteria, but the thing was tat ven on his medication Eden tended to have a bit of a hard time focusing no matter where. And he also still forgot things a lot of the time. So even if he was good at school and liked studying, he'd forget his books at school sometimes, or even just get wrapped up in something else and just not do his homework at home, unless one of his dads reminded him. But if he did it at lunch, he didn't have to worry bout forgetting something.
So he liked it. He wouldn't mind sitting with someone, but he just didn't really have many close friends and he didn't mind being alone either.