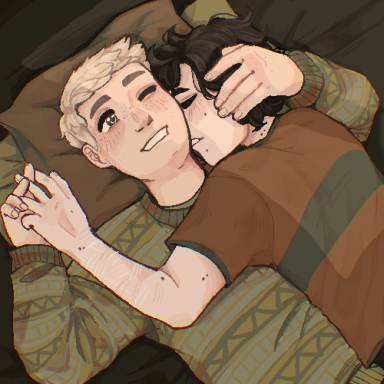 Roleplay Invitations

One on One Roleplays
Posting Speed

Speed of Light, Several Posts a Day, A Few Posts A Day, A Few Posts a Week, One Post a Week
My Usual Online Time

7 am to anywhere between 9 pm to 1 am. Honestly it's pretty random, but I'm on most hours of the day.
Writing Levels

Intermediate, Adept
Genders You Prefer Playing

Male, Female, Androgynous
Playing Style- Passive or Aggressive

Somewhat passive, I guess? I don't mind anyone else taking the lead but I still want to discuss major plot points.
Favorite Genres

romance, modern, drama, modern fantasy, horror
Genre You DON'T Like

Scifi, high fantasy (both with some exceptions)
The bell rung which meant they had to go back to class. Eden kind of just wanted to go home. Maybe he could find Papa and tell him he didn't feel well or something. He'd probably ask questions, but it also wouldn't be the first time Eden did something like that so it probably wouldn't be a big deal.
"Yeah, I know they're just douchbags,"
Eden agreed, looking down a little on his feet, he knew they were just being assholes, but that didn't mean the things they said didn't hurt and make him self conscious. It was nice to hear it reaffirmed by someone else though, someone who wasn't family and would say that no matter what, and someone who, in Eden's opinion, seemed pretty cool.
He hesitated for a moment, trying to think of what to say before leaving and then settled for,
"Thank you,"
again. But in Spanish this time, then he tried to smile and hurried of, which was a little awkward, but he got nervous around people he didn't know sometimes. He was really grateful though, and maybe he could feel a little safer in the hallways knowing that some people were willing to step in and make sure things like that wouldn't happen.