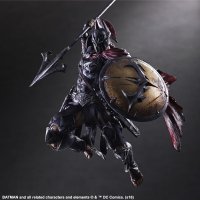 129% of people exaggerate.
Original poster
FOLKLORE MEMBER
Invitation Status
Posting Speed

1-3 posts per week
One post per week
Writing Levels

Intermediate
Adept
Preferred Character Gender

Male
Witches and demons are not real. Magic is most definitely not real. Society romanticizes these things and feeds varying interpretations of them to people through religion, movies, video games, and novels. People believe that little boys can play sports on brooms, and that a lightning bolt scar means destiny and greatness. They believe that, with enough salt and the burning of bodies, spirits can be put to rest. They believe that demons can be tamed and unleashed upon the evil in the world. Witches are thought to be warty old women who want to feast on children. None of these are real.

At least not in the sense that society has come to believe them to be…

Seth sighed as he entered the Barley Sisters' Books and Novelties store. The chime above the door sounded and the young, attractive blonde woman behind the counter smiled courteously to him, "Welcome back, Mr. Davenport," she greeted him with a smile, her scanning eyes obvious to anyone who would have been standing there.

"Now, Cindy, how many times do I have to tell you not to call me that? Mr. Davenport is my dad," Seth smiled back and kept walking.

"A bad habit I suppose," she replied, "Will it be the usual today?"

"Yes. I'm looking for a good read," Seth answered as he made his way to the door in the back of the shop where an 'Employees Only' sign hung.

Cindy nodded and reached below the counter. Seth assumed she was drawing the same sigil she always did that gave access to the real room within the tiny shop, the inner sanctum. Sure enough, the moment he opened the door, he found himself within a room where the witches of the Silver Rose met.

The room he found himself in was much larger than the library shop. It was a round room with two floors that were alive with people hustling from countertop to countertop for ingredients or bookshelf to bookshelf for particular tomes of power to read over. The countertops on the bottom floor had doors that opened to storerooms where ingredients were easily accessible. The top floor was secured by a wooden railing that looked as old as time but was sturdier than steel. Bookshelves stretched from the ceiling to the floor where witches could peruse for ancient knowledge or simply to sharpen their particular skills. Straight in front of him was the second set of doors he needed to walk through, but before he could, he had to walk through the gawking eyes of the witches presently there.

It was always a gauntlet of rumors and suggestive comments. Witches often said what they meant and meant what they said. This time was no different as he made his way through and caught bits and pieces.

"Look at the size of that man."

"They just don't make Aspids like that anymore."

"I heard that's why he still hasn't been paired with a witch."

Most of the rumors and words didn't bother him, except for that last one…it seemed to always get to him. He was the only Aspids of his age and class that still hadn't been paired with a witch. He hadn't understood why, but he had never questioned it. He always helped in any way he could when he was needed. Some day, he would be able to fulfill the role he'd always trained for.

Once he made it through the other door, Seth found himself standing in a room with the Council of Five. These were the oldest, wisest, and most powerful members of the Coven. At least, that was what the requirements used to be. With the passing of time, younger witches were permitted to join so long as they showed immense power and promise, incredible restraint, and wisdom beyond their years. Right now, only one witch was on the Council that didn't look like they were one foot in the grave and the other on a banana peel. That was Celeste. She joined Rowetta, Susan, Penny, and Tracy, each powerful in their own rights despite their frail appearances.

Whatever they were discussing quickly came to an end when he stepped in. Celeste offered a gentle smile. Seth tried to not notice it. There was history there, some pleasant, some not so pleasant.

"Mr. Davenport," Rowetta started, "Thank you for answering our summons so quickly."

"When the Council calls, you answer," Seth returned.

"Yes, even so," she continued, "Thank you."

"We've been given news that the Cromwell estate has an heir coming into town to check out the house," Tracy added, her almost milky eyes sunk in her head. She was the oldest of the Council, but the most respected. Frail and blind, she could still filet a man alive with a whisper. Frightful woman.

"The Cromwell house has been inactive for two generations," Penny, a woman in her fifties with red hair cut in a bobby style added, "If there indeed is an heir to the estate, we must know if it is a male or another witch. If so, she will need protection considering all the recent losses. We cannot afford to continue to lose good witches."

"If she's a good witch," Celeste spoke up, "There's a reason why the Cromwell house has been dormant. The last Cromwell abandoned her post and her sisters. If this heir is indeed a witch, she cannot be trusted."

"We won't know unless we get a chance to speak with her," Penny fired back, "We won't get a chance to speak with her if she's dead."

"Witches," Tracy interrupted when she noticed how uncomfortable Seth had become being a bystander in a bickering match, "We did not bring Mr. Davenport here to watch us bicker." They all agreed.

"Seth," Celeste was the only one on the Council that would ever call him by his first name. It must have been a perk of sleeping in the same bed with him for five years, "The Council wants you to watch this house. If it is indeed a woman, get close to her and keep her safe. If she shows that she has the gift, you will serve as her Aspid."

He was both excited and disappointed. His card had finally come up, but he might be the Aspid of an inexperienced woman who might not even know if she's a witch. If he was standing before his own bosses, he might have protested, but no one argued with the Council.

"As the Council Sees," he spoke the customary phrase of submission.

He started to back away to head back out when Celeste spoke again, "Oh, and Seth, if she proves to be a member of the Others, kill her."

"As the Council Sees," he repeated as he walked out.