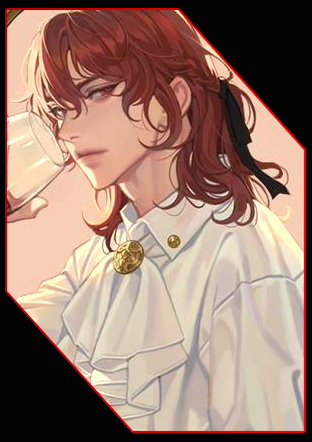 ✦
Original poster
FOLKLORE MEMBER
Posting Speed

1-3 posts per week
Slow As Molasses
Writing Levels

Advanced
Prestige
Douche
Adaptable
Preferred Character Gender

Male
Female
No Preferences
Genres

Romance, Science Fiction, Modern, Fantasy
A Roleplay by Valor
Co-GM(s): N/A
S T A T U S - R E P O R T


OPEN SIGNUPS
---
You awake to the soft melody of a woman's voice, raising your gaze to find two women sitting before you at a slanted chess table. A cold chill reverberates through your bones as you peer past to the world behind, a distorted mess of architecture which towers both vertically and unnaturally into the abyss. Where am I? You think to yourself, your mind racing to wake up from this strange dream.

"That's not important." The silver haired women interjects, her eyes watching you as if she could read your every thought. Opening your mouth to respond, you find yourself unable to articulate words... Am I dead? Your mind immediately screams to itself. "No." The woman interjects once again, confirming her ability to read your mind. "Not yet, at least."

Your focus turns to the slanted chess table, the two women before you were not even playing - the silver haired woman randomly moving pieces around the board with her slender digits. The other, a raven haired girl that looked significantly younger, would simply stare - seemingly deep in thought on how to win the game that sat before her. Why were you here? You ask yourself, hoping for answers.

"That's not important, either." Her refusal to answer your questions was beginning to grow old. Thinking yourself clever, you fill your mind with a string of excessive vulgarities. The woman glares at you, unamused by your childish antics - but says nothing as she continues on, "Tell me, stranger... do you fear death? No? How noble of you..."

You watch as the woman picks up a piece in the shape of a horse, dangling the titular piece between her fingers above the board. "I've brought you here because you've piqued my interest. It won't be long now until your world is engulfed into flames. I want to see the one that will be my knight in shining armor... the one that will save me from my boredom."

"When you wake up, head downtown to the safe house. I'm sure you know where to go." She grinned, "But before you leave, take this." Suddenly, she tossed a mess of manila folders in your direction. Paperwork?! You scream to yourself as the papers crash unceremoniously around you. "There's your freedom. Take it... what are you waiting for?"

As you collect the papers, your vision begins to blur... soon you find yourself slipping back into unconsciousness. When you awake moments after, you are greeted by the ceiling of your bedroom. Turning beside you, you find a manila folder sitting on your nightstand...
---
By submitting a character sheet, you agree to the following:
​
That you will refrain from being an asshole. Being an asshole constitutes, but is not limited to, the following:


God modding, power playing, taking control of other people's characters without their permission, ridiculing/harassing other users, (especially me, I will kick your ass.) blackmailing, kicking puppies and/or pissing me off.
There is no posting system, you do not need to wait (x) amount of time to respond in thread, but don't be an idiot about it. Obviously, no double posting on the In Character thread. (If you enjoy roleplaying with yourself, go play Mass Effect or the Witcher or something.)
Leave yo' drama at the door. This is a drama-free bar and I'm not dealing with your crap, thanks.
This RP is rated for ages 16+, while it is absent of overt sexual themes, there may be instances of vulgarity and references to things not deemed appropriate for children.By applying, you agree to sell your soul to the Devil these terms.
That said, keep the adult stuff in PMs, if it ever gets that far, please and thank you.
Keep OOC (Out Of Character) stuff in OOC, IC (In Character) stuff in IC, etc. Don't make me beat your ass over this because I will.
If you plan on dropping out, please inform me immediately, or else I will continue to pester you (or have somebody else do it for me) until you commit Sudoku.
Please contact me or an assigned GM if you have any other issues or questions.
---


Please note that we are expecting a full RP. The quality of your character sheet directly reflects whether or not you will be guaranteed a spot in this roleplay. Quality posts will always take precedence over ones that were cobbled together in a few moments. Effort generally reflects people's willingness to stick with the roleplay.

It is up to you how you wish to format your character sheets. Here is a general outline of what you need:
​
FULL NAME: (Please note: The NOAH are not given birth (last) names.)
CALL-SIGN // ALIAS:
GENDER: ( MALE // FEMALE // OTHER )
AGE: ( 16+ )
GENERATION: ( NOAH // RONIN // SERAPH )
APPEARANCE: (Picture + Description is best)

BIOGRAPHY: (Please refer to the OOC thread for important RP info)
PERSONALITY:
- Likes: (Puppies, murder)
- Dislikes: (STDs)
WEAPON(S): (Please refer to the OOC thread)
TALENTS:
- Skills (Combat):
- Talents (Non-Combat):
ELEGANCE: (Special abilities held by the NOAH)
---
​
Accepted characters will be added to the list below. Important NPCs and other profiles will also be listed as the roleplay progresses.

C H A R A C T E R S - R E M A I N I N G
OPEN SIGNUPS
F E A R L E S S - M E M B E R S
Ashlynn "VALKYRIE" (Valor)
Jonathan "FOXTROT" Ziegler (Valor)
A F T E R L I F E - P E R S O N N E L
Julianne (Jill) "STINGRAY" Natalie (NPC/ Valor)
Gillian "GODFATHER" Rourke (NPC/ Valor)
Andre "SARGE" König (NPC/ Bismarck)
Goblin (NPC)
K N O W N - E C C L E S I A N - M E M B E R S
Victoria "WHITE WYCH" Sebastian (MIA)
Tia (Jakers)
Ji "NETRUNNER" Yun (KIA)
Erja "WHITE DEATH" Liikanen (RedArmyShogun)
Ansgar "RAZOR" Staudinger (MIA)
Katherine (Karin) "EMPRESS" Konstantin (KIA)
Aresia "CHAOS WITCH" (Skyswimsky)
Ade "FACELESS" Stafford (MIA)
Arata "LIONHEART" (ERode)
Rubel "BROTHER" Whyte (Astros)
Juniper "BACKDROP" Hamilton (Click This)
Nomine "CORVUS" Mendox (MIA)
Magna "TINKER" (MIA)
Auratta "MISTRESS" (KIA)
Jacob (Jake) "R.I.P." Stein (EmperorsChosen)
Naomi "TITAN" (Winter)
Alexander "CRUSADER" Hilmarsson (Bismarck)
María "MONAD" (alaska)
Ian "SLOWPOKE" Mcomerey (Deathwatch101)
​
Last edited: