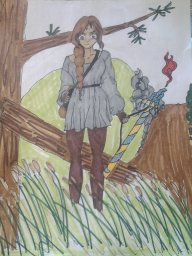 Authoress
LURKER MEMBER
FOLKLORE MEMBER
Invitation Status
Posting Speed

Speed of Light
One post per day
One post per week
Slow As Molasses
Writing Levels

Intermediate
Adept
Advanced
Adaptable
Preferred Character Gender

Male
Female
Transgender
Primarily Prefer Female
Genres

Fantasy, Romance, A bit of horror, magical, and almost everything.
Well this looks fun! Though it looks like you don't seem to have too many female characters so I decided why not! I'm not sure what team or anything she would be on, but here.
Name: Alita Middleton
Age: 19
Gender: Female
Appearance: Alita is a fox faunus with two black fox ears on the top of her head. She hides these under a bow, finding that the easiest way to disguise them. Her hair is a short, black, curly, and frizzy mess. if she let it grow out, it would probably be an afro. Dark skinned and surprisingly green eyed, Alita wears dark brown cargo shorts with lots of pockets for storing things. She wears dark green combat boots, making many people wonder how she doesn't get caught with how clunky and loud they can be. Often she wears a dark green sleeveless turtleneck, wearing black fingerless gloves that come up to her upper arms.
Personality: Shy, Intelligent, Strategic, Sneaky, Quiet, Empathetic, Curious
History:
Unlike many kids, Alita's parents had nothing to do with hunting or hunters in general. Her parents, strangely enough, were bakers. They ran a small little shop in the heart of Vale, glad to serve whoever they could. However, this wasn't the first time they had set up shop. They had tried many a time before to serve their food without hiding their heritage, but were eventually kicked out of those towns. Finally they decided to hide their faunus heritage and move to the heart of Vale. They avoided the white fang, as at that time they had grown violent. They didn't want to subject their daughter to any form of violence, and raised Alita to be a baker. However, Alita had an intense interest in weapons and fighting. She loved the stories of great weapon smiths and hunters. She read books upon books about different fighting techniques and how to make simple weapons. When she could, she would sneak to the nearby dump and search for parts she could use to try and make her own weapons.

One day, a team of hunters and huntresses came to her parents shop. Seeing them and hearing there stories, she decided right then and there that she was going to become a huntress. After many a night fighting with her parents, she finally was allowed to attend Signal Academy on one condition. She had to hide her heritage as a faunus and never tell anyone. Now Alita is in her third year and still hasn't told anyone, not even her teammates out of a fear instilled in her by her parents and past experiences.
Aura: Pale Green
Semblance: Keen eye-Alita is able to see weaknesses and analyze other's fighting techniques in the span of a few seconds. This allows her to create strategies and find the best ways to properly take down her opponents.
Weapon: Rapier-Revolver- Alita's weapon, affectionately named Verdant Lewe, is a green handled rapier that allows her swift and precise attacks. The steel rapier is thicker than most, and with a press of a button at the end of the handle it can become a revolver which allows Alita to shoot dust powered bullets. She made the weapon herself while still in Signal.
Year: 3
Team Members: N/a