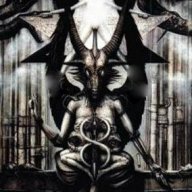 Gazorpazorpdeus
Original poster
First person rolls a D6, second person rolls a D5, third person rolls a D4, and so on.

If you get a 1, you blow your brains out. o__o



Nathan sat at the table, looking forlornly at the other players. His eyes were bloodshot, his face overgrown with stubble and his breath awash with alcohol. He was trembling, but everything else was numb.

He needed this money... it was his only way out. The debt-collectors were breathing down his neck, his wife and kids had left, he had lost his job and his home. A million dollars... or death... he had to take the chance.

There was nothing left to live for.

Downing his drink in one swift movement, Nathan reached out and took the gun from the middle of the table. There was a tense silence from the audience, a motely crew of criminals and gangsters who were supplying the prize money. He spun the chamber and put the gun to his head.

(Dammit! >_< )

His brain hit the wall behind him, a splatter of gore that made the other players jolt. His body slammed forward onto the table, leaking blood for a moment, before two of the gangsters dragged him away to the back room.

The game's organiser chuckled and reloaded the revolver, placing it back on the table for the other players.