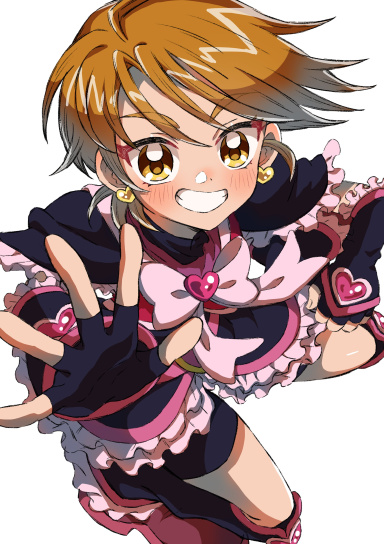 Ancient Iwaku Scum from 2006.
MYTHICAL MEMBER
Posting Speed

Slow As Molasses
Online Availability

NEVER
Writing Levels

Adept
Douche
Preferred Character Gender

Primarily Prefer Female
Genres

Surrealism, Surreal Horror (Think Tim Burton), Steampunk, Sci-Fi Fantasy, Spaghetti Westerns, Mercenaries, Dieselpunk, Cyberpunk, Historical fantasies
What Manami would see next would be exactly what Daiki worried what would happen.



She would have had to have squinted her eyes to see the barely visible outline of a human form. In the center of the figure was a black smoke like impression. While Manami would have not known it at this time, this is exactly what happens to humans when they get stuck in Greyspace and get attacked by demons.

"Manami, where are you?" The figure called out to her, "Where are you?"

It sounded like her dad. And by that point the reality around Manami became erriely surreal, to just like the time Daiki had rescused her from the school. All the photos of her family hanging on the walls because swirled and twisted. The reason why this was occuring was because shades are best viewed as "shock-absorbers" for the sake of the balance in the real world. They are only temporary, and will disappear after a certain amount of time, eradicating all traces of existence related to the Shades when their time comes.

"Manami, where are you?" The figure called out again.

Then the very existence of Manami's home underwent a horrid change. The walls turned to a shimmery grey, looking like it had just been transplanted into a foiled trading card. There was then a sweet sounding giggle and then right before Manami's very eyes appeared the weird girl that had destroyed Daiki's mask.



"Well, well. It appears that we finally meet face to face, little Oracle." The Mistress giggled. "You were very easy to track down, you see. You smell like Daiki and Irene. I've encountered them enough to know their scents and no matter where you keep running to, I'll just have to sniff the air and find you. The principle of contagion, it is. Once two objects come into contact with each other, they will continue to affect each other even after the contact between them has been broken!"

She still kept up her sweet facade, "It's about time I make a proper introduction to myself. I am called the Mistress, Unspoken Enchanter Of The War Goddess. One of the Fallen, as you assholes at the organization like to call us. As for why, I am here...It's because of you."