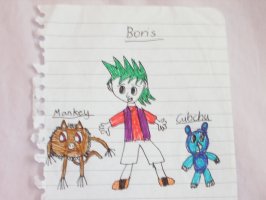 Edgeknight
Original poster
It's been quite a while since Kenshin's battle and victory over Shishio and things are getting back to normal. Now he's away a lot on and off and Kenshin's young son Kenji is at home with his mom and Kenshin's wife Kaoru and Kenji is going to the dojo with her daily.
Kenji doesn't know much about what his father does when he's off alone if anything at all. He also didn't notice the depth of the situation due to his father's absence when he was little as much as he does now. He knows also how his mom is being affected by his dad's absence all the time and it angers him deeply. For now though Kenji's just trying to help his mother Kaoru as much as he can and as best he can.
Off elsewhere, Tsunan(Katsuhiro) has been doing his art, having started it up again, while also working trying to continue clearing his captain's name as well as the name of the lot of the group he used to be in through most of his childhood.
Hansel Sagara, son of Former Sakihotai Captain Sozo Sagara, while running errands for his mom, having got done with his paper route from that morning, grasping hold of his father's red headband as he continues along on his bike, a side wagon car hooked on to the left side back wheel, starts to think to himself as he's close to entering the upcoming town, not knowing right off, due to not paying much attention at the moment, that it's the same town that the two boys who fought alongside his father when they were young, and who have now grown up, have taken residence in, Katsuhiro living in a rowhouse near the 5th street of the town coming from Hansel's current direction, and Sanosuke living at the Kamiya Dojo which is further into the town. Before Hansel enters into the town he glances over at the harbor to the early afternoon boats coming in and docking at the port.
___________________________________________________________________________________________________________________________________________
List of Characters from the anime participants can rp as Kenshin Himura: Rainier Ashton Bernhardt Seijuro Hiko: Rainier Ashton Bernhardt Kaoru Kamiya: ME Kenji Himura: ME Yahiko Myojin: ME Sanosuke Sagara: Tsunan (Katsuhiro) Tsukioka: ME Yutaro Tsukayama: ME Uki Higashidani: Ota Higashidani...

www.iwakuroleplay.com
There's the link to the OOC and Signup Thread.
Last edited: