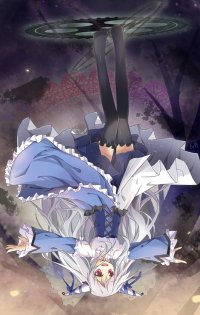 The Slightly Villainous One
Original poster
So, I'm making an old-timey pixel-y RPG. I'm using RPG Maker VX Ace, for those familiar with it. Unfortunately, I have the artistic talent of a porcupine wearing a blind fold, and I'm constantly recycling the same characters because I simply have nothing else to use.
Now, before you get reading further, I need to tell you that I am very very poor. My bank account currently has less than £3.50 in it. I cannot pay you for any help you give me. You would be doing it entirely out of good will. If that isn't a problem for you, you're awesome. I might be able to reward you in... other ways... for example, you could design a side quest or dungeon and I'd try to make it part of the game.
Without further ado, I'll get onto what I'm looking for. There's no particular time limit and I can use substitutes in the meantime, but I'd need the resources by the time I've finished the game, which will be quite a while from now.
There are 2 kinds of art I really desperately need. First, I need some pixel-y characters. Second, I need some faces to go with those pixely characters. I have quite a few character designs in mind, but to save uploading huge quantities of resources here, I think it'd be best if you could tell me what you can do and I'll give you some things to take a look at.
An example image set:


The resolution of these is quite important. If they're any smaller or larger than these images, they won't be usable.
The most important character I really need is a young girl with long, blue hair dressed in white clothes, so if you can only do one thing, i'd love if you could do that.