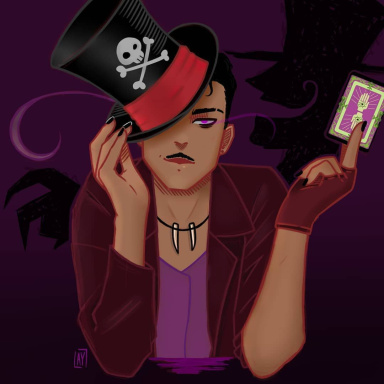 Roleplay Invitations

Group Roleplays, One on One Roleplays
Posting Speed

Speed of Light, Several Posts a Day, A Few Posts A Day, One Post a Day, A Few Posts a Week, One Post a Week, Slow As Molasses
My Usual Online Time

I never know when I will get online, but I usually get on most days of the week and weekend. I am pretty active on here so you will see me around a lot.
Writing Levels

Adaptable
Genders You Prefer Playing

Male, Female, Transgender, Primarily Prefer Male
Playing Style- Passive or Aggressive

Aggressive More but can do Passive if needed.
Favorite Genres

High School/College, Scifi, Modern, Magical, Horror, Romance, Yaoi, Yuri, Slice Of Life, R Rated xD, Modern Fantasy
Genre You DON'T Like

Furry, Historic
✺╰☆╮✺arden vincent greyson✺╰☆╮✺
✺overcoming your fears is what makes you a champion in this thing called life✺
Name
Arden Vincent Greyson
Nickname
Ardy | Vinny | Grey | Mr. Moody | Miracle Baby (By his parents only).
Age
Eighteen
Birthday
January 1st
Sexuality
Bisexual
Gender
Male
Power
Air/Wind Magic
Height
6'2"
Weight
Toned - 195lbs.
Skin Tone
Dark Brown
Scars
Arden has a nasty long scar across the left side of his face, he was attacked by a bird when he was around the age of seventeen and had been scared of birds because of the situation for a long time. He has overcame that fear recently. He's still insecure about his scar; luckily he still has full function of his left eye after the tragedy. Though it does get blurry from time to time and he can't wear contacts in it for a more than a few minutes without it getting irritated.
Birthmarks
Small blotch that if you squint looks like a pair of angel wings on the middle of the back of his neck. His parents called him a Miracle Baby because of the birthmark.
Piercings
None
Tattoos
Arden is not a fan of tattoos, but if someone he knows has them, he's cool with it. He just doesn't see the appeal of body mutilation; same reason why he doesn't have any piercings whatsoever.
Personality
Arden was full of joy and optimism and all of his closes friends loved his free-spirited, go with the flow type of personality. Everything about Arden changed after the day he was attacked by a bird at the beach. He didn't even know what was going on, until he heard his mother scream "Help me! My son is being attacked by a fucking bird, help!!!!!" It was like the bird picked him out of all of his friends that day and just aimed for his face out of all of them around. After that day, Arden's entire demeanor changed from happy-go-lucky and go the way the wind blows you, to a moody kid who turned into an emotionally fragile teenager.
One year had passed and Arden became distant from all of his friends. He still keeps in contact with them all, but it's not the same. He couldn't completely closed them off, of course; he still deep down inside wanted them around. His feelings about his face and how he has been treated because of it, has changed his outlook on life. Being on the Football Team, he thought he'd have a smooth ride through high school and possibly college. Since that day, he has been very pessimistic and can sometimes have outbursts of extreme emotions, that he can't even explain.
There's a lot of personal inner turmoil going on inside Arden and he doesn't know how to express it. He just wants to be free of this pain that seems to keep building; he feels like if he doesn't get this pain out of him, he might do something he'll regret later in life. The former happy young male has a lot of emotional damage and it isn't all from the bird attack, that was just the icing on the shitty cake and he needs to let it all out and express himself... before it's too late.
Likes
Swimming. Freedom. Ariana Grande. Nicki Minaj. Imagine Dragons. Logic. R&B. Rap. Alternative Music. Neo-Soul. Silence. Stars. The Sky. Sunrises. Sunsets. Birds (Now). His pet bird Horus. Vanilla Ice Cream. Dancing. Video Games. Rainy Days. Horror Movies. Sadness. Independence. Silver. Game of Thrones. Harry Potter. Hiking.
Dislikes
Happiness. Police. Bad Jokes. Fear. People making fun of his scar. School. Overbearing Parents. Relationships. Romance. Politics. Religion. Homework. Losing.
Secrets
-No one knows, but Arden tried to kill himself a few months ago. His parents luckily found him before he had really done damage with the pills he had gotten from a sketchy druggie he knew from around Ravenswood. Only Arden, his parents and of course the doctors know about this. He'll probably never tell his friends or anyone else in general.
-Is doing heavy drugs to cope with the emotions he can't seem to get control over. No ones knows that he's doing drugs.
-Almost killed a friend of his from the Football Team at a party. The friend made fun of his face and Arden couldn't stop himself, as he jumped on the friend and started punching him over and over again. Luckily another person at the party pulled him off before he bashed the poor jock's head in. It's safe to say Arden and that jock don't talk much, if it's not about team business.
Fears
-He use to have a severe fear of birds, but therapy and having a Support Bird has helped him overcome it.
-Is terrified of flying and heights; which will play a big part in him learning to control his magic and using it to his advantage.
-Scared of losing complete control of himself and doing something he can't take back.
Friends
TBA
Frenemies
TBA
History
Childhood: Arden was always a happy kid that didn't see any wrong in the world. His parents let him live a normal childhood. Both parents working in the medical field. He didn't have to want for anything and his parents having only him, spoiled him as much as they could. Even with being spoiled, Arden was a humble little boy. When he met his closes group of friends, he loved them and felt like he belonged with them. Even being soo young, he could feel a connection with them. For most of his young life, Arden didn't show any signs of having magical powers... which his mother, coming from a line of magical beings, was hoping he'd never show any signs of that certain "gift." You see, The Greysons are the Air in the seven families of Ravenswood's magic coven. His mother use to love using her magic. As air is such a free and wonderful instrument of how life could be flowing in any direction. After seeing what magic could do and how some people used it for evil, she never wanted that life for her little boy.
Sadly at the age of seven, Arden was playing in his tree house and lost his balance climbing the tree branch to the house. He felt himself slip downward, but never felt the impact of the ground and his body colliding. His eyes had been closed as he screamed all the way down; when he didn't feel the ground beneath him, he opened his eyes and saw that he was floating just a few inches off the ground. He couldn't explain it but when his mother ran towards him, having heard his screams, Arden dropped to the ground. Ever since that day Arden's mother made his promise to never speak of what had happened. He couldn't even explain it, if he wanted to tell someone.
Recent: For the most part, Arden had a normal life and had forgotten about the whole floating in midair when he was seven incident. His mother did watch him closer after that day. Though his father didn't know anything about magic, Arden's dad even watched him closer. Overbearing parents played a big part in why he couldn't express himself the way he wanted for a long time.
The thing that changed his life for the worst, happened just a year and a few months ago. Arden was at the beach with his friends and family and while just relaxing and having fun, a seagull came out of nowhere and attacked him. He didn't even see the bird coming, only finding out he was being attacked by a bird when his mother screamed for help. He tried to fight it off, but the thing had dug it's sharp feet and beak into the left side of his face. All he could do was scream and panic. Until eventually his father beat the bird off of him.
He was rushed immediately to the hospital after that horrible attack. There was soo much blood, his parents and the paramedics couldn't tell if he had lost his eye or not.
After weeks of surgery and recovery, Arden was left with a nasty scar and a fear of birds. Luckily his left eye had been spared in the attack, though he still has some problems with it. Arden's fear of birds kept him from the beach for months and he would duck and yell everytime a bird flew overhead. He couldn't even look at birds on tv without a shiver going down his spine.
Eventually through therapy and his Therapist getting him a support bird who's name was Horus, the young male had overcome his fear and his best friend had become the same type of animal that scarred up his face for life.
The incident hadn't only changed him physically but emotionally and mentally as well. Arden's once happy and fun personality had changed to a moody, introverted and pessimistic one. He has a long way to overcome more than just his fears. He has to overcome his self-hatred and being true to who he is. Hopefully he can do that before the darkness consumes the town and himself.
Extra
-Has a pet bird named Horus. The bird played a big part in Arden getting over his fear of birds. That little guy is his best friend now and he doesn't go most places without him. It's like they are linked mentally and Horus and Arden know one another and just by a twitch of an eye or a wing, they know something's up.
-Though Arden has ignored his gift of Air Magic, when he gets upset wind does start to pick up and if he doesn't calm down... it can get pretty bad. He once got soo mad that a window shattered because a giant gust of wind blew it a part. He didn't pay it too much attention at the time.
Mom & Dad
Mrs. Alicia Michelle Greyson née Hartwright
|
Mr. Alex James Greyson
Last edited: