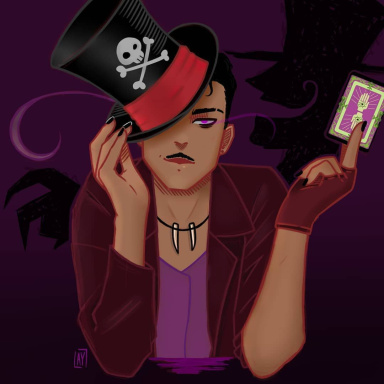 Roleplay Invitations

Group Roleplays, One on One Roleplays
Posting Speed

Speed of Light, Several Posts a Day, A Few Posts A Day, One Post a Day, A Few Posts a Week, One Post a Week, Slow As Molasses
My Usual Online Time

I never know when I will get online, but I usually get on most days of the week and weekend. I am pretty active on here so you will see me around a lot.
Writing Levels

Adaptable
Genders You Prefer Playing

Male, Female, Transgender, Primarily Prefer Male
Playing Style- Passive or Aggressive

Aggressive More but can do Passive if needed.
Favorite Genres

High School/College, Scifi, Modern, Magical, Horror, Romance, Yaoi, Yuri, Slice Of Life, R Rated xD, Modern Fantasy
Genre You DON'T Like

Furry, Historic
even the most beautiful things can have a deadly side to them ...
Name
Eva Marie LaBelle
Nicknames
Evil | Bitch | Red | Spitfire
Superhero Alias/X-Men Codename
Wildfire
Age
Nineteen going on Twenty in a few days
Sex
Female
Enrolled
Student [ New ]
Relationship Status
Single ... Usually has an Entourage of Men following her every step. Heterosexual.
Appearance
Eva's hair is as red as the fire that she controls. Her flawless ivory skin and pouty pink lips can make any male fall to their needs and any female fill with jealously and insecurities. With her dark brown eyes, fill with embers of gold and red when excited or pissed off, Eva is a beauty to behold and she knows it. She loves wearing bright colors; reds and oranges mostly. Tight clothing is her go to and she wouldn't be caught in anything but a pair of heels, even when she's working out ... which she doesn't do often. Thank God for a High Metabolism. Eva's slender build with curves in just the right places, she's a masterpiece and if anyone was to think otherwise ... they'll have hell-fire to pay.
Personality
Eva is not the typical rich girl, in more ways than one. Yes she has the snobby attitude and bitchy comments, but she also has a cunning and intelligent side to her. As fiery and passionate as she could be, Eva does have a warmer and more nurturing side. It doesn't come out often and most will NEVER see it, but for the ones that are lucky enough to get past her ironically cold heart, they will see that bubbly and sweet Eva that her family and close friends love soo much.
A girl with a fortress surrounding her feelings and horrible trust issues, Eva will not always ask for help and her pride can sometimes be her downfall. The meaner she is to someone, it usually means that she cares about them the most. It's odd, but if Eva's mean to you ... she actually likes you. If she is too nice, it mostly for a benefit of keeping her friends close but her enemies closer. She'll play her Princess Charming when she has to. Getting out of bad situations by using that natural silver tongue of hers to word her way out of anything for the most part.
Eva is the human embodiment of fire; passionate, warming, bright, mysterious ... yet deadly, chaotic and powerful. A young girl just getting to know herself and now she has to deal with having such a deadly power to boot ... great.
Power
Pyrokinesis [
Fire Manipulation
]
Eva has the power to mentally control, create and shape heat and fire. An incredible power that she only recently discovered she had a few months ago. A powerful ability and one of the four elements. A power that can cause devastation and also great things in the same breath.
Strengths
[ Personal ]
Confidence - Intelligent - Creative - Optimistic - Resourceful - Brave - Loving - Somewhat Helpful - Entertaining - Passionate
[ Power Related ]
1. Eva can control, create and shape heat and fire.
2.
Fire Attacks
| Can
shoot out streams of fire
or
create fireballs
for an offensive or defensive move.
3. When it comes to heat, Eva can cause a room to rise in temperature through mental concentration. If worked on more, Eva will be able to melt things down to a puddle.
4. Is immune to being burned.
5. Can cover her
entire body in fire
, as defense or offense.
6. Being empowered by fire gives her heightened physical traits. Slight heightened strength, speed, endurance and durability but nothing super powerful.
Weaknesses
[ Personal ]
Prideful - Guarded - Commanding - Domineering - Selfish - Non-Team Player - Chaotic - Anger Issues
[ Power Related ]
1. Ice, Water and Cold mutant abilities or the natural states of said elements can counteract, defeat or block her powers.
2. Still being fairly new to her powers and the whole Mutant World, knowledge of how far her powers can stretch and the things she can do with it, is still lost on her. She's a Novice Fire User for now.
3. As her power is connected to not only her mental stability, but also her emotions, if Eva loses control or goes into a major fit of rage ... she is bound to set something or someone on fire. Fire is mostly connected with the stronger emotions in most books and knowledge, and as such, Eva has to always be on guard of her emotions now that she knows what can happen if she loses control.
4. Being that fire needs Oxygen, Fuel and Heat to do anything, if those three parts are not in play, Eva is out of luck when it comes to doing anything with her power.
5. As she is new, Eva can become severely exhausted if she uses her power for too long periods of time without a break. The first time she used her power, she passed out a few seconds later. To be fair, she was having a fit of anger; but she still gets rather tired if she pushes herself to hard at this Novice stage.
6. Lastly, Pyrokinesis sets things on fire yes, but it also causes smoke in the air. As she doesn't control that aspect of her fire power, if she sets something on fire and it's a closed off space with no windows or open air, she won't die from being burned obviously, she'd die from suffocating from smoke inhalation.
History
Born to a family of Anti-Mutant Protesters, Eva only heard bad things about "those people." No matter what, her family always told her stay as far away from them as possible. She grew up to fear them and always thought of them as the nightmares that crept in her dreams at night. Other than the blatant hate for mutants, Eva's family were a loving bunch. Her father,
Evan LaBelle Sr.
was a famous Actor turned Entertainment Mogul, who married
Evangeline LaBelle née Garcelle
, a famous French Model turned Cosmetics Mogul and had two loving children a few years later in their marriage.
Eva's brother,
Evan LaBelle Jr.
was born two years before her and he had that signature LaBelle bright red hair. Even at a young age, Evan Jr. never liked his sister and despised her for ever being born.
When Eva was born, her hair was as red as fire and redder than any of the LaBelle's or anyone else in the hospital room had ever seen before. It was as if she had her hair dyed fire red in the womb. There was something special about her, and her parents didn't know how special just yet.
As the years went on, Eva grew up to be a beautiful ... yet snobbish rich girl. Learning at the best schools and making friends and breaking hearts left and right. As things went on, there was always something she felt wasn't right or was missing in her "perfect" picturesque life. She never felt complete, no matter what. Eva felt like she didn't belong in the world she was brought up in.
Only when she met her first boyfriend,
Jerry James
did she discover the part of her that was missing. Jerry James was a Mutant, but he didn't tell Eva about it till later in their relationship. Jerry was the bad boy that a "good" girl like her needed and wanted.
As things became serious in their relationship, Jerry grew the courage to tell Eva what he truly was. Not only did he tell her, but he showed her. Jerry had the mutant ability of telekinesis and was a natural at it, using his power to fly him and Eva over the beautiful LA Nightlife whenever given the chance. Though she was madly in love with the boy, Eva knew her parents would soon rather she became a Stripper over dating a Mutant.
No matter how much she loved and cared for Jerry, he would only be in danger if he stayed with her. Eva was heartbroken but she knew the best thing to do was break up with her first and only true love, before her parents found out what he was and something horrible happened to him.
For months the usually upbeat and slightly bitchy girl was sad and depressed. She made up a lie that Jerry's family was moving so they had to break up. She thought the situation was handled and Jerry would be safe from her hateful family, sadly that wasn't the case.
Her snitch of a brother had been secretly watching Eva, knowing that she wasn't this "good" girl that her parents thought she was and that she wasn't the golden child they always wanted her to be. Finding out that Jerry was a Mutant wasn't too hard; when you come from big money, you could get the Pope to curse Jesus' name for the right price.
With the information, Evan Jr. went straight to his parents. Wanting to finally not be in his little sister's perfect shadow. Once her parents knew the truth, they immediately forced Eva into giving them Jerry's home address. Without much words spoken, a group of Anti-Mutant Protesters drove to Downtown LA, and did an unspeakable act. Not caring who lived in the house, as long as Jerry James was in there ... the protesters, set the home ablaze and Eva was forced to watch as her one true love and his family were burned alive.
As she screamed in horror and anger, the flames around the home appeared to move on their own accord, as Eva snatched herself from her father's grasp. Standing in front of the burning home, as if the flames were calling her, Eva felt something powerful snap and click inside of her. Shooting her arms into the air, she felt the flames surround her and her eyes became a bright red. Then, without thinking, she shot her arms forward and everyone, including her parents and older brother were burned right where they stood.
Seconds later, Eva had passed out and was in a dazed state. In her dazed state she could have sworn she saw Jerry carrying her off to God knows where. But was that even possible, she saw the house burn to the ground ... but she didn't see Jerry inside.
As she came out of her dazed state, Eva found herself in a hospital bed, with a bad headache and bad feeling in her stomach.
Not knowing what to do, Eva cried herself to sleep that night. She couldn't believe what had happened and what she had done. Did she really turn the flames onto her family? And how could she have done that ... did that mean she was the same thing as Jerry?
The next day, on the News it spoke of a group of Anti-Mutant Protesters that had died in a horrible incident of hateful actions that backfired on them. No word on who had died in the fire, as their bodies were burned to the bone. Luckily no one saw or heard about a redheaded girl that controlled the flames.
Now alone, without her family and without Jerry, Eva took her time to recover in the hospital. She was too scared to go back home, knowing that eventually the cops would find out who the burned protesters were and would wonder where the LaBelle's daughter was while the entire thing went down. But eventually she had to leave, as sad as she was.
On her last day in the hospital, a Mysterious Man approached Eva as she was leaving. The man spoke of a special school for special people like her. At first, she just thought the man was some creepy pervert, until he started talking about Jerry and how he knew the boy and that Jerry had went to the school.
It took her some days before Eva finally agreed to let the Mystery Man bring her to the said school in New York, she never found out why he wanted to help her, as the second she was escorted to Xavier's Institute for the Gifted, he was gone ... just like that.
Now joining other young mutants, Eva has a lot of learning and growing to do. Hopefully she can find herself and maybe one day find out if Jerry is still alive somewhere out there.
Miscellaneous
- Favorite color is Red
-Favorite singer is Rihanna
-Favorite actress is Rachel McAdams
-Favorite cartoon character is Jessica Rabbit
-Favorite animal is the Red Panda
-Is Claustrophobic
Last edited: