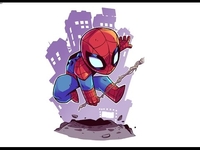 Aspiring Demonic Mafia Ninja Pirate Dragon God
Original poster
OOC Thread
[]
Character Thread
[]
RH Discord
>>> Mizushima Household - Musutafu, Japan <<<
>> March 3rd - Hallway and Living Room <<
Tags:

Luminosity

EmperorsChosen

RedArmyShogun

Novuskai

Childish Grumpino

Orikanyo

Azurian Dream

Thaleko

Mr.Scales ⚖
EternalInfinity

MrStoryTeller

Jessica2477

Quake
--------------------
​
The day had finally come. For many students across Japan, and throughout the world, an envelope would arrive that would grant them the peace of mind of knowing their futures as pros awaited them in the coming years. The envelopes contained a disk which held a video from the principal of the illustrious U.A. High School. Weeks after taking their entrance exams they would finally have the answers they'd been waiting for.
One such student, Kazuo Mizushima, had rushed home from his part-time job as soon as his shift had ended. His mother had sent him a message halfway through his day, which had only served to reinforce his painstaking wait. He quickly took the envelope and kissed her on the cheek before attempting to rush to his room, only to be stopped in his tracks by his father. The man stood tall over his son looking down with the same stern look that Kazuo couldn't remember ever leaving his face.

"Right, guess mom called you too."

He said with a bit of a groan.
"Of course,"

Shigeru responded before adding,

"despite what you may think, I am quite interested in your education."
Kazuo couldn't help but scoff as his father led him into the living room where his mother, Honoka, was ready and waiting with snacks. He glanced at her, motioning towards his father, to which she responded with a gentle smile and a shrug as if to say, 'don't be mean.' He sighed and opened the envelope. Inside was a solitary disk. He was a little surprised, but shrugged saying,

"I guess we have to play it?"

he spoke, though it seemed more like a question, as he placed the disk down on the stable in order to go set up the TV.
However, before he could do anything, the disc began to glow beginning a hologram which would almost immediately play its contents, starting with a title screen. U.A. High School presents... Soon the screen was taken up by the back of a large feathery head. The bird(?) seemed to clear its throat before turning it's head around.

"Was that sufficient? Hoo~"

His voice was deep, but calm.

"What?"

He turned his head roughly 180 degrees before sighed.

"Well, zoom the shot out and let me begin. We're running an academy, not a production studio, hoo~"

As the camera zoomed out it revealed the back of the large owl-like man's body. He turned around, whipping his head back into position before fixing his tie.
"I am Principal Yakushi Tsunogawa, also known as the Sage Hero, Nocturnus, hoo~"

The pro hero stood proudly before the camera.

"The life of a pro hero has become something grand and of immense importance in this current society, hoo~"

he seemed to smile before continuing,

"So much so in fact that many all over the world strive to become that which was once considered a profession of the realm of fiction and spend countless hours working towards this goal for many reasons, hoo~"

He began to pace to the left, the camera following him as he began to walk toward the window of his office.

"Be it for fame, wealth, glory, or simply the satisfaction of helping ones fellow man, youth's such as yourself put themselves through various rigorous tests, hoo~ As such, we at U.A. High School are determined to help as many like minded individuals achieve this dream."

He paused in order to clear his throat once more as shots of the campus, the teachers, the students, and it's facilities played over Tsunogawa's voice.

"As such, it is my pleasure as the principal of U.A. High School to accept you, Kazuo Mizushima into our ranks, hoo~"

Tsunogawa finally came back on screen. He stood strong.

"There is no doubt that you will make us and all those you care for proud as you work towards becoming a pro hero. The competition shall be vast and there may be times when you will feel like you wish to quit. But, should you face the obstacles that will encumber your path, you will come out a stronger and better person than even you will think possible, hoo~ As you prepare for what may very well be the best years of your life, always remember to always look ahead, remain strong, and always keep in mind what being a hero truly means. So welcome, Kazuo Mizushima, hoo~ And as always,"

he paused and took a deep breath before finishing,

"Plus Ultra."
Kazuo was quiet as he sat in disbelief. The rest of the day was normal. His father lectured him on the importance of continuing to fulfill his responsibilities and told him to mindful of his training. His mother kept his father at bay as she got up to prepare a celebratory feast. He got a multitude of messages from his sister wanting to know all the details of his exam, and the video, and whether or not the school's message of acceptance had changed at all in the last few years since her enrollment. And so he began to use the rest of his vacation to prepare. He'd be moving into the dorms a week before classes. He needed to begin to pack and send his things to the dormitories. He needed to send appropriate designs for his room, as well as designs for his intended hero costume. He was going to give the school everything he could.
>>> Mizushima Household - Musutafu, Japan <<<
>> April 7th - Kazuo's Kitchen <<


--------------------
​
"Well it's about time I get going,"

Kazuo spoke calmly as he smiled and rose from the kitchen table. He'd just finished the huge spread of a breakfast his mother had made him and he was just about ready to hit the road. It would be unwise, after all, to be late on the first official day of classes.
"Are you sure? Your father was going to stop by to see you off before work,"

Honoka questioned him as he brought his plate to the sink. While she'd never quite gotten on board with his father's way of thinking she always tried to make sure Kazuo knew that Shigeru was always coming from a place of love, even if misguided. Still, she did believe that he was too strict and harsh at times. Yes, he was a bit unsupportive of the choices his children, or even she at times, made.
"Yeah, he sent me a message earlier. He was called in early,"

Kazuo replied simply as he turned back to his mother and gave her a kiss on the cheek.

"Besides, it's not like he's ecstatic about me going to a hero school anyway."

The young man continued on to the front of the house where he knelt down to slip his shoes on. He could still remember the disgruntled look on his father's face after the acceptance video finished playing. Maybe he didn't come right out and say it, but that didn't mean he hadn't made it all painfully obvious.
"Okay, well, at the very least call Hotaru later. She wants to talk to you."
"I bet,"

he replied, unable to stop from laughing,

"she hasn't wanted to stop talking to me since I told her I got in."

Kazuo picked up his bag and opened the door before saying goodbye to his mother one more time. He pulled out his phone as he began what he was sure would be a relatively quick trip to the school. He began to scroll through his messages, not at all shocked by the sheer amount. It wasn't like he didn't understand the sentiment or his sister's excitement that he was also pressing onward into the world of heroism But he couldn't help but wonder what else his sister could possibly have to say that she hadn't conveyed in any of her 143 messages. He chuckled to himself.

"I'll do it at lunch or something."

He finally said, placing his hand on the back of the head, practically feeling the slap to the back of his head that his oh so doting mother probably would have given him. And so, he continued his trip to U.A. High School.
Last edited: